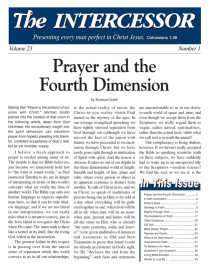 CD Talk

CD REVIEW:
"Esther-Mordecai" by Norman Grubb
"Esther was wonderful, but God through Mordecai was more wonder-ful," says Norman early on in this CD. And Norman builds on this statement as he shares the principles of faith demonstrated throughout the book of Esther. As he takes us through the events that shaped the nation of Israel at that time, Norman emphasises that these Old Testament characters are very important to us because they show us how God can transform ordinary people by His Spirit working through them. All the time he reminds us that great men are great because they are manifesta-tions of God in His greatness.
The background of this study is that the Jews had turned their backs on God and bound themselves to another power and were going through a period of external deser-tion by Him as they lived in exile. We are warned that we, too, live like that when we are inwardly attached to some apparently strong (though in reality weak) human force. He warns us that if we are utilising another power, God's power cannot get through. Norman says that while it's easy to rely on something visible, it will be like a spear through our hands when we lean on it. Much of his talk before he gets into the meat of these two Bible characters dwells on we living a Christ-centred life. All of life is made up of opportunities and the seemingly negative ones-our "tough spots"-present us with an opportunity for faith. God means us to be in these difficulties so He can manifest Himself through us in the midst of them. We are told that the whole of life is an adventure if we see it as such. Faith, we are told, is recognising God for Who He is.
This is not abstract teaching-we are reminded that the lives of these great biblical characters are prototypes so that we can line up with them.
Norman then goes on to show how faith principles were applied in the 'tough spots' in which Esther and Mordecai found themselves. Queen Vashti's refusal to obey the king pre-sented an opportunity for God to manifest His power by saving the Jews from annihilation through the obedience of two people-Esther and Mordecai. Esther's adoption by Mordecai and the fact that he had nurtured her in faith and obedience were key in God's plan for freeing the Jews-evidence of God at work long before Esther's future position as queen could have been known. Esther had been trained in a way that made her ready to sacrifice her life for God.
Mordecai's refusal to bow to Haman gave Haman the chance to attack the whole Jewish race. Although Haman had the power to kill the Jews, Mordecai, we are told, did not live from the temporary dis-tress of this situation-he lived from the belief that Haman's decision could be reversed. He called on Esther to risk her life-with the warning that if she failed, she, along with her people, would be destroyed. Mordecai also knew that if Esther failed, God would still provide a deliverer-a warning to us all that if we fail to be God's available vessel, someone else will be found to take our place. Esther, however, rose to the challenge with the words, "If I perish, I perish." Having made her decision, Esther approached the king from a position of ease-no sign of being flustered. The outcome is well known-Haman was hanged on the gallows he had prepared for Mordecai. Mordecai was given a position of power and the attitude towards the Jews was reversed. In fact, many went on to become Jews.
While God is not mentioned in the book of Esther, His Spirit is real-ly manifested throughout. Norman's talk shows how faith is the key from start to finish. From the starting point of the Jews' lives being "a mess" as they lived in exile and increasing danger due to their sin of turning from God, we see how the faith and courage of one man-Mordecai- were instrumental in the whole nation being spared. While acknowl-edging Esther's key role in the whole episode, Norman thinks the book should really be called Mordecai! He stresses Mordecai's 'achieving faith' over Esther's "committal faith" through the whole crisis. Mordecai's strong belief that God would not fail them and that the Jews would be saved never faltered.
In doing this review of Norman's talk on Esther-Mordecai, we got a deeper understanding of the book of Esther and how pivotal Esther's older cousin Mordecai's stand of faith was in God's plan to rescue His people. No life is ordinary; when we walk by faith in Him, we manifest God in His greatness.
 
More Articles from The Intercessor, Vol 23 No 1