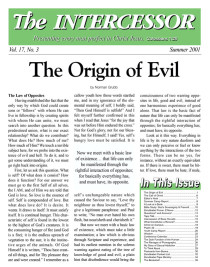 Summer Camp Report

Late one evening as Summer Camp drew to a close—replete after the fish fry—we sat outside the youth house viewing a slide-show that recorded just some of the week's highlights. Darkness fell imperceptibly. Then there flashed upon the screen a sequence of images, taken during the youth hike, of the Blue Ridge Mountains. Captured in their breathtaking, lofty majesty, evocative of the awesome power of the Creator—what a perfect backdrop for a wonderful Camp!
In so many ways Colossians 1:28, "We proclaim him, admonishing and teaching everyone with all wisdom, so that we may present every one perfect in Christ," encapsulates the essence of Summer Camp 2001. At the heart of our time together were those sessions when, thanks to videotape, Norman taught the mystery "once hidden, now made manifest to His saints" (Col. 1:26): "Christ in you, the hope of glory" (Col. 1:27). Sharing from his personal experience, Norman is emphatic and excited that for him the big revelation was 1 John 4:16: "God is love"—not that God has love, but rather that love is a Person. As Norman says, there are no two human natures; there are two divine natures and we are simply vessels containing either Christ or Satan. 8 THE INTERCESSOR SUMMER 2001
Every other activity at Camp emanated from the biblical bedrock that Norman set before us. God's love was out-poured for us through His vessels not only in workshops and teaching, but in every detail of the warm hospitality extended (Rom. 12:13). Page Prewitt's wise input and insights throughout the week ranged far wider and deeper than her informative hands-on workshop, unassumingly and wittily entitled "Dis & Dat Agin"! For the fourth successive year Steven Prewitt's art workshop was inspirational. Steven is a gifted and humble teacher who shares unstintingly from the deep well of his artistic talent.
The ladies were privileged to have a 5-session fashion workshop with Leah Feldon, acclaimed author of Does This Make Me Look Fat? and Dress Like a Million—On Considerably Less. Billed as "a truly wonderful opportunity to learn about your best lines, styles and colors, and to address personal style issues," it was all that and more. A memory that abides with me is of the supper we ladies partook of in Page's home during Leah Feldon's workshop. It brings to my mind one of Keats's great lines: "A thing of beauty is a joy forever!" We had a joyful evening in the midst of great beauty.
Meanwhile, the men gathered around a campfire to discuss their divinely given responsibility to lead their families as the spiritual head of the home. According to Eph. 5:21-33, God calls the husband to love his wife just as Christ loved us. The husband is not to selfishly dominate the wife, which would be an expression of Satan's self-for-self spirit, but to nurture, provide for and protect his wife, just as he would his own body. As the head of the family, it is ultimately the husband who will answer to God if something is wrong spiritually in the home. Fortunately, Christ lives through us to fulfil this awesome responsibility.
The following day, the men had a fabulous time learning to fly fish in the Blue Ridge mountains with the help of some expert guides from The Appalachian Angler. The men truly appreciated the efforts of Tony and Ginny Mansoor in arranging this experience!
The Bible is the bedrock of our fellowship and what a blessing to have Bible scholar, Brett Burrowes, on hand to share his meticulously researched insights with us. One evening, under the tent, he explained the complex theme of God's sovereignty and human freedom. The core point at which the paradox unraveled was when Brett demonstrated how knowing that there is "no independent self" means that ours is not the freedom to do one thing or another; rather it's the free choice to say Yes or No to God, and hence be a vessel operated by Christ or Satan. The predestined end of those who choose Christ is heaven and of those who reject Christ is hell; quite simply, in Norman's words, "There is no independent self."
The editorial of the spring edition of "The Intercessor" ended thus: "See you in Boone!" That salutation, looking forward to Summer Camp 2001, was prefaced by a succinct account of the word of faith that is realised in our fellowship's Total Living Center in Boone. Just writing this report has impressed on me how "total" that "living center" is. I am filled with gratitude that summer after summer my children and I are blessed to participate in a Camp which strives to "present every man perfect in Christ Jesus" (Col.1:28).
Breda is vice-principal of a local second- level school in Ireland. She lives in Athy, County Kildare, with her children Maria (12) and Niall (11). 

More Articles from The Intercessor, Vol 17 No 3