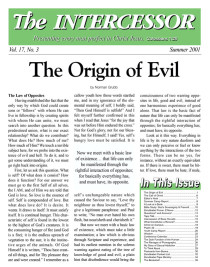 What Constitutes a Revival?

The following article is a chapter from Christ in Congo Forests, Norman Grubb's moving account of the beginnings of the Heart of Africa Mission, founded by his father-in-law, C.T. Studd.Published in 1945, it is a rare and startling look at missionary work in Africa during the early 1900's. More importantly, we see a timeless picture of the crystal clear honesty necessary for true confession and repentance.
Revival is God visiting His people, the Lord suddenly coming to His temple. A revival stands in a class by itself. It is different. It is unmistakable. It is the highest peak of Christian privilege and experience. By it God does in a few weeks what years of labour do not seem able to produce. A revival fully satisfies the heart's longing; in it the prayers and supplications of God's faithful servants have their complete answer.The labouring husbandman at last reaps the hundredfold harvest. That lyrical outburst of liberated Israel bursts forth again from overflowing hearts: "When the Lord turned again the captivity of Zion,we were like them that dream. Then was our mouth filled with laughter, and our tongue with singing: then said they among the heathen, The Lord hath done great things for them. The Lord hath done great things for us; whereof we are glad." A revival is holy ground, for the Saviour draws very near, the veil grows very thin, and sin is seen to be exceeding sinful. A revival leaves an ineffaceable impression on those who experience it. They can never be the same again. They have seen God as others have not seen Him.
God gave a gracious visitation of this kind at Imbai's during 1935. Quiet, costly, deep, bearing the very fruits in the people which it is the life ambition of every missionary to see, it was indeed a time of refreshing from the presence of the Lord.
No revival,we believe, is just an isolated incident. Its roots lie deep in the faithful labours of the years that precede it. One sows, another reaps, that both may rejoice together at the harvest. Imbai's had had many years of faithful and fruitful ministry, since Mr. Studd helped the natives to build their first "cricket pitch" church in a forest clearing in 1925, in particular the labours of Gilbert and Mrs.Buckley,and Miss Muriel Harman.The station was now in the hands of a brother and two sisters, Jack, Lily and Ivy Roberts. Jack and Lily had worked there since 1931, Ivy being a newcomer. They had seen blessing, especially in an increase of missionary enthusiasm among the people. But they were conscious of a block somehow in the work. It reached a climax by Christmas 1934. They felt convinced that they could not go on as they were. In an endeavour to bring the people face to face with God, they cancelled the usual Christmas festivities and called them to prayer.The meetings, however,were a fiasco, with a "sour sullenness" on the faces of the congregation. No other meeting was announced and the usual conference was postponed for a week.
The trio went to their own room terribly burdened. Throwing themselves on their faces before God, they spent the rest of the day alone in prayer. The next three days were given to secret intercession, and there grew a calm confidence that something out of the ordinary would happen when the conference opened. It began rather oppressively. Roberts preached on, "God commandeth all men everywhere to repent". But before he had finished the atmosphere changed. Obviously the Holy Ghost was working. At the noon meeting he spoke again from the same text. It was five o'clock before he stopped. At the close he said quietly, "Will those of you who want to get right with God do so now? The meeting is open for public confession of sin."
Confessions began with some of the leading Christians—their lack of love for God's Word and prayer, their slackness in giving. Then came a real break. One after another stood up and confessed to stealing: some were recent cases since their conversion: others, for which no restitution had been made, were years before they knew the Saviour. But a desperate battle was going on.The station people were still very hard. They seemed to wince, as broken humble confessions continued around them at intervals till dusk. No one apparently noticed the approach of night: they just sat on as though glued to their seats.At half-past six one of the house lads slipped out and brought a storm lantern to the platform.Unconscious of time, they sat on till ten o'clock. It was then that one of the other house-boys made a confession and stopped short. He was labouring under great conviction of sin. Roberts, knowing his life, knew that he was only half-way through and told him so openly. But he denied it, and sat down.
Imbai's was strangely still that night. The people dispersed silently, even the children slipping off to bed as quiet as mice.Previously in conference times everybody was very much alive; an animated conversation would be heard till the small hours of the morning. This time all was hushed. Satan was putting up a terrific resistance in the station Christians. They persecuted and scorned those who had made confessions, particularly when the sin confessed was the one of which they themselves were guilty. That night they were made the subject of concentrated intercession.
At 6:30 a.m., to a full audience, Roberts spoke again from "God commandeth all men everywhere to repent." In conclusion he told them that the 3 o'clock service would be open only to those who were right with God or willing to make things right. Numbers in the afternoon were small. Except for those who had acknowledged sin the previous day, there were very few indeed. The majority of the station people and their wives were absent,as were also the schoolchildren. The text was unchanged.
As the service continued, however, quite a little crowd collected outside, mostly Christian people. They were trying to listen without being seen. By and by, one by one, they started creeping in, and taking their places with the others—30, 40, 50, 60 of them! When an opportunity was given for prayer and confession, the first break came with the station workmen. Consciences were very tender and the sense of sin deep and real. It was well understood that confession meant restitution, but the shame and humiliation of the uncovering of sin cost those proud Babudus infinitely more than any material restitution.
One man acknowledged that he had been a source of annoyance on the station, always grumbling. Carpenters made confessions that they would not have made for any money and which no threat would ever have forced from their lips, the stealing of timber, nails, screws and hinges. The house-lad who had gone halfway the day before rose again and confessed to some minor thefts, such as taking salt from the salt box."Is that all you have to confess!"he was asked from the platform. "No. That's not all," he said, recounting a few more instances. "And is that all?" Then he would add a few more. At last a faithful rebuke made him find his balance."You are a hypocrite," cried Roberts. "You are confessing only what you think is known to me. But remember all is known to God." After that he confessed to gross sin.Many afterwards were the confessions of immorality.Young people told how they had been to all-night dances and drinking feasts. The breaking through with the schoolchildren came last and was every bit as real.Many lads owned up to stealing animals out of other lads' traps. Older boys admitted attending heathen rites and being guilty of impurity. Even wee toddlers confessed to taking cooked food, hidden by their mother for the evening meal, but found in her absence and eaten. With tears running down their cheeks, they would say, "I told mother I didn't take it, but I did." The girls' confessions were astounding—painting their bodies in black, white, and red, as a substitute for dress. Blackening their eyebrows: plaiting straw hats with the object of making themselves attractive, wearing their hats obliquely over one eye with a feather stuck out at another angle to be conspicuous, running away from school and going to dances on the quiet. These confessions came from the breaking up of the deep well springs of the heart.
The blessed Holy Spirit was doing what He came to do, to convict of sin and to reveal the Saviour.The words of Malachi were finding their fulfilment: "The Lord, whom ye seek, shall suddenly come to His temple . . . . But who may abide the day of His coming? and who shall stand when He appeareth? for He is like a refiner's fire, and like fullers'soap."The Lord had appeared to His own; and it meant a "going under" in every case.
But if conscience had been deeply wounded, Calvary had healed the wounds of all who had found their way there. Something snapped on that Monday night, which brought a different relationship between the native Christians and the missionaries. There had been suspicion and estrangement before, that undefined barrier to mutual confidences, partly racial, partly social, that spoils so much work for God on the mission field.
It meant that Jack could share with them that evening the burden for revival that God had laid on his heart. A good many on the mission premises were still holding out, harbouring unforgiven sin. These became harder than ever. But as for the others, for the most part their captivity was turned and their tongues tuned to song. They sang hymns from morning till night and worked as they had never worked before. A few of the sawyers had been confessing to slacking in their jobs; so this morning for the first time they were sent to the forest alone.The putting up one huge log—some twenty feet long-ready for sawing,was reckoned a day's work: but in three hours the men were back with the job completed, lined up on parade, ready for the next! No sneaking into their villages for food! No hiding in the forest to kill time! From that day each sawyer was his own foreman and needed no supervision.
On the Thursday of that week a young carpenter asked if he could say something. "I have to confess to you," he said, "how I have wronged my sister and sinned against God. I wanted to get married, and my father had no money to pay for a bride; but he suggested selling my little sister of twelve years to get me the purchase price. I knew that my sister should be at school, and I knew that this transaction meant her slavery, but I consented. She was sold to an old pagan, who has several other wives; and the money has already been paid towards the purchase of my bride. But I have been a traitor to Jesus Christ." "You know what to do, don't you?" Jack asked him. "Yes, I know, Bwana: get my sister back, return the old man the money, and give up for the present negotiations for my bride." He went through with it. The child, happy to be released, came to school, and he took up his cross and followed his Saviour.   
More Articles from The Intercessor, Vol 17 No 3