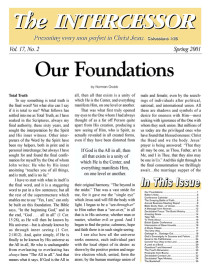 Great is His Faithfulness

Following is an email written earlier this year by Kim Rogers of Leicester, England, to several friends in the Zerubbabel family. Kim has graciously allowed us to share her letter with the entire Intercessor readership.
To: friends@intercessor-magazine.org Subject: Great in His Faithfulness
Dear All,
I am writing to share the news of what has been a most incredible week with God.
It started last Sunday night when I got home to an answerphone message from my Dad, who is in Spain with my mother, saying that my Grandpa was dying. He gave details of the Christian nursing home where I could go and see him for "one last time" if I wanted to.
I knew that my Grandpa was not saved and that I needed to go and see him about his salvation. When I told my mother about going for this reason, she said "Well, don't be too disappointed." She was totally focused on the outer circumstances— he has had Alzheimer's disease for years and was very sick.
Despite my mother's discouraging words, I decided to visit my Grandpa anyway. Upon arriving, the nurse at the home sat me down and prepared me for the physical condition of my Grandpa before I saw him. He was a dying man. He had his eyes closed. He was not talking and was very weak looking. He was also very restless, moving from side to side and shifting around in his bed. However, the nurse told me to hold his hand and speak to him because he could still hear me.
I read to him from a booklet all about salvation called Why Jesus. The booklet included a prayer you could repeat to ask for forgiveness and to ask Jesus into your heart. I went again the next night and read to him from the Bible and kept saying that he could find peace with Jesus if he accepted Christ as His saviour. This time, he had one eye open and was more restful.
I was believing for his salvation. Then my friend Irene told me that, with her father, she had asked God to see the evidence that he was saved. I felt scared about asking God for this. I thought about it and didn't know what to do, but I did know that what I wanted, I could trust as being Christ's desire. Then God had me find this verse: "Until now you have asked nothing in My name. Ask, and receive, that your joy may be full" (John 16:24).
 Hallelujah! I realised I could, without being afraid, trust God that Grandpa would be saved and ask Him for a sign that Grandpa had accepted Christ. So straight away, I called my roommate Jo at home to tell her that I was asking to see the evidence of Grandpa's salvation in the name of Jesus Christ.
Later during the week I met up with my boss for my appraisal. She is a Christian, and I told her that my Grandpa was dying and that I was going to see him and continue to witness to him. She immediately let me go to be with him and said that I didn't have to come to work the next day either. So I left to go back to the nursing home, and in the car, I put on my tape of the Bible. When I heard this verse, my mouth dropped open:
"In an acceptable time I have heard you, and in the day of salvation I have helped you. Behold, now is the accepted time; behold, NOW IS THE DAY OF SALVATION" (2 Corinthians 6:2).
So, I went in feeling very excited about what God was going to do that day. My Aunt and Uncle, also born-again Christians, were there with Grandpa already. They too were believing that he would be saved. We were together all day talking and praying with Grandpa about him going to be with Jesus.
I told my Aunt about asking God to see a sign that Grandpa accepted Christ. She said that the sign they had seen was that a few times when they had been praying with my Grandpa, he had had tears in his eyes. This seemed very significant to me. As my Aunt spoke about this, my Grandpa started to get agitated. He started to breathe more quickly and moved as though he was trying to say something or get our attention. My Aunt asked him if she should read the blessing to him, which she did. She read a blessing from the book of Numbers:
"The Lord bless you and keep you; The Lord make His face shine upon you, and be gracious to you; The Lord lift up His countenance upon you, and give you peace" (Numbers 6:24-26).
When she got to the end, Grandpa settled down again and was peaceful. We both stood there for a moment, not saying anything. Could this be the sign I was looking for? I believe it was. I realise it was not a huge, physical, concrete sign, but I believe God honoured my word of faith that Grandpa would be saved. Although Grandpa gave no indication of accepting Christ, I believe I will once again be reunited with him in heaven. But I won't know with absolute certainty until I get there.
The next day I got a call about 9:30 a.m. to say that Grandpa had died. I am grateful that God had made sure I was there the previous day. My joy truly was full, now having real hope that Grandpa was with Jesus in heaven that day—something that only a few days earlier I would never have thought possible.
During this time, my other Grandad (on my father's side) had been coming into my mind. He is 91 years old and, throughout his life, had also rejected the truth about salvation through Christ's death and resurrection. I planned to go and see him. Before going, I talked to Jo about his being saved. We decided to say a word of faith that he would be saved that day!
On the way to see Grandad, I wondered about listening to my Bible tape again and laughed to myself at the thought of what I might hear. So, I put it on, and the first words were:
"The weapons we fight with are not the weapons of the world. On the contrary, they have divine power to demolish strong-holds. We demolish arguments and every pretension that sets itself up against the knowledge of God" (2 Cor. 10:4-5).
To actually find my Grandad, I had to go on a search of his regular haunts. First of all I tried the pub where he spends most of his time. Knowing the purpose of my mission, it felt strange going into this smoke-filled atmosphere, with regular drinkers staring at me. The barman told me that I could find him at the "bookies" (a betting shop) across the road. Sure enough, there he was, but it took some convincing to drag him away from the horses, to his house.
During the conversation, my Grandad resisted and argued. He said that he had always been religious and had gone to Sunday school when he was young. I kept thinking back to that scripture from II Corinthians. I explained that being religious and going to Sunday school are not the same as accepting Jesus into your heart. Because of his pride, he didn't like the thought of asking for forgiveness. However, Christ through me persisted and defeated this satanic stronghold, and my Grandad asked what he should do to be saved. I gave him the booklet I had taken with me, and He read the sinner's prayer. After we had talked about it more, he was asking how he could get hold of Jesus to talk to him! He said that I had "signed him up" and that he was "one of the clan now." He knew he had made a commitment.
I am now planning to go and visit him regularly and get scripture to him—starting with the Jesus video (as he doesn't like reading, but has a healthy video collection). I feel excited at the prospect of developing our relationship on a new level, with Christ being the focus.
 I am also excited about the impact the events of this week will have on my family. I have already told my Dad all about what happened with his Dad in the hope that it will make him think about where he himself is with Jesus Christ. I have also had a long phone call with my sister, which was started off by the salvation of my first Grandpa! I know God is going to turn her around out of the sin life she has chosen.
So, just wanted to share God's Glory in all of this with y'all !!!
Love, Kim
Kim lives in Leicester, England and works as a pharmaceutical sales representative. She is a Zerubbabel Youth Contact and actively involved with Z-News, Zerubbabel's youth magazine. 

More Articles from The Intercessor, Vol 17 No 2