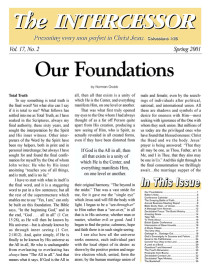 Garbage In… Garbage Out

A few weeks ago I watched an interview that serial killer Ted Bundy granted to Dr. James Dobson of Focus on the Family. Mr. Bundy happened to be on death row in Florida at the time of the interview and was scheduled to die there a short time later.Ted had one thing on his mind and wanted to let the public in on his secret. Unfortunately,
Mr.Bundy became addicted to pornography at a young age, and his obsession with it led him to a life of crime and brutal murder by the age of twenty-seven. He was only forty-three years old when the state of Florida put him to death for his crimes. Ted Bundy certainly looked and sounded normal. He could have passed for the bank officer or the grocery store manager down the street. By the looks of him, you would never suspect that he had confessed to the killing of twenty-eight people.
Mr. Bundy selected Dr. Dobson to conduct his final interview before his execution because he felt that no one in the press would do justice to what he needed to talk about. Ted's desire was to warn anyone who would listen to the dangers of pornography. He spoke of how he became hooked at a young age by exposing himself to explicit material, and from that point, he led a life out-ofcontrol. His obsession was fairly tame and soft-core, but it engulfed him over time and became stronger and stronger. Soon, he was insatiable, and he needed more and more pornography and more hard-core material.When that no longer satisfied him, he turned to more deviant behavior, and soon he became a rapist and a murderer.What started as a choice to expose himself to some seemingly insignificant pornography ended when he was executed by the state of Florida.
God warns us in the Bible that we must guard our hearts and minds, for Evil seeks to destroy us in our body and soul.Evil certainly destroyed Ted Bundy, and Satan seeks to destroy both believers and non-believers alike.Mr.Bundy is an extreme example of how far down Satan can take a person, but I believe that this same Evil destroys us even if not to the same degree that it destroyed Ted Bundy.
I believe in a very simple principle: GARBAGE IN = GARBAGE OUT.Anyone who has ever written any kind of computer program or set of macroinstructions knows this very well. If you give your computer a bad set of instructions (garbage in),it is going to produce a bad outcome (garbage out). The same goes for just about any aspect in life today. In the kitchen a bad recipe with low-quality ingredients is going to produce a bad meal. In school, a student who does not pay attention in class and who does not study will do poorly on the big test.
Spiritually, God holds us accountable to the "garbage in = garbage out" principle. The Bible instructs us to keep our hearts and minds clean and clear of garbage so that we will not produce garbage (sinful thoughts and deeds). I have learned, sometimes the hard way, that sin does not occur in a vacuum. Sinful thoughts and deeds are most often the result of a small, seemingly insignificant choice that goes against God's will.This choice to go against God is always rooted in the desire to be selffor- self (Satan) rather than self-for-others (Jesus Christ). The problem lies in the fact that once Satan gains control of the believer, he remains in control and progressively uses the believer as a sinful weapon against righteousness.With Satan in control now, the believer cannot stop Satan from taking him or her down a long, painful, and destructive path of sin and wickedness. Have you ever said to yourself, "I cannot believe I did that. I would never have believed that I would stoop so low"? I know I have.
This happens because there is no "just I" that makes the first seemingly insignificant sinful choice; nor is there a "just I" to stoop to the lowest point of a series of sinful choices. The Bible says that we are used as either weapons of righteousness or weapons of wrath. Once we make the first choice to choose self-for-self, we become thatweapon of wrath. Here is the rub, though.We STAY that weapon of wrath until we free ourselves from Satan's grasp.This freedom comes through the conviction of sin and repentance from it.This is what allows Christ back in control of our life and our deeds become pure again. So, "garbage in = garbage out" defines our lives when Satan is in control. When Satan is in control of the believer, no matter how kind or nice or helpful or generous or loving their actions appear to be, the Bible calls it evil and wrathful and destructive (garbage out).
The "garbage in = garbage out" principle must also be boiled down to our own lives and our own minds and our own minutes and seconds of every day. A sinful deed does not manifest itself in a vacuum. It is the result of a heart-choice to go against God. However, even this heart-choice does not spring up out of nowhere either. I believe that such a choice is greatly affected by what a person lets into her or his mind in the course of living a normal day. For example, I believe that a person who decides to tell a "little white lie"will tell another if she or he does not clean it up with God and her or his fellow man.Soon,the lying becomes more involved, more deceitful, more selfish, and more destructive.Eventually,such a person is known as untrustworthy, unreliable, and undesirable. Soon, the person loses the confidence of friends and family, and the cycle can get worse and worse. Satan destroys by taking a small white lie, gaining control through the choice, and slowly but surely taking the believer down.
When I was in high school, I was the classic underachiever in the classroom. God gave me a good brain and the ability to use it in an academic setting. However, I frequently chose to goof-off, neglect my homework, and arrive for school ill prepared. I did not have bad study habits; I had the bad habit of not studying. However, to call this a bad habit really does not call it what it really was. It was sin on my part! I wasted the talent and ability God gave me, and I was a terrible steward of his heavenly riches bestowed on me. Yet the same "garbage in = garbage out" principle applies again.
The garbage I let in were small choices early on in junior high school to miss small assignments and not study for tests as much as I should have. Later on in high school, I completely missed big assignments and hardly studied for major tests. My garbage in produced garbage out report cards with bad grades. Satan took me over on this, and he controlled me to the point that I began lying about my schoolwork to my parents and teachers. I even dropped so low to the point that I began weaving tales of a learning disability to lessen the blow of a terrible report card. I told this saga to a couple of adults I worked for after school and actually talked them into calling my parents to break the news to them. Needless to say,my parents knew better. As I look back now on this episode,it is so ridiculous to me.And that is how I know that Satan took me over on this when I chose to neglect small parts of my schoolwork.The problem got bigger and bigger as he took me further and further away from what God meant for me to be at school. Thankfully, I then chose to use my ability and become the student God wanted me to be, and I did well in college. God restored me to what I should have been all along, but I do look back and think of the wasted time and ability.
We are constantly bombarded by stimulus all around us each and every day. The decisions we make regarding where we go,who we go with, what we watch and listen to, etc. affect us in so many ways. In the next issue, I will discuss what the Bible says about the influences in our lives as well as ways we can protect our minds and hearts from Satanic influences. Until then, don't forget to leave the garbage out!
Scott is the youth director of Zerubbabel Ministries. He lives in Boone, North Carolina and is an owner/manager of Back Yard Burgers in Boone, Hickory, and Lenoir, NC. 

More Articles from The Intercessor, Vol 17 No 2