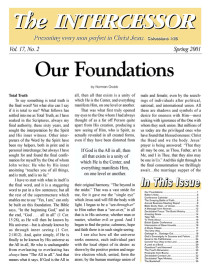 Amazing Grace

In many ways I had a privileged childhood. I grew up on a farm, living in a comfortable house with my parents, three grandparents and my older brother. We all attended the local Anglican (Lutheran) church and my brother and I went to the church primary school and later to Protestant boarding schools. While we were taught right from wrong and encouraged to have moral standards, the possibility of knowing God in a personal way was a foreign concept to us. I may have heard the gospel before I went to university and met a Christian who introduced me to Christian Union, but I had no real understanding of what it meant to know Jesus as my personal Saviour. However, praise God, the light shone and I became a Christian at the end of my first year in college.
That was thirty one years ago! I don't remember how soon after becoming a Christian I started to desire my parents' conversion, but it goes back a long way. Far from seeing an answer to that prayer straight away, for many years my faith in Jesus was an area of tension or outright conflict between us. Even in times of tranquility there was no evidence of any spiritual interest on their part.
In June 1995 my father started to lose his sight. Before going to summer camp that year I remember thinking that this was God's way of really getting my father's attention and that I would prefer him to have spiritual sight and physical blindness rather than the other way around. That year at camp there was a lot of emphasis on the word of faith and intercession. I spoke a word of faith that my father would become a Christian, and sometime later added my mother to that word. At camp that year, Brett's teaching included biblical evidence that when God says something will be, initial outward appearances often seem to demonstrate the opposite. The following years certainly bore witness to that in my parents' lives. Conflict between us seemed to intensify, as they became more antagonistic to any attempt to convince them of their need for salvation.
During these years, I too turned away from God's highest and best for me and chose instead to go my own self-centred way. All the time I was bent on "my" (really Satan's) way, I maintained an outward façade of "God first." I know this could only have been a hindrance to my parents and indeed to many others at that time. But, God in His mercy persisted with me and forgave the sin in my life and turned me back to trusting Him. Relationships with my parents were very difficult at that time. They opposed God's dealings in my life and firmly resisted any mention of the gospel, claiming to be "okay" as they were. However, as my life was cleaned up and Jesus Christ was free to live His life through me, I knew that they too were in His hands and my word of faith stood—whatever the appearances.
In the fall of last year things began to change very quickly. Dad hadn't been feeling well and was in hospital for tests. At the time I was busy teaching school and studying for an exam. God arranged it that Dad was in hospital ten minutes from where I live. The day I finished my exam was the day I heard that Dad's diagnosis was cancer. There followed a remarkable six week series of events demonstrating God's great mercy and faithfulness and His continued attention to every detail.
Dad knew his diagnosis was cancer and his health was rapidly failing. I thought that surely this would produce a desire to be right with God. The first time I spoke to him after his diagnosis I asked if he was now ready to ask Jesus into his life. His reply, "Oh Irene, don't start that again." The battle raged! While I felt intense disappointment and discouragement I knew I had a choice—to believe appearances or believe God. I silently but firmly made my faith choice there at Dad's bedside. Within days our fall conference took place and that was a time of great encouragement and assurance of others standing in faith with me. I came away knowing Dad's salvation was God's deal, not "mine," and any attempt to manipulate it would be sin. My part was to believe and trust Christ through me to be and do and say exactly what He wanted.
My parents' home is in the town where I work so I basically moved in and went to work from there, returninghome at weekends. As Dad's health deteriorated I witnessed a wonderful softening in him. Now he welcomed it when I suggested reading scripture with him. Twice I saw him cry after his local minister, a born again Christian, read and prayed with him. On one of those occasions the minister prayed a salvation prayer, encouraging Dad to make it personal for himself. Once I was reading John 14 with Dad and verse 3 seemed to light up: "When everything is ready, I will come and get you, so that you will always be with me where I am." I knew for sure that Dad would not die a moment before everything was ready. As I read John 15:7 I was struck by God's promise, "Ask any request you like, and it will be granted." I already knew that my word of faith for Dad's salvation was a done deal but now I asked to see the evidence of it before he died. As I shared this with Breda in school next day, she joined with me in believing for visible evidence. The day before Dad lost consciousness he was in the kitchen in his wheelchair and was very distressed. He asked me to hold his hand and said, "I'm dying, I'm dying." I talked simply about what Jesus had done to make it possible for us to go to heaven and asked if he would trust Jesus to take him there. His reply, "I will, I will," was the evidence I had asked for. Everything was now ready. Dad died two days later on 18 November.
But that's not the end of the story! My mother, now living alone after 53 years of marriage, was naturally devastated. I didn't know how much she was aware of all that had happened during Dad's last weeks. One day, several weeks after his death, encouraged by Sanda to be bold, I told her why I was so confident that Dad is now in heaven. I asked her if I could read Billy Graham's Steps to Peace with God with her and she agreed. When it came to the prayer at the end Mum wasn't ready to say it, but agreed to think about it that night. Next day we talked on the phone and she said that she had prayed, asking God's forgiveness for her sins and asking Jesus into her life. Thank you God!
Irene is a teacher in County Kildare, Ireland. She and her husband, Richard, are Zerubbabel Contacts for Europe and are actively involved with the UK fellowship. 
More Articles from The Intercessor, Vol 17 No 2