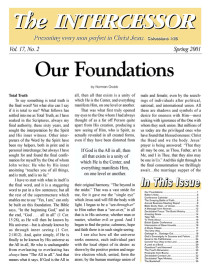 A Movie Classic

Movies play a significant role in our culture today. They are a large part of the entertainment industry, and movies provide millions of Americans with amusement in their leisure time. Many people do not realize, though, that the movies that we watch play a crucial role in our maturing and developing lives. When we see inappropriate things in movies, we expose ourselves to images, language, and ideas that can be emotionally unhealthy and spiritually harmful. Yet, many movies can also reveal certain ideas that are valuable.
Recently I had the pleasure of viewing a great movie by the name of Twelve Angry Men. This is a classic, black and white film made in the mid 1950's. I was very entertained by this film and especially by the great cast including Henry Fonda, Ed Bagley, E.G. Marshall, Jack Warden, and Jack Klugman, to name a few. The movie takes place in a jury room after the murder trial of a young man. In this room, twelve men are brought together to discuss the fate of this one man's life. Every juror states that the convicted man is guilty except one, played by Henry Fonda, who stands up for what he believes in and eventually changes the course of the young man's life.
Twelve Angry Men is an excellent film because even though it is very entertaining, it also provides us with some great examples to live by in our lives. The movie expresses and demonstrates several morals and values that God reveals to us in the Bible. First, this movie teaches us not to judge something by the look of it. The man on trial was a young immigrant with a weak lawyer, so several of the jurors jumped to conclusions and just assumed that the man was guilty. Their ideas were rooted in racism and bigotry. The Bible speaks very strongly against racism. God teaches us to love one another and treat each other with the same respect with which we would want to be treated with. God also says that we are all containers built to house Jesus Christ and each of us is the same in God's eyes. It is a sin to judge anybody, whether it is by looks, race, age, or anything else except by the spirit that someone contains.
Next, several of the jurors were also just plain lazy. One man had a baseball game that he didn't want to miss, so his main concern was getting out of that room as quickly as possible. Others were bothered by the heat, so they tried to end deliberations as soon as they could by saying that the young man was guilty. Laziness is not something that the Lord takes lightly, and he tells us this in the Bible. Laziness is a sin and can lead to horrible consequences if not taken care of. The book of Proverbs talks often of the consequences that come upon the lazy man.
Also, the movie teaches us to stick up for what we believe. We as Christians have to be strong in our faith to live the way God wants us to live. One man stuck up for what he believed in and totally changed the course of another man's life. If he had judged the young man, been lazy, or just sat back and not said what he believed, the young man would have been killed for a crime that he did not commit. Because of one man's right and just actions, another life was saved.
It is crucial that we obey God's word and live according to the way that he means for us to live. We have to be strong in our faith and stand up for what we believe in and not back down at any cost, no matter what the temptation may be. I really enjoyed seeing these biblical truths as part of the plot of the move Twelve Angry Men. I think you would really enjoy watching it if you have never seen it.
Fowler is a graduate of Watauga High School in Boone, NC. He works at Back Yard Burgers and his parents are Sanda and Fowler Cooper. 

More Articles from The Intercessor, Vol 17 No 2