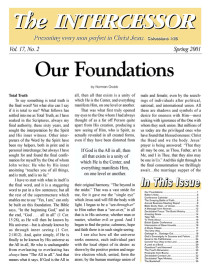 God's Sovereignty in Success and In Failure

An Interview with Dr. Thomas Prewitt
Lessons in faith do not frequently come as epiphanies. They must often be learned in the school of faith—over the course of years, through trials, failure, and suffering. In this way, God perfectly orchestrates opportunities for each of us to understand the lie of independence and to know Christ as the one living out his life; through His vessels and in the very circumstances He has arranged. Dr. Prewitt's experiences as he went through his medical training and established his career provide a candid look at how this has happened with one man. While Tommy's experiences are unique, all of our readers will certainly be able to identify in some way, as God has trials for all of us. And as Tommy suggests, we must all either choose to see God's sovereignty in these trials and grow in faith, or succumb to Satan's temptations and wither in resentment and bitterness.
When did you start to think you would like to be a surgeon?
It's silly, but I used to watch M*A*S*H and I thought Hawkeye Pierce was a great guy. And my family was very close with John Bunting, a surgeon in Louisville, Kentucky. He was an interesting, dynamic, charismatic fellow who had an interesting dynamic life. It was just interesting that he had all these facets to his life, and I thought I'd like to do what he does. So when I went to medical school, I didn't really go to be a doctor—I went to be a surgeon.
In college, did you anticipate how difficult medical training would be?
I don't think so. I always thought that if I just applied myself it would be easy. I probably had a view that there was something kind of exciting, and romantic, and inspiring about being in medical school.
Was there?
Not really. It got to be more like that as a student doing clinical work, but before that it was just class and labs eight hours a day. Then you go home and study all night, come back the next morning and take tests. There is very little about that routine that is fun and exciting. And then, I just didn't have my priorities right during that time. If my life were straight at the time, I wouldn't have had near the problems I did.
Can you describe your first years in medical school?
I was very depressed for the most part. I had been in a bad relationship with somebody that was broken—it needed to be broken. And I just hated medical school in general. I had a hard time concentrating. It wasn't fun, and it was much more demanding than college. I really wasn't dedicated or interested in it. When I didn't perform well, I often blamed the system for the way they asked questions or the way they lectured. I didn't take a lot of responsibility for myself then.
What was the fallout of that?
I ended up having to take a year of medical school over. My grades were fractionally below what the school thought was acceptable for me to move on, and they thought that I needed to do my first year over. It was a drag (Laugh).
During that time, did you ever consider quitting med school and doing something else?
I didn't think I was going to quit. I thought I might take a year out and kind of recover from it—that kind of malarkey. My dad said that it was a very serious thing for somebody to start talking about giving up a career. I think my parents knew I would never have gone back. I think I realized also that it wasn't going to be easy to go back at any time. I just had to do the hard thing, bite the bullet and go forward. 
So what was next?
I went back to school. It was a struggle. I had seen the coursework already, but I still wasn't motivated to get up and go to class and study. And it was embarrassing to go back and be behind the people I had been in class with.
What lessons did you learn during that time?
I forget this a lot still, but I think with baby steps, I learned that I don't have to do things on my own—I credit my mother with teaching me this. Jesus Christ could do things through me instead of me trying to do it on my own sheer will. I could literally decide that He can get up out of bed and go to class and get up and study—all these things I hated and didn't want to do. It was clearly His faith that did it. It wasn't like I had some epiphany where everything suddenly became easy. Christ actually did it through me, and He is actually the One who believed it. I just decided that I'm going to say this is true. I got through the year ok, but it's not like I came back and, all of the sudden, became a straight A student.
Then, I think God honored my mother's dedication to getting me through it, and to some extent, the baby steps of faith I was taking, because I really got a break at the end of my second year of medical school before clinical interns. A family friend in Jackson, who was an E.N.T. surgeon, kind of took me under his wing and helped me get a position as a student with a big cardiovascular surgery group in town.
Here I was a student who had struggled through my first two years of school, and I had this fantastic job that many I was in school with would have died to have. I was just flabbergasted. I would work in the operating room helping them harvest the vein or hold the heart for cardiac surgery. I also learned to sew. I'd stay late on Friday nights to do cases. Those guys treated me like I was a resident—they would ask me tough questions and throw me out of the operating room if I didn't know something. So, God rewarded me with this job opportunity, though I didn't deserve it.
Instead of starting my third year of medical school behind like I had been, and with a really negative view of myself and of the situation, I started out with a tremendous advantage. The third year of training was a shock to lot of other guys. But I had kind of been through it in the summer. I had learned some tough lessons and was prepared. I had studied hard. I had been around patients; I knew how doctors talked; I got along well with the residents. I respected the staff, and I was used to the pressure of them wearing you out. After all my problems with the class work, I really excelled with the clinical part. I did extraordinarily well in surgery. I was a great student there and ended up with the third highest grade in the class in surgery. So that really changed my life as far as my medical career was concerned.
So, you earned your medical degree and then began your residency in surgery.
Yes. When I was a third year and fourth year medical student, the residents and staff really wanted me to stay in Jackson. I had strong letters of recommendation, and I considered doing my residency at Vanderbilt, Tulane, or Jackson—all of which had good reputations. I ultimately stayed in Jackson and was very happy to end up there. One result of staying there was that I married Cissy. God obviously put me in Jackson.
Your training in Jackson was ultimately interrupted with a pretty high honor. How did that come about?
In Jackson, my chief resident Bobby Robbins had done a fellowship in cardiac surgery at the National Heart, Lung and Blood Institute of the National Institute of Health. Robins was dynamic and sharp—head and shoulders above the other chiefs. I really wanted to do what Robbins had done and go to the NIH for surgery. I talked to my administrator Dr. Hardy. He knew everybody, and it just so happened that there was an opportunity at the surgery branch of The National Cancer Institute at the NIH. It was sort of a huge joke for me because there were some three hundred residents— really smart guys from NYU, Harvard, Duke and similar schools—applying for eight positions. But ultimately Dr. Hardy helped me, and I earned a position. It was a great honor to go to the NIH. It was a great, dynamic time.
Once at the NIH, was it strange to think back on your first years in medical school?
Having to repeat that year of medical school has been a real blessing. Coming from an experience like that, someone can either resent it or see that there is a perfect reason for it. Even thought there was lot of sin in my life that accounted for it, there was a perfect reason for it—God ultimately has used it to His benefit. I know where I've come from. I know I'm blessed to be where I am; I'm blessed to have made it through. I'm blessed that people will come see me as a doctor, and I'm blessed that physicians will send patients to me. I think a lot of people do not have the same opportunity I had to not take themselves so seriously. I think a lot of people are victims of their own success. They really think that they are responsible for where they are. A lot of people think that they're superior to others because they've done all these great things. I know I haven't done great things. It's easier for me to get past that. Bottom line, I know where I am is a blessing.
After completing your training in Jackson, what were your plans for the future?
I considered academia, but ultimately I wanted to have a busy surgical career. I wanted to be a prominent, successful surgeon, have a lot of patients, etc. At that time, my family and others in my fellowship had moved to Boone. I wasn't necessarily thinking about Boone, and then my sister said to me on the telephone, "Are you going to be a surgeon or a missionary?" There was a job offer in Lenoir, thirty miles from Boone, and I took it.
Meaning your answer was…
I'm going live a different life than I had said. I had some fantastic career opportunities that would have been more lucrative, that would have been easier. But I decided that what God wants me to do, that's what I will do—it will be a "missionary" life.
So, as far as the surgery position was concerned, Lenoir was not some fantastic opportunity. Is that right?
I loved Lenoir, and I was blessed to be there. Lenoir was a great place. The people were very sweet and supportive of me. There were problems with the practice though. I wasn't busy. But ultimately it got me close to Boone. It also enabled me to become established and confident enough that God was able to change my wants. I had not really wanted to come up to Boone to join a practice, and I certainly didn't want to go into practice for myself. But because of certain events and circumstances, it became feasible and what I wanted to do—move to Boone and set up my own practice, with virtually no visible support from the hospital or other physicians.
I was coming to a small town that already had four or five surgeons with two or three more on the way. Of potential doctors who might refer patients to me, I had talked to one on the phone for thirty minutes. One other doctor happened to know my family— that was it. It was a very odd thing, and I don't think I would have predicted it while at the NIH. It's not what most would consider the path of least resistance to a successful career
On the surface, it appeared like the odds were stacked against you.
Yes, the odds were very much stacked against me by appearances. I thought I'd come up to Boone and just be satisfied to make enough money to support my family and live here.
Have you had any confirmation since that time that maybe God had a little more in store than you?
(Laugh). Well, it turns out that there was more opportunity here than I would ever have imagined. I would not have realized it had I not come up here. The community and the referring physicians at the hospital have been extremely supportive. I've ended up with a practice where, for example, I have sixteen major cases scheduled this week. On average, a good busy practice might do eight cases in a week. So I've just been overwhelmed with the number of patients. As far as clinical outcomes, my patients have done well. I have a great office staff, a well-run business, and a great area to practice in. It has exceeded my wildest expectations.
In what ways do you see your work as a part of your ministry?
I think my work is a part of my calling just the same way anybody else's is. I don't look at medicine as some romantic awe-inspiring thing. I don't look at it as all these people I'm "helping." This is what God has picked for me to do, and I'm not different than anybody else. If this is what God wants me to do, then He's using it for His purposes. If Jesus Christ is living your life out and He happens to be delivering newspapers for a living, or if he happens to be operating on sixteen people in a week, it doesn't matter. His ends are being served, and His purposes are being fulfilled, and that's just the facts. Things have gone great for me. I've been blessed beyond my wildest imagination, but it could turn on a dime. I could be doing something entirely different a year from now that I would never have predicted, and I would have to say the same thing—God's using it for His purposes. It seems easier to say when you've been successful, but if God had me doing something else, I'd be just as much a part of His ministry to His world and His people.
That being said, what I have found specifically about the work I do—the practice of medicine—is that people are not particularly interested in how technically well you can do an operation. They're just interested in how you treat them. If you treat people well, care about them, let them know you care about them; this is much more of a ministry than any particular skill. And anybody can accomplish this anywhere. Some of the best things I do for people are some of the most minor, most trivial things—the mundane, unsavory things that aren't glamorous or exciting. When someone operates on breast cancer, people generally see this sort of thing as "saving lives." I really do not see myself as saving lives. It sounds exciting, and that's all well and good, but to me, there are much more minor things that are just tremendous personal blessings. So whatever somebody's doing in life, I see it as God's mission for them. You don't have to be doing something that looks good.
Through the ups and downs, and the challenges you face day to day, what sustains you?
I used to complain and whine a lot when I didn't like my circumstances. I've had to be beaten over the head about that for years and years, but I can say now that the bottom line is that the circumstances I have are God's perfect place for me— whether I'm believing it or not. When I have a lot to do—when I have a lot of patients, a lot of family responsibilities, etc.—it feels overwhelming. But ultimately, it's God's perfect place for me. It's a blessing. That's what I have said, bottom line. Even if my circumstances are the result of some sin choice I've made, I still have to say that God is using it for His good in some way—not my good, but His.
Norman Grubb talked about finding "adventure in adversity."You seem to find a particular adventure in adversity that often has great humor associated with it. How is that?
With my believing right about a situation, I guess that's just how Jesus Christ wants to be through me when things are tough. When my believing isn't right, then as much as anybody, I'm a whining brat, unhappy, feeling sorry for myself. When you believe and know that God's in control of your circumstances— that they're His perfect place, and it's exactly what's supposed to be happening—then the pressure is off and the worry is off. I've been blessed to see a lot of adverse circumstances turn out, and that's one benefit of living through adversity. People that have never looked at their circumstances and said, "Well, this is God's perfect place for me, and He's ultimately in control," they never see the glory of faithing through. They also don't have the track record to get through harder things.
The ability to see God in difficult circumstances doesn't come instantaneously. You have to take the steps that you can take. When things are difficult, you have to say God is in control and His will be done. It can be hard to say, but then—only then when you say that and really believe it—do you see the positive fruits. Then that experience gives you a foundation that allows you to deal with more difficult things. Your initial reaction doesn't necessarily change, but your bottom line belief about it does. I used to get so hung up on things that in retrospect were so trite. Having been through much more difficult things, it's embarrassing thinking about it all now.
It's certainly a different perspective with Christ seeing in a situation rather than Satan.
That's exactly right. Satan wants to see circumstances through you as dismal and hopeless and to put you in the pit of despair—that accomplishes his ends. Satan certainly does not want us to live from faith. When Christ is doing the seeing, things just take on a different light. If God wanted things to be different, they would be different. Turning that over makes it a lot easier.
Thanks Tommy. 
More Articles from The Intercessor, Vol 17 No 2