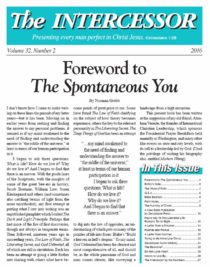 Trying to be More Christ-Like

I often hear in Christian circles that our goal as believers to is to be more like Christ, to become more Christlike, or some other version of that idea. For most Christians today, this is probably a familiar concept–one that is often addressed in public prayer, devotions, sermons, newsletters and the like. If becoming more Christlike is a biblical concept, what does it mean, and how do we do it?
It seems that what most Christians mean when they talk about being more like Christ is having more of the qualities Jesus had (and less of the qualities he didn't). Christ loved others more than himself, he was obedient to God, humble, honest, righteous and faithful. How do we get more of these qualities? Typically, the answer is that we get more of these qualities through prayer, Bible reading, fellowship, God's help, feeding the new nature, starving the old nature, or maybe self-denial or self-discipline–but none of these are the answer.
The surprising truth is that we are NOT meant to be more like Christ. God's plan is for Christ to live His life through us. This is a fundamentally different thing than becoming like Him. And how does this happen? How do we as believers have Christ live out His life through us and as us? This happens not by doing anything but by receiving—receiving the person of Christ by faith and trusting Him to live out His life through us.
It is in fact dangerous to think that we can be more like Jesus apart from expressing His life and His spirit. Think of the original sin of Lucifer (Adam's and Eve's sin came later). Lucifer was an angel and God's "light bearer," but Lucifer wasn't satisfied to bear the light of another. He wanted to be a light unto himself, independent of God (Isaiah 14:14). It was this same false and impossible idea of independence with which Satan infected Adam (Gen 3:5), and through Adam, all mankind (Rom 5:12).
To think that we can or should be more like Christ by working harder to have attributes like him is to believe the false idea of independence authored by Satan. For the believer, this deception doesn't jeopardize salvation, but it does keep the believer from being all that God intends him to be. As believers, we unwittingly give Satan a foothold in our lives unless we put our faith in the truth that all attributes of Christ exist in His person alone and that our purpose and design is simply to say yes to expressing them (really expressing Him) as a free and willing vessel. Jesus himself said: "I am the vine, you are the branches. He who abides in Me, and I in him, bears much fruit; for without Me you can do NOTHING" (emphasis added, John 15:5). The last thing Satan wants is for a believer to know who he is as a vessel and to understand how God created him to operate by faith in that fact.
If you believe that you have an independent human nature and that your purpose is to develop more of the attributes that Christ had, you can admittedly find some support for this view in scripture–more so in versions like the New Living and NIV which seem to have been translated with this as a premise and less so in versions like King James or NAS which do not. If you are willing to consider that scripture is saying something altogether different–that we have no independent nature of our own but instead express through our human selves the divine Spirit of Christ or the false spirit of error Satan—then scripture has new meaning.
The handful of verses that refer to "walking as Christ walked" or "imitating Christ" are not meant to be understood as repeating behaviors or attitudes. These verses simply mean that we are to live by faith as Jesus did, and His faith was this: "I and the Father are one" (John 10:30). Christ acted boldly always pointing to the Father. He wasn't saying: "Act as I act, and behave as I behave." He was saying: "See how I and the Father are one. The same is true for you, and now act on that fact by faith, as I do."
1 John 4:16-17 says that "God is love." The passage continues on to say that "as He is, so also are we in this world." (Note how this passage in the New Living Translation ends up with much more of a behave-like-Jesus sense: "We live like Jesus here in this world.") Love is the very person of God. God determined that He would eternally say no to being self-for-self, that He would eternally be self-for-others, and that He would give Himself totally for his creation. All the so-called attributes of Jesus, even the Fruits of the Spirit of Gal 5:22, are manifestations of God himself, not feelings or even actions. We can't be more like God or more like Jesus. We can only contain and express Him. We can't be loving toward another–only God can be love through us. I can't have more love or get more love because God is love in me and is joined to me in one Spirit. Jesus Himself said, "Why do you call Me good? No one is good except God alone" (Luke 18:19). He is living His life by me as long as I have no known sin I am holding onto.
So how can we be more like Christ? We can't! We can't be more like Him, we can only be Him—Christ himself expressed through our vessels. For those believers who know, despite their best efforts, they don't measure up and their righteousness is as filthy rags (Isaiah 64:6), the news that Christ is there to live out His life and to be everything we know we can't be seems almost too good to be true. But it is true, and all we have to "do" is believe it, and He lives it out.
More Articles from The Intercessor, Vol 32 No 2