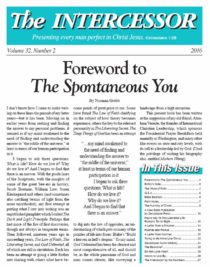 A New Book Publication

We at Zerubbabel Press are excited to tell you about a new book that we are working on. After reprinting seven of Norman Grubb's books (Who Am I?, The Law of Faith, Yes I Am, The Spontaneous You, The Liberating Secret, The Deep Things of God, Once Caught, No Escape–available from us or Amazon and on Kindle!) we are assembling selections from his older out-of-print works to tell the story of the Heart of Africa Mission, which later became the Worldwide Evangelization Crusade, or the WEC. Subscribers to The Intercessor may have read excerpts from some of these books through the years. They detail the history of C.T. Studd's call to Africa and those courageous souls who were inspired by his sacrifice and fervor and followed after him. Though middle-aged and in poor health, he went against his doctor's advice and family's desires, and set forth in 1913 for the Belgian Congo with one young man of 20 as his only companion. Here is a taste of what the British public read at that time from an interview he gave: "I ventured to become personal," wrote the interviewer, "and said, 'Mr. Studd, you can scarcely class yourself among the young men. Why should you now be starting pioneer work amongst the pagan tribes of Africa?' My friend was aglow with enthusiasm. I felt I ought to 'eat my words,' for I was listening, surely, to a young man, and not to a man over fifty. 'It is because of the need and out of simple loyalty to Christ,' he said. 'In Mark 26:15 I find: 'All the world,' and that means ALL the world, and not only England and America. I must go. If Jesus Christ be God and died for me, then no sacrifice can be too great for me to make for him.'
"But I suppose, Mr. Studd, there are those who criticize your scheme, or suggest that it is too rash? 'My word, yes, there are indeed! There are those who are in a frenzy to dissuade their friends from joining that 'mad fellow Studd' in his daredevil enterprise. They call it a harebrained scheme, and all the rest of it; but after all it is Christian, whatever else it is, and if I am a fool I am in good company. My rejoinder to such as criticize is: 'Half a loaf is better than no bread.' No other society even contemplates evangelizing these starving people; no other plan is on the market; any fool can criticize, but surely nothing can be worse than knowingly to sit down quietly and make the want of a perfect plan or flawless organization the cowardly excuse for our denial of the Gospel to these needy souls to whose country God has so wonderfully opened the way. Who would not sooner be a rushing fool for Christ's sake than an angel who fears to tread in His footsteps?'"
Studd's holy boldness and cheek, his humor and intrepid spirit, sets the stage for one of the great pioneer advances in missionary history. And history it is, as one after another men and women–cut from the same cloth as C.T. himself–follow after him: Alfred and Edith Buxton, Jack Harrison, Edith Moules, Fenton Hall, Norman himself, not to mention the countless African Christians who developed the native church and overcame nearly unfathomable paganism. These are names unfamiliar to most; they are not famous in the world's eyes; but when you read of their labors in unbelievably difficult circumstances as they battle demonic darkness and their faith that moves mountains unknown to us in twenty-first century civilization, you will come to know them. You will surely not forget them, as they learn languages and translate Scripture, fight disease, build villages and clinics, trek hundreds of miles, and bring Christ's saving Gospel to a region where it has never been heard. They make us both laugh at the ridiculous and weep at the pain they bore. Funny incidents will sit alongside tragedy, and Norman's vivid descriptions of life in the heart of Africa are unforgettable.
These soldiers of Christ have feet of clay, and the honesty with which they confess their own unwillingness or pride or selfishness is a model for us. They each come to their own "Calvary," God-designed specifically for them, but what fruit blooms forth from their death! Revival of both the people and the missionaries and a team of African evangelists who surely have descendants sharing the Gospel today in the same foreign fields.
Norman tells of his call to join Studd in Africa and later to take over the Mission at the home end in London. The WEC today is the same faith mission it was then, and that is thanks to the courageous stand taken by Norman and his wife Pauline, to send all financial contributions to the missionaries on the field, and trust God alone for their own provision. Norman shares some touching and humorous events that resulted, but more importantly, he lays down a standard that WEC stands to this day.
The WEC was rebuilt–after what appeared to be disaster after Studd died–and expanded by this same faith principle: "calling the things that be not as though they are." You will read the story of "the ten," "the fifteen," and "the twenty-five," and how Norman's understanding of faith underwent a transformation, which he has passed down to new generations of missionaries, and to us today.
It has been a real joy working on this new venture for Zerubbabel Press. Norman Grubb, as any who have read his books will attest, is able to put fourth dimension metaphysical truth into understandable sentences. In these excerpts for his older works his love and respect for C.T. Studd, his father-in-law, and his fellow missionaries, glows throughout. He paints a picture of missionary life that has all but disappeared from the earth, as more and more of the lost have been reached with the Gospel and communication is almost instantaneous. But we forget at our peril what it cost those who preceded us. Norman tells the story of one man's faithfulness, and of those who caught fire from his flame, and whereas there was then that one, there are today over 1800 in more than 300 fields. Norman was one of those, and thank God he was. His unique understanding of the great Galatians 2:20 and the union of Christ and the believer has meant life to many of us, and we feel the responsibility to continue sharing these momentous biblical truths. So, in a way, we are "related" to these pioneers who lived–and died in some instances–in places most of us will never see. Bless you, Norman, for introducing them to us. It is our privilege to know them.
More Articles from The Intercessor, Vol 32 No 2