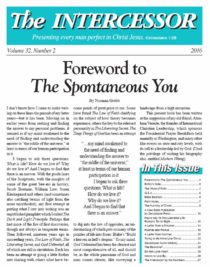 Bible Bedrock: "Count it all joy…"

"My brethren, count it all joy when you fall into various trials, knowing that the testing of your faith produces patience. But let patience have its perfect work, that you may be perfect and complete, lacking nothing. If any of you lacks wisdom, let him ask of God, who gives to all liberally and without reproach, and it will be given to him. But let him ask in faith, with no doubting, for he who doubts is like a wave of the sea driven and tossed by the wind. For let not that man suppose that he will receive anything from the Lord; he is a double-minded man, unstable in all his ways."
–James 1:2-8
(New King James Version)
Trials are the normal pressures of life upon us. Right from the time of our new birth, we are told to glory in "tribulations," which in the original means pressures. All of life is surely pressure. The question is why? The answer is redemptive opportunity. Temptations are for our redemption, trials are for the redemption of others. Every negative situation–this need, this frustration, this catastrophe, these difficult people, this church, family, business tie-up, is the very place where light will shine out of (not into) darkness. They are the negative which has as its polar opposite the positive, as south has its north. It is a dialectical relationship, where the two are related to each other, belong to each other and fulfill each other by being the opposites of each other. Need linked to supply, weakness to strength, problems to their solution, and the rest. This is what turns life into adventure; but it is the adventure of faith–not of sight. Disasters, disappointments, shortages don't look like adventure; but it is the same old story. This life is repetition, the repetition of faith. The world which lives on the surface of things must always have novelty, for repetition is sameness and sameness to them is boredom. Children of the kingdom within never have boredom, for the same daily activities are always new; for they are God appearing in new guise for new ventures of faith. The sensational novelist always makes a lot of courtship and marriage; it is something new. A serious writer will examine how forty years of married life work out, for he knows that real life is repetition. Can every day have the freshness of the honeymoon? Yes, every day with Jesus is new, and therefore new with one another.
How can this be? By handling our circumstances in the same way as we handle ourselves or our temptations. We move back from appearances to reality, from the external to the internal. Who puts us in this situation? Man? Devil? Our own foolishness? Our own disobedience? No, that is not taking it far enough. The Bible makes it plain that God as purposively sends the unpleasant as the pleasant. No reader of the Old Testament, or of the comments made on God's foreordination in the New, can call that in question. God's will and its outworking in our lives is not permissive, but determined. That makes a decisive difference to our outlook. When even Satan is only God's agent, and evil men only fulfilling His foreordained plan (Acts 4:27, 28), then we can start off by praising God for adversity, and counting it (not feeling it) "all joy when ye fall into divers trials," That means we have transferred our attention from the situation and our natural dislike of it, to its underlying source, and we only do that by the act of faith. So we are back again to our familiar friend–faith in the absurd–that adversity is prosperity in disguise; and the assaults of Satan, or "the slings and arrows of outrageous fortune," or the contradiction of sinners, when our eyes are opened, are Christ walking to us on the waters.
Paul calls that "always bearing about in the body the dying of the Lord Jesus," and being "always delivered unto death for Jesus' sake." That means that we are accepting unpleasant situations or daily pressures rather than resisting them, even as Jesus accepted Calvary; indeed, that it is He Himself in us continuing His death-process–"the dying of the Lord Jesus"–in our daily lives. This is nothing to do with the death relationship we have with Him in His once-for-all death to sin, which is never to be repeated in Him or us. That death was for our deliverance. These daily deaths are for the deliverance of others through us. That was the death of the old man. These are the daily deaths of the new man. It is not wrong that we dislike difficult situations; it is merely human. But these are deaths to our human reactions. We deliberately accept these things as ways in which God, not Satan or man, is coming to us, and therefore all we can do is to give thanks. "I take pleasure in infirmities, in reproaches, in necessities, in persecutions, in distresses for Christ's sake: for when I am weak, then am I strong."
—God Unlimited
(Pages 96-99).
More Articles from The Intercessor, Vol 32 No 2