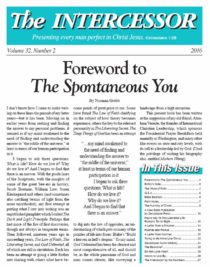 The Word of Faith

Jesus said, If I desire a thing, that is all the basis I need for praying the believing prayer. Note His promise: "When you pray, believe that you receive and you shall have" (Mark 11:24). Jesus did not say, what He desires, but whatever we desire.
The word of faith, then, has its confident basis. I speak it boldly. I say unto the mountain, "Be thou removed." I say God has done such and such in the invisible, and I act on the certainty that it will appear. The only inner enemies I have are my feelings (the soul part of me in contrast to the spirit where God and I are in union). These overwhelm me with the absurdity of saying such a thing. My reason (also part of my soul equipment) gives every proof of its impossibility, which is why Jesus was constantly saying, "Take no thought." I bypass these inner enemies by recognizing that I am in my fixed inner spirit-union with God, where all is stillness and rest (for all power issues from rest). I do not let myself be controlled by the outer voices of my soul disturbances.
If it is some larger issue which is challenging me, as this Briarcrest "miracle," or if it involves others besides myself in some new stride of faith, then we give time enough to weigh up all the circumstances. We examine the pressures which constrain us to consider such a launch of faith. We take note of every indication that God is in it, expect a general unity of conviction (though there may always be a doubter or two), and only then speak that combined word of faith and act on it.
—Summit Living
(Page 284)
More Articles from The Intercessor, Vol 32 No 2