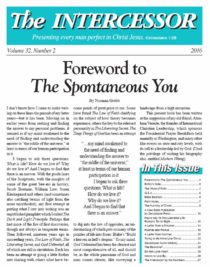 Paul's Key to the Liberated Life: Romans Six to Eight

I will assume that we are already born-again knowers by God's Spirit (Rom. 5:5). As confessed sinners, in our guilty and lost condition, we found "peace with God" through Christ, who was "set forth as a propitiation through faith in his blood" and "raised again for our justification" (Rom. 3-25; 4:25; 5:1, 5, 10).
Now we come to the practical question of Romans 6:1, as up to date today as when it was first posed. Is there as sure a provision for daily consistent and holy living as for having the past blotted out? "Yes, surely," says Paul. "Don't you know that is all part of the gift of a full salvation?" So in these chapters he begins to explain himself, and we will follow along.
INTO DEEP WATERS
Paul starts by taking for granted that his readers have a deeper quality of spiritual understanding than most of us today had at our new birth. "Know ye not," he asks, "that when our Lord Jesus Christ hung on that cross, He represented us all, and therefore His dying there means you and I died there?" Water baptism—our being immersed beneath the waters and lifted out again—is a symbol of the fact that when He died on the cross and was buried in the tomb, by faith we died, were buried and then were raised with Him (Rom. 6:3-4). And as the Holy Spirit entered the resurrected Jesus' body, which represented all of ours, the same Spirit entered us, delivering us from Satan, whose sin nature had entered our bodies and taken us over at the Fall (Rom 6:5-6).
Therefore, we have died in Christ's death to the indwelling and operation of Satan's nature in us: we are "dead to sin" (Rom. 6:7-11). Sin, however, isn't dead to us as an operating power in our world, and thus we experience its pressures on us. But in our bodies we have died to its false claims to be still dwelling in us and thus expressing its self-for-self nature by us. Equally, the same Spirit who raised Christ from the dead is dwelling in us and living His quality of other-love by us. Thus, we are expressers of God's holy nature, just as formerly we were expressers of Satan's sin nature (1 John 4:4, 6).
So, Paul says, "based on the historical fact that Christ settled the sin question once for all (Rom. 6:9-10), we now reckon ourselves dead to sin and alive to God" (Rom. 6:11). We therefore no longer yield ourselves as agents of that self-for-self sin nature, but as agents of God's other-love nature. This is strong meat, packed into a few sentences. But does it really work out in our lives?
A STARTLING STATEMENT
A much deeper problem needs to be solved in order to make workable the life of being dead to sin and alive to God through Christ. We must be dead to Law as well as to sin. But why? Is not the Law a safe-guard to keep us from running into loose living? "No," Paul maintains. "You have a much deeper reality to learn—that you have no independent human self that keeps or doesn't keep the Law. You are really just a slave to the deity who owns you, and it is his law you keep."
Paul slips in a statement here which sounds startling, but which turns the key in the lock for us when we know it. "Sin shall not have dominion over you," he states, "because you are not under law, but under grace" (Rom. 6:14). But what does that mean?
Many would ask, "Is not the Law the standard for right living, announced by Moses in those Ten Commandments and demanded of us by God, with the penalty of judgment and wrath if we disobey it? Is not the Law the means by which God exercises His control over us and by which we endeavor to live? Obviously we would go wildly into lives of self-gratifying license if the conditions of the Law were removed."
But this is our vast error. We have been under the Satanic delusion of being independent selves who can and must respond to Law. And while we think this, we are actually still slaves to Satan, who compels us either to try to fulfill or to resist God's laws, thereby obeying his own law of sin and death. So the more we think we should obey God's Law, the more Satan is aroused to make us break it. And we shall always have this problem while we blindly think we are independent selves who can keep the Law.
THE GREAT DECEPTION
The main consequence of our yielding to Satan at the Fall was that he deceived us all (Rev. 12:9) into thinking that we have a human self which can operate and manage itself, even as he lyingly thinks he manages himself. In fact, we are only operated and managed by a deity self—the Spirit of Truth or the spirit of error (1 John 4:6)—who owns us. This was symbolized in the Garden by receiving the fruit of one or the other of the two trees. So when the Law, which is meant to expose Satan's lie, comes to us in our deluded condition, Satan has the laugh on us. We obey his self-for-self sin laws, being his slaves, and cannot obey God's laws.
We who are saved admitted our sins in their outer forms and received forgiveness and justification through our Lord Jesus Christ and the new birth of the Spirit. But we were still too blind to recognize the depth of Satan's deceit in us. We thought that as saved and new creations in Christ we could still take a share in managing ourselves.
Paul explains the full meaning of redemption through our dying in Jesus' death to Sin-Satan's indwelling and becoming alive in His resurrection to God's Spirit now indwelling us. But it is meaningless to reckon and say that we are now dead to sin and alive to God while that root deception is not yet out of us and we think we are more than a people managed only by the deity spirit in us as vessels, branches, temples, slaves or wives.
UNDER NEW MANAGEMENT
In order for us to learn this indwelling principle to its depths, Paul challenges, "Just try to keep the Law, and you'll find the very opposite occurring. You have been a slave to Satan and sin and are now a slave to Christ and His righteousness. But that change of owner and indweller doesn't truly lay hold of you in its reality while there remains some sense of self-relying self in you as if you are not just a slave. So just try to keep the Law and live the Christian life; and you will find you can't, because there never was a 'just you.'"
Your trying is really the remnant or Satan's deceit on you that you are an independent self. Then you will respond to his sin controls and fall on your face in your failures to keep the Law; and that failure will at last expose to you this lie that you can act and respond independently. There is no such thing. Your "I can" is still Satan having his lying hold on you.
Then at last it can become real to you that Jesus' dying for and as us, and His rising by God's Spirit for and as us, means a change of ownership. But we never did own ourselves. Satan owner is out for keeps and Christ owner is in for keeps. Now we just know we are Christ-managed, never self-managed and no longer Satan managed.
The outer law is now meaningless. We are dead to it because our "I" is solely the expresser of God's life; and He operates His laws and nature spontaneously in us, by us and as us. That is our answer to every false claim in this Satan infected world that Satan has a hold on us. Christ in us is our law; and He fulfills it by us, just as Satan used to fulfill his by us. Satan is out for keeps, Christ is in for keeps, and now we can actually live what we said we do live in Romans 6:11–dead to sin and alive to God in our Lord Jesus Christ (Rom. 6:11).
More Articles from The Intercessor, Vol 32 No 2