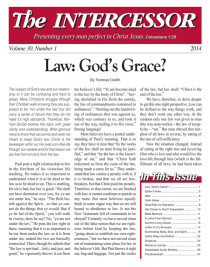 Q & A

Question:
I know the Bible says we are not under the law but under the spirit; however, despite my best efforts I continually fail to live the kind of life God tells us to live. What advice can you give me?
Answer:
The way I understand law is that it is, simply put, "the way a thing works." It is not the law that kills but Satan's misuse of us in relation to the law–him telling us we can and must keep it (Rom. 7:11). When I trust that it is Christ living and that I'm not just "an alone I" but am Christ/I, then it is Christ living in and through me that keeps His law and fulfills His doctrine perfectly.
I've found that my failure to keep the law turned me to God. It was my trying to keep God's law and failing over and over that brought me to the end of the trying. I gave up because I learned through years and years of defeat that I could not be what God wanted me to be. I had run to God for years begging for His help to change me but He was silent. I got more and more desperate and life seemed totally hopeless. Then the time came when out of His total love, grace, and mercy He chose to reveal His hidden mystery to me–"Christ in me the hope of glory." It was as I learned that I was not alone and Christ was joined to me and that He was there to live His life as me that peace, light, hope, and victory became my experience. The truth became mine by faith. I simply began to believe what God said in Gal. 2:20, Col. 1:27-29, and 1 Cor. 6:17. The Bible says in John 15:5 that faith comes by hearing and hearing by the word of God. In other words, I took God at His word and trusted Him to do for me what I was 100% unable to do–live a right life.
What a joy to accept myself at last. Being able to do so only because the real me is He in and through me. By His grace my faith in Him being His wonderful self in me has not wavered these last 20 odd years. I have found life to be full, exciting and busy, but most importantly, I know my life, because it is Christ, counts for something eternal.
More Articles from The Intercessor, Vol 30 No 1