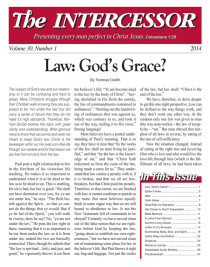 Letter to Co-Knowers

January 1987
My very dear Co-Knowers,
I received many loving cards and messages from so many of you. I think they officially called it a heart attack, but it was really only just a heart touch from which I'm fully recovering and hoping in due course to continue along with Sandie with my visits and times with the different ones of you. Of course we all know, as Paul said, that we "know no man after the flesh," not even ourselves, so we're not soul and body, but are marvelously spirit fused with The Spirit, and our soul bodies are only just convenient agencies, and we shall exchange them for our resurrection bodies which is "far better," and then we shall marvelously be co-heirs with our Jesus Himself, and co-lambs and co-lovers of the universe entrusted to us. Thank God we did our real dying long ago in His death and rising, so what we call our physical dying is anyhow only an incident and a leap into glory! But I'm still thankful that it's been given to me to remain along with you and see the further stages of the uprising of God's army among us.
One of our newer WEC leaders, who with his wife, are marvelously co-knowers with us by the Spirit, and with whom Page had living contact on her recent British tour, have written me calling me "Dear Older Brother," so I'm writing to you all a kind of dear elder brother letter! I write to you, not merely as Co-Knowers, but by the marvelous revelation in the Spirit we are a rising army of Co-Transmitters. Once we were walking Satans, but now through Calvary walking Christs, and we never were walking independent selves! That revelation burns, as Jeremiah said, like a fire in our bones, and we as a rising army now pull no punches in our total sharing of what we know to be our total truth. It is what Page recently named our "Total Life Ministry" and we make no compromises in our total sharing of it. Our great thrill is that, while by God's grace we are Co-Knowers and Co-Transmitters, we are now seeing an ever-enlarging army of what I might call the "Co-Transmuted." By that I mean that they are those who, as we, have experienced this marvelous "transmutation" from being Satan-expressors to being Christ-expressors. It began with ones and twos of us, then it became tens, and now hundreds, and becoming thousands, because we together have the faith of God in that prophetic word coming true that "the earth shall be full of the knowledge of the Lord as the waters cover the sea." And that is our commission. We are not one whit different from any other member of this wonderful body, but to us it is given to know by grace who we really are, and to be commissioned to help the other members of the body know the same.
What Then Is Our Claim To Uniquness
We need continually to be reminding ourselves, and boldly sharing with others, what it is that we boldly call our uniqueness. On what grounds do we say that we have a unique commission? How dare we say that we are saying what the apostle Paul said and what St. Augustine said, and what Luther said, and what we are now saying as if we ourselves are like a 20th century reformation? What is this uniqueness? We ourselves must be so sure of it, and so sure of our biblical basis to it, and of our own inner knowing of it, that we shall stand up for it, as Luther did. "Here I stand and can do no other." For we are still bound in our day to meet plenty of intense opposition, even from our beloved brethren in Christ.
What is this bold uniqueness? It is not our new birth experience. Thank God there are today millions who are new creations in Christ. We are born again and all out for the Lord and wholeheartedly want to be for Him and work for Him and glorify Him as much as we used to do for the devil. But that has not solved our problem, for it is not a matter of just a consecrated or surrendered life. Further than that, many are coming to know these days that the truth is not only Christ for us but Christ in us. Many will now say He is the vine and we are the branches, and we are His co-workers and co-witnesses, and we go forward by His enabling. Many will say further that we have experienced the gifts of the Spirit, which have been so widespread these days in so many different forms. But still that is not the total answer! What then is the answer! Where is the missing spot? Where still is the unfulfilled area of failure? It is in the "me" part of it. What is the human self and how am I "complete in him" as much as He complete in me? Paul's challenge of Col. 1:28 to fit in with the "Christ in me" of 1:27! That is where the body of Christ is still in so many ways in such a delusion.
In my own pilgrimage years, it was not in lack of zeal for Christ or the experience of his power. In my army days I formed a movement called Christ's Own (C.O.) among officers and the men. In my college days God broke through and the InterVarsity Fellowship (I.V.F.) was started, which is around the world today. It was not in my all-out dedication, when Pauline and I went out in 1920 to join C.T. Studd in the Congo. Then where was the problem? My problem began to take shape when I began to live among the Africans. It was not a question of the Christ part of my relationship with Him, but of the inconsistent me. I was caught by C.T. Studd's continual word of seeing "Jesus Christ running about inside black bodies." He was not interested in making churches, but in people expressing Christ. I saw the same in Paul saying "he travailed in birth until Christ was formed" in the Galatians. The Christ was not the problem, the us, the bodies was the problem! I came much closer a couple of years later after reading Mrs. Penn Lewis's writings sent out to us. Pauline and I spent that night in a banana plantation in the Congo forest battling out the Galatians 2:20, and after five hours we spoke the word of faith for ourselves. We both then did get great Spirit revelation when we saw it is "not I but Christ."
But there still remained this question. What is this "I"? Yes Christ in me, or Christ as me, or even Christ is me. But what is the me? The wavering and often inconsistent me?
The following years there was light and help given, as explained in the books I was led to write, during my thirty five years as secretary of the WEC in their rapid enlargement.
I also got great help through the years in the reading of the mystics, and I hope to leave a good shelf or two of them behind, when I've gone, for others of you who might find help from them.
But the greatest light began to dawn when I got hold of the writings of Jacob Boehme and his interpreter William Law; from them I got fundamental biblical light on God as The One Self in the universe and all created selves as derivatives of this One Self, as in biblical terms, vessels, branches, body members, temples, slaves.
But depriving the created self of its claim to independent self raised questions among us. But as usual by the law of the opposites, great light comes through great darkness. So we went through some painful divisions among us. Yet out of that at last came the shining of the total light we were seeking. There never has been anything else but only One Self in the universe. All created selves are mere derivatives of the One Self. There never has been such a thing as a self independent from being an expression of The Self.
We see that nothing in the universe can operate except by its interaction with its opposite: light swallows dark, sweet, bitter, heat, cold etc. So our living God, the fire self Heb. 12:29 in the eternal begetting of his Son becomes eternally the Light Self (1 John 1:8). Fire, which is self for self, becoming light, which is self for others. The whole universe is then a glorious reproduction of the Three in One. The fire expressed in the light of other love and reproduced by the Third, the Spirit in all forms of perfection in the universe.
We understand that the created self can only become conscious self as in the two trees in the Garden by its choice. Lucifer became the one created being to choose to be self for self, instead of an expression of God, the self for others. We now know why Jesus called Satan the liar from the beginning, because he was caught up in that lie of himself being an independent fiery self for self. When in essence he's a reproduction of the fire self of God which in God is eternally the light self. In his delusion of thinking he is an independent fire self for self he impregnated our fallen human selves at the fall with the same delusion, of being independent selves.
Right through from our unredeemed days, when we were in reality expressing Satan in his self for self nature as though ourselves, and right through into our redeemed selves, right up to Romans 7, where we redeemed selves still regard ourselves as independent selves, whether good self or bad self (Rom. 7:21). Now by some means our human independent selves can express Christ's Deity Self. And that is the lie. There never has been an independent human self anymore than there was ever an independent Satan self. We only have always been expressions of God's fire self expressed in its self for self form by Satan's fire self, and he making us think that it is just ourselves–the Lie.
So here we come to that vast illusion which makes our message unique. Practically the whole redeemed Church of Christ regard themselves as human selves, expressing in some form the Divine Self. We never had a human self, by itself. We were created beings, and our created being never changes its basic created beingness, but it expresses the nature of the deity being (just like a computer only expresses it's programmer). Formerly that false self for self satanic deity nature, but now through Calvary, in place of expressing Satan's deity nature, we express Christ's self-for-other deity nature (2 Pet. 1:4). There never has been such a thing as an independent self expression of ourselves.
God particularly brought it into focus for us through our Page Prewitt in the fact there never was a human independent self. In other words, all humanity is Satan expressed through "me," and then through Calvary it is now Christ expressed through me. There never was such a thing as a me expressed through me. That is our uniqueness and that is the missing note in the body of Christ today. Hardly any, even the greatest victorious life teachers know and understand and teach that. It was Paul's hidden mystery expounded in Rom. 7, and then Luther again in his book The Bondage of the Will. Now it is for us to express it in the terms given us.
My last book called Yes, I Am has been my fullest attempt to put that into print. I think it comes out even clearer in that brochure a leading Nazarene pastore asked me to write, which I've called "It's As Simple As This." Then I added to that a further clarification in an article published in our Intercessor magazine called "No Independent Self." This is now printed as a booklet. I've gone still further now in another article the Intercessor published called "Here We Stand," showing how we have picked up what God had shown Luther, but was too much for the church of those days to take, in his book The Bondage of the Will. I have now written a further article which I have called "Romans Six to Eight: Paul's Key to the Liberated Life."
Soldier –Intercessors
Finally I thought I would just remind you that we are all learning together that the topmost of our high calling is as intercessors, and the summit of our ministry is to know the biblical and spiritual reality of being an intercessor. A far cry from the normal concept of intercession being just intercessory prayer. The widespread book on the life of Rees Howells has opened many eyes to look for the right answer. I have written a pamphlet on Intercession giving the five main periods in my life when I knew the call of the Spirit to be an intercessor. That death-life principle of John 12:24 and 2 Corinthians 4:11-12, which really is by grace the summit of our knowing and being who we are, He the Intercessor Spirit in us (Rom. 8:27) and how we can now illustrate and explain this to others as well as knowing it in our own lives the meaning of Paul's final Philippians 3 word: "This one thing I do, forgetting those things which are behind, and reaching forth to the things that are before, I press toward the mark for the prize of the high calling of God in Christ Jesus." Which was Paul the intercessor to the Gentiles.
So with our much love and abounding joy and praise, and thanking so many of you for your concern for me in my little physical bout from which the Lord is now delivering me.
Ever with my love,
Norman
More Articles from The Intercessor, Vol 30 No 1