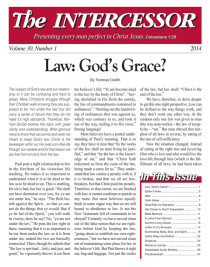 Illuminating Body, Soul and Spirit Part Two

Continued from our previous issue, this article is a transcription of a teaching lesson given by Scott Prewitt at a fellowship weekend in North Carolina in 1998. What his mother, Page Prewitt, has written so clearly and succinctly on many times in The Intercessor and in her booklet "Life: The What, The Who, The Why," Scott brings to life in this discussion.
PART TWO
Scott: Is everyone ready to get back to our discussion? Great. Now we can examine how our human spirit is connected to another spirit. That's right, your spirit is never alone. We are hooked-up with either the Holy Spirit or with Satan's spirit. This is what I mean when I say that there is no such thing as an independent self. You are always a slave to one spirit or the other. This is what makes the ultimate distinction between a Christian and a non-Christian. So, let's look to the Bible to see how God describes this.
Romans 6:6–"Knowing this that our old self was crucified with him [Christ] and that the body of sin might be done away with and that we should no longer be slaves of sin."
So, how do we do away with the body of sin? We recognize that Christ died on the cross for us; He has a plan for us, and we need to turn away from our sinful ways and follow Him. When we make that choice, our spirit becomes joined to Christ's Spirit.
Ezekiel 11:19–"I will give them an undivided heart and put a new spirit in them; I will remove from them their heart of stone and give them a heart of flesh."
A new spirit within them implies one thing: if we get a new spirit, then we must have had an old spirit. We did have Satan's spirit. Now, a new spirit will be put in us. Let's read more Scripture.
2 Peter 1:4–"Through these He has given us His very great and precious promises, so that through them you may participate in the divine nature and escape the corruption in the world caused by evil desires."
1 Corinthians 6:17–"But he who unites himself with the Lord is one with Him in spirit."
Remember, we have two parts. Before you are saved, your spirit is connected with Satan's spirit. However, when you are saved, Satan's spirit gets thrown out, and you become connected with Christ's Spirit. This happens because our spirit must be connected to either the spirit of Satan or the spirit of Christ. Our spirit never exists alone. I Corinthians 6:19 says, "Don't you know that your body is the temple of the Holy Spirit, who is in you, whom you have received from God? You are not your own." So now we can see that we have a body, a soul, and a spirit. We have the body, which is the method of input and output. We have the soul. Thoughts and feelings make up the soul. We have spirit which is made up of desire, will, and mind. Let's talk about desire for a moment. What did we say desire was?
Frank: Either "self-for-self" or "self-for-others."
Scott: Yes! Either the spirit of Satan or the Spirit of Christ determines the desire of our spirit. Let me make one thing very clear; when we are unbelievers–that means we have not turned to Christ, confessed our sins and become saved–we are self-for-self because we are joined to Satan's spirit, and Satan is the self-for-self spirit. When you become a Christian, you become a self-for-others person because Christ's Spirit is the self-for-others spirit. You become a self-for-others person because your spirit is hooked up with Christ's Spirit.
Now, let's ask the big question: "How in the world does sin still exist in the believer when we are joined with Christ's Spirit?" Let me begin by saying the one thing that cannot happen is for your spirit to change back to what it was before you accepted Christ. God does not leave or become "unjoined" to your spirit. When He comes in, He joins to your spirit forever. He does not leave. You are always, therefore, a self-for-others person. I don't believe there is anything you can do to lose your salvation. One reason I think this is because salvation is a gift, free from God. It is based on God's grace. If there is absolutely nothing I can do to deserve or earn His free gift, and God decided to bestow it on me anyway, then I don't think it will be taken away. If I cannot do anything to deserve it, then there is nothing I can do to "undeserve" it. But, as Paul asks in Romans 6:1-2, "Should I continue to sin because grace abounds? Heavens no!" There are still consequences in life and the Hereafter.
When Satan lived inside of us as unbelievers, he got to know our insides very well. Satan knows your body and soul very well because he was inside of you all those years before you became a believer. Now as a Christian, how does Satan fit into the equation? Just because we are joined to Christ's Spirit and Satan has been thrown out, that doesn't mean that Satan goes away forever and we don't have to worry about him anymore. Satan knows us very well because he lived inside of us. Satan attacks us and bombards us on two levels–on the body level and the soul level. Tell me, what are some of the ways Satan tempts us through our bodies?
Group: Alcohol, drugs, food, sex.
Scott: Good. What about on the soul level?
Group: Hate, lust, greed, pride.
Scott: Yes! The way Satan tries to get at us is to tempt us through our body and soul. Like I said earlier, I believe that our spirit is impenetrable in that Satan cannot in any way get to our spirit. Again, what he would really like is to get back into the "driver's seat" so he could boss us around freely. That's the way he really wants it to be. However, Satan cannot affect our spirit anymore, so he goes after our body and soul. The problem is that, when I choose to give in to temptation, I choose in my will to go against the fact that Christ and I are joined together. Let's look at some very important verses that talk about this.
Philippians 4:13 says, "I can do all things in Christ…" and James 1:4 states that in Christ, I'm "…whole and complete, lacking nothing."
You get into unbelief when you have a feeling in your soul and you act out on it with your body.
For example, I feel jealous that someone else has more money than I do. Soon, this jealousy turns into depression because I start to feel sorry for myself. I might ask myself a question like, "Why does he get all the good stuff in life that I cannot afford?" If I do not bring God into the equation with these thoughts and feelings, I'll feel more and more depressed. Eventually, I will probably resort to new methods of making myself feel better. I might begin to drink or even take drugs. This is how unbelief in the soul can be seen in the body.
However, since I am joined to Christ, "I am whole and complete, lacking nothing." I am not any better or worse off because I have more or less money than someone else does. I have exactly what I need because I am whole and complete lacking nothing. The sin is that I believe against the fact that I am in union with Christ's spirit. But even in this unbelief, the truth remains that Christ is still in you and is in union with your spirit. Christ does not take a vacation. He remains joined to your spirit, but your choice (in your will) is not to believe that fact. That's how we sin as Christians. Let's look at Hebrews 4:12:
"For the word of God is full of living power, sharper than a double edge sword penetrates, cutting deep into our innermost thoughts and desires, it exposes us for what we really are. It divides and penetrates soul and spirit."
This verse is talking about the Word of God. Did you know that Christ is referred to many times in the Bible as "the Word"? Since Christ lives in us, His Spirit, the Holy Spirit, the Word of God, divides and penetrates soul and spirit. This tells me that soul and spirit inside of me can seem confusing since they are going on all the time. But Christ lives inside us and is able to divide soul and spirit. If you will keep soul and spirit separate, and make your choices from Spirit Truth, then I can guarantee you a sin-free life. The problem comes when your thinking gets a little "gray and muddy," and it looks like soul and spirit are together, one and the same.
Let's see what it looks like when we try to put soul and spirit together. Let's look at some simple temptations. When your spirit is joined with Christ's Spirit, the spirit itself is free of sin by your desire. Your desire is for a self-for-others life since that is Christ's desire. Remember, your will is where you make your choice. Plus, you know that your desires are Christ's desires. The roots of sin are found when soul and spirit look like the same thing. To demonstrate, let's look at this statement: "I am afraid to talk in front of people." Here is the problem. First let's define the "I." As a believer, your spirit is joined to Christ. So the "I" is really me plus Christ joined together; therefore you must put Christ at the beginning of the sentence. You would then say that Christ is afraid to talk in front of a group. Is that fact or fiction?
Eddie: Of course, it's fiction.
Scott: Is Christ afraid to talk in front of a group? Did Christ live out a fearful life on this earth? Does the Bible say I can do all things through Christ? It doesn't say I can do all things, except talk in front of a group, through Christ. "I am afraid" is the unbelief. The right believing is that I feel afraid in my soul; however, the truth is that Christ does not live a fearful life out through me. This is where I must choose in my will against the feeling of fear. Now, let's do an example that is more appropriate to us here. Let's say you are really attracted to someone of the opposite sex who is a non-believer. You have a few dates with that person, and things seem to be going great. Well, the Bible says, "Do not be yoked together with unbelievers…" (2 Corinthians 6:14). You've come to the point where it is obviously time for the relationship to be over after the person refuses to make that Spirit commitment to God and Christ. At the same time, you feel like you can't be without this person because you have grown attached to how he or she makes you feel. You might say something like "I feel like I can't be without this person to whom I'm really attracted. But he/she is rejecting Christ, and I know that's wrong." I've seen this very thing happen often; this is real life. Unfortunately, a lot of people act like they can't live without the person. The problem is that you are joined to Christ's Spirit, and Christ makes it very clear not to be yoked to an unbeliever. To do so goes against God's rules, and to do so is disobedient. So even though I feel like I can't live without the other person, I am going to be obedient to God and end the relationship.
Does everybody understand what I am talking about? Your feelings are where unbelief gets it's root, and the unbelief transfers over to will. You eventually act out on the feeling. The fact is that soul and spirit are two separate things; soul is not who you really are. Who you really are is your spirit joined to Christ.
Even though we haven't had a lot of good things to say about it, the soul really is a wonderful thing, because God made it first of all. God doesn't make junk. In the souk, there are all these kinds of different things that can bring about temptation, yet at the same time, we feel joy and many other positive things in the soul too. The soul, just like the body, is a tool for God to use. God uses the body when He lives His life out through us. God uses the body to get Himself out to other people. My spirit goes out to the spirit in each of you through the vehicle of my body–through talking, laughing, being friends, that kind of thing. That is how the body is used. The soul is used the same way. For example, Eddie and I connect on an emotional level. We share the same feelings about some things and we share the same thoughts about some things. God uses the soul as a tool for people to connect with each other.
God also uses our brains, which are a part of our souls. God gave us our ability to function here on the earth by using our brains. We reason things out in our brains. For instance, we decide that we shouldn't cross the street because there is traffic coming, and we don't want to get run over by a car. The soul (thoughts and feelings) is supposed to be used as a tool to give input to the spirit about making choices. The soul is not a bad thing, and neither is the body. Even though temptation and sin can enter through the body and soul, righteous living is made evident there also. God uses both the body and the soul as tools to express His love to other people.
So, now you know what the Bible says about body, soul, and spirit. God made us in His image (spirit), and He gave us the ability to choose to either serve Him or reject Him. Remember, don't let your soul rule over you. Don't live by your thoughts and feelings alone. Always remember that it's what God says that counts. If you obediently serve Him, you cannot go wrong.
More Articles from The Intercessor, Vol 30 No 1