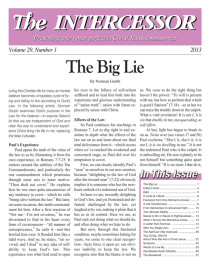 The Total Truth About Who We Are in Christ Jesus

The death, burial, and resurrection of Jesus Christ on our behalf are the foundation of the Total Truth that man does not have a nature of his own, but is a container operated either by Satan or Christ. Before we received the gift of eternal life through Christ's death, we expressed Satan's nature. Now as believers, Christ is living His life through us and we express His nature. We are "One Spirit" (1 Cor. 6:17) with the only real Person in the universe, God Himself.
Like Paul, our commission to the Church is to make known the "riches of the glory of the mystery among the Gentiles; which is Christ in you, the hope of glory" (Col. 1:27). Therefore, we present in the following pages a scriptural basis for what is to us the full revelation of that Total Truth. Our purpose is to teach "every man in all wisdom; that we may present every man perfect in Christ Jesus" (Col. 1:18), knowing all the time that these labors are His labors… "striving according to His working, which worketh in me mightily" (Col. 1:29). Here are some of our fundamental scriptural foundations:
Part One
MAN DOES NOT HAVE A NATURE OF HIS OWN.
Contrary to what we formerly believed, man does not have a nature of his own. Man does not operate independently of the Deity (either Christ as the True Deity or Satan masquerqing falsely as a god) who lives in and operates him. In other words, man is a container and always, expresses the nature of the "deity" spirit who lives in that container. There/ is no "human" nature.
A. John 15:45
Abide in me, and I in you. As the branch cannot bear fruit of itself, except it abide in the vine; no more can ye, except ye abide in me. I am the vine, ye are the branches: He that abided in me, and I in him, the same bringeth forth much fruit: for without me ye can do nothing.
These verses teach that we are branches which bear the kind of fruit the  Vine produces (in these verses, the Vine is Christ). The branch does not produce the fruit. Thus, the verses teach that man produces the fruit of the vine (deity-spirit) in him and that man does not produce fruit of his own.
B. Romans 6:17
But God be thanked, that ye were the servants of sin, but ye have obeyed from the heart that form of doctrine which was delivered you.
These verses teach that we are always slaves serving a master and that we do what our master says to do; slaves do not operate independently of their masters. Thus, man does what his master Satan or his master Christ wants him to do.
C. Romans 7:2-4
for the woman which hath a husband is bound by the law to her husband so long as he liveth; but if the husband be dead she is loosed from the law of her husband. So then if while her husband liveth, she be married to another man, she shall be called an adulteress: but if her husband be dead she is free from that law; so that she is no adulteress, though she be married to another man. Wherefore, my brethren, ye also are become dead to the law by the body of Christ; that ye should be married to another, even to him who is raised from the dead, that we should bring forth fruit unto God. 
A wife can only be married to one husband at a time, and she reproduces the seed of her husband.  A wife cannot reproduce without a husband to produce the seed! The critical question each man must answer is, "Who is your husband?" The Christian answers, "Christ." The non-believer doesn't know it, but his answer is, "Satan."
D. Romans 9:22-23
What if God, willing to spew his wrath, and to make his power known, endured with much longsuffering the vessels of wrath filled to destruction: And that he might make known the riches of his glory on the vessels of mercy, which he had afore prepared unto glory?
Man is either a vessel of wrath or a vessel of mercy. Like a cup containing a liquid, Man, the vessel, contains either a "wrath" nature (Satan) or a "mercy" nature (Christ).
E. 1 Corinthians 6:19-20
What? Know ye not that your body is the temple of the Holy Ghost which is in you, which ye have of God; and ye are not your own? For ye are bought with a price: therefore glorify God in your body and in your spirit, which are God's. 
The Biblical question posed is: which deity dwells in "your" temple? A temple is nothing more than a house for a deity. In practical terms, redeemed men are containers for the Christ deity. Unredeemed men are containers of Satan.
F. Ephesians 4:15-16
But speaking the truth in love, may grow up into him in all things, which is the head, even Christ. From whom the whole body fitly joined together and compacted by that which every joint supplied, according to the effectual working in the measure of every part maketh, increase of the body unto the edifying of itself in love.
The head of the body is Christ He controls the rest of the body, which is us. The body does nothing unless the head tells it to act.
G. Colossians 3:9-10
Lie not one to another, seeing that ye have put off the old man with his deeds; And have put on the new man, which is renewed in knowledge after the image of Him that created him. 
The "old man" is Satan, the new man is "Christ." There is no middle man (an independent nature). 
H. 1 John 3:10
In this the children of God are manifest, and the children of the devil: whosoever doeth not righteousness is not of God, neither he that loveth not his brother.
Obviously, man is either one or the other, a child of God (and thereby doing what the Father says) or a child of the devil (and doing what he does). 
CONTINUED IN THE NEXT ISSUE…
More Articles from The Intercessor, Vol 29 No 1