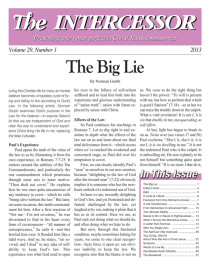 Editor's Note

We are pleased to offer this month a variety of articles, letters, and features–some published here for the first time. Along with several feature articles by Norman Grubb, we include "A Letter from Norman," and his foreword from Page Prewitt's booklet, "One Woman's Answer: What To Do When Your Life Resembles Alphabet Soup."
Our Lead article, "The Big Lie," tackles on of the most misunderstood and misapplied chapters in the Bible–yet one that is key to experiencing a liberated life. Norman takes the reader verse by verse through Romans 7 to reveal the true function of the Law in the believer's life: to reveal Satan's deception that we can keep th elaw through self-effort. With this lie and its implications, sin/Satan makes "a whole lying claim to indwell and control me, while all the time Christ was in me…and I didn't know it." Throughout the article as he exposes Satan's lies one by one, Norman presents the glorious scriptural truth of our being human vessels in spirit-union with Christ. 
"The Self Can't Be Improved" explores how we operate in our spirit-union with Christ. No longer deceived that we are independently operated, we face the negatives that arise daily–fears, condemnation, temptations–often falsely believing that we need more love, faith, and power. 
In "From Elementary to Advanced Faith," Norman uses Peter's bold ventures of faith–like walking on water–to illustrate how "a man can stretch out the hand of faith, almost at his whim, and take hold of the hidden power of God." "the Ultimate Reality" is an autobiographical gem, tucked away as the foreword to Norman Grubbs last full-length book, 
Yes, I Am. 
In half a page we get a brief, glorious glimpse of Norman's heartbeat to refine and share the "sole key to life" centered in "the one Reality, our Lord Jesus Christ" through whom we are "immersed in meeting the needs of others, travailing in birth until Christ be formed in them as in us."
This month's issue features several pieces by Page Prewitt. In "A Life Transformed," Page Prewitt briefly describes her early Christian life of failure, misery, and depression as she unknowingly allowed Satan to live out his sin-life through her members by her independent believing about herself. Then Page describes the freedom she experienced in her life as she slowly switched from seeing herself as "just Page" to "Christ/I."
In a "Q & A" exchange following a talk on soul and spirit, Page clarifies for a listener the difference between soul and spirit, the temptation to believe thoughts and feelings instead of the spirit-truth, and how to be "transformed by the renewing of your mind." 
"When I Survey the Wondrous Cross" is Page's delightful response to a friend who shared her love of that Isaac Watts hymn. In her reply, Page trucks between the song lyrics her own personal insights. 
Marian Kinahan's "A Look at a Book" reviews Page's published booklet: "One Woman's Answer: What to Do when Your Life Resembles Alphabet Soup." For additional perspective, 
Norman Grubb
 provides a perceptive overview in his Foreword including elaboration on her themes with additional scripture references. 
Finally, this issue contains two studies that could be used for personal or group Bible study. Jackie Ginn's delightful pamphlet, "Who you really are…and not who you thought you were" uses simple, clear drawings backed by Bible verses to accurately describe our human makeup, ending with the message for Christians that "I can trust myself!" This selection, available as a pamphlet from Zerubbabel Press, is simple enough to use with children. On the same theme, "The Total Truth About Who We Are in Christ Jesus (Part One)" provides an excellent basis for adult Bible study. "Part Two" will follow in the next issue of The Intercessor.
We trust you will be encouraged and blessed as you dare to believe and apply the truths presented in this issue. 
More Articles from The Intercessor, Vol 29 No 1