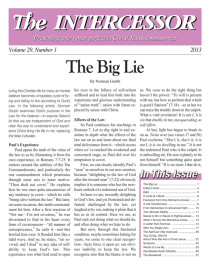 A Life Transformed

Using her personal experience, Page Prewitt describes the lie that kept her (and most Christians) in bondage to sin–and how her life slowly changed as she "began to dare to see myself as Christ/I."
Independent believing is of Satan and not Christ. My independent believing (before I knew better) gave Satan entrance to my members and he did lots of his stuff by me. In other words, more was going on in me, in my early Christian days, than my merely believing wrongly about myself. The wrong believing was the root (Satan) of the trouble but many of the deeds I did were he by me (not as me) doing them. So I didn't like me because I thought I was "just me," unable to live a Godly life. I was unable to live a Godly life because "alone I" is not God but Satan, and from that point of faith (non faith really) Satan lived much of my life, so of course I was displeased with that life. I know it was not sin in the deliberate sense as it would have been if I had been deliberately breaking a Biblical principle (knowing not to do a thing but doing it anyhow–like stealing or murder or adultery). My unbelief–"independent I"–sin stuff was done in ignorance on my part and on God's part it was not imputed to me. But I know that my miserable, depressed life for a great part was really Satan. I couldn't do the things I wanted and did the things I didn't want because it was he (Satan) not me (thank God) doing all this. 
Now this is the most glorious wonderful part of our message to me. 
My life did slowly begin to take shape as I began to dare to see my self as "Christ I." This believing began to close the gap in my seeing of myself (independent seeing) and as this happened Satan was more and more ousted. I, little by little, began to realize when and where I was seeing me as "just me" and I would switch to "Christ I" seeing. This to me is confession. As the Bible says, confession is the way sin is cured or healed. And Sin being a person (Satan) and  not me, the cure is him being shut out simply by my changing how I believe about myself. So as he was more and more out of the way, Christ was more and more living forth as me. So without one tiny bit of effort or work or changing on my part my life did change. I began to find that I did and could easily and naturally do the things I wanted to do and the things I did not want to do began to drop away. Then I not only just said I was Christ as me by faith–I really began to like myself for how I was. It was he (Christ) so why shouldn't I like myself? In my independent days it was Satan (as Paul says in Rom. 7– sin in my members) so of course I didn't like that. 
All this to me is exactly what Paul is saying in Rom. 7–there was more wrong with Paul than just how he saw himself. It was Paul's wrong seeing of himself that made what he (really Satan) did wrong. He didn't like what he did because what he did was wrong; because it was Satan doing–using Paul's members. 
Now I know this is all true for anyone. If I can talk to someone who has a terrible life I never say shape up, you are in sin. I merely help them see the lie they are believing about themselves. As they close this gap of independent believing then the enemy is out more and more from their members–(I know he was eliminated from Spirit at new birth) and their life gradually becomes a faithful, positive, unselfish, God life. I know what is cleared up is really a sin (Satan) issue, where through their unbelief Satan is misusing what is no longer his. Sometimes when a person I am talking to makes a blatant independent statement, I will say–Can't you see the independence in that? Like, "I'm too scared to say that–I've failed before I'll surely fail again." Much of the failure comes because from that point of view much of the doing is done by Satan. Christ I seeing does not bring instant success but as there is more and more of Christ with the elimination of "just me," then the job done is done better and better. 
All this I have written here is not merely theory–I have seen it actually work out in my life and the lives of many.  
More Articles from The Intercessor, Vol 29 No 1