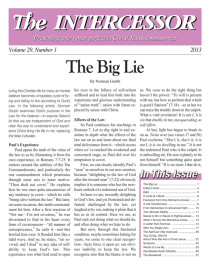 A Letter From Norman

Dear Roger,
I greatly appreciated you sparing time for a visit, only I wish now I could have had a chance of a further time together. I am greatly stirred by the news of how the Spirit is moving among you and those among whom you minister. I am thrilled with your bold presentation of who we are, and bringing out so totally plainly the full reality of our death in Christ to being "the old man," and our full establishment in Him as "the new man."
But the one point I would like to talk over with you is whether you go far enough, when you leave the old and new natures as being something in us, leaving us with the implication that we humans have those natures, thus laying the emphasis on our own self-consciousness of having been the old man and now the new man.
But we see the necessity (and consequently total liberation) of ridding ourselves of the concept of us humans having a nature of our own, and only being from eternity in God's purpose the means of Him expressing Himself in His son's forms; yet in that final total paradox in which though totally God-expressors, we are equally totally self-expressors. We see this, of course, supremely in our Last Adam, and Elder Brother, who always knew Himself as inwardly nothing but an expressor of His Father in word, nature (The Dove), deed, and thus so plainly saying so in those John quotes (5:19, 30 etc.), and equally refusing to become an expressor of Satan, taking forty full days to settle that! And he finalized who He was by saying, "if you see me you see The Father"; and yet in his humanity no one has ever been a more complete or emphatic self! And thus "as He is, so are we in this world," and we say of ourselves in our new birth that we are "partakers of His nature–the divine nature"–2 Pet. 1:4 and that that means it is HE living in us, as us, and the products of "the fruit of the Spirit." So it is only our "New Nature" in the sense of HIM being Himself in our form, and it can be misleading to speak of it as "our" new nature.
By "nature" we do not mean our basic human being with all its forms and potential, our selfhood of will, emotion, consciousness etc. We mean, not the quantity of our being, but the quality, and that's not we, but the deity-nature expressed by our humanity. All the Biblical symbols of our humanity point to that–we are "vessels," but it is the nature of the liquid it contains, whether expressing wrath or mercy: we are branches, but we express and reproduce the nature of the Vine–true or false: and so as temples indwelt by and manifesting the Deity in it, our bodies temples of which Spirit? We are slaves of which Owner (Rom. 6), wives of which husband (Rom. 7), and so on.
Thus we humans express the nature and being of the Deity who indwells us, (Spirit of truth or spirit of error–1 John 4:4, 6), and by our free choice are identified with the one or the other, and spontaneously manifest Him in our humanity. Jesus said that plainly–"your father the devil, and the lusts of your father ye will do"–not our lusts, but his, which we spontaneously did. So now of the fruits of the Spirit.
This we understand to be the secret of our liberty to function as humans, our humanity not becoming, but freely expressing the deity nature (those two freedoms of Rom. 6:18 & 20). It is much the same principle as the computer with its vast potentials but only as it is programmed; or the way we freely practice the profession we first committed ourselves to attain, and which takes us over; then we practice them and call ourselves by its name–doctor, carpenter etc. So we all call ourselves Christians as practicing Christ, or indeed formerly "Satanics" practicing Satan!
Therefore there has been no "nature" in our humanity–spirit, soul, body–but only its right or wrong use by its Deity Owner or false so-called deity invader. But here is where we have to learn and find our deliverance from our deceived personhood. Satan was himself self-deceived in regarding himself as an independent self, when there is no such thing in the universe as independence, (for he has always been, as one of God's creatures, God's convenient negative agent); and so, when Satan, as that "spirit of error," took us over, he infected us with his own deception, that virus of independence, and made us think we do our own things, when we really are doing his–"the lusts of your father ye do." It is this which by his deceit (his special characteristic in Rev. 1:9, an important comment on Satan) has tricked us into thinking we have and practice our own nature. Thus, as redeemed people, we have our severe Rom. 7 problem, where it says we are deceived (7:11), and we have been duped into thinking it is our jealousies, hates, lusts, covetousness (Paul's special problem). Also we do not realize that our very self-efforts not to respond to these such as Paul's "when I would do good (7:21)–is equally the most subtle form of Satan-sin, for it is that independent self basic quality of Satan's fall and thus nature. And that is why Paul's special revelation (presumably when in Arabia–Gal. 1:17) gives us the secret of our deliverance in his 2 Cor. 5:14-21 revelation, of the meaning of the body-death of Jesus, distinct from His blood-death, where His body representing ours expressed the sin-spirit in it ("made sin"), and thus that when that body died, out went Satan sin-spirit and its nature, and in that body-resurrection His own Spirit of Truth took its place, and thus in our bodies. And so nothing has ever been wrong with our humanity, soul-body, for it never had a nature of its own, either bad or good, and now by Christ's body-death and resurrection we are freed by our faith-committal from expressing that Satan nature of self-effort and its effects, and now equally spontaneously express Christ's other-love nature.
We see this to be the secret of liberated living, when we can accept our human selves, not as tainted in any way in themselves, but formerly stolen and misused, and now regained and rightly used, by Him who gloriously created us to be fixed as His expressions. We are now free from the delusion of independent self-effort, as if there is something either bad or good in our humanity, and thus freed from false suspicions of our reactions to our temptations, as if something is wrong with us or our reactions, and we are able to accept all temptations as the inevitable privileged consequence of our still continuing in this Satan-infected world to be a light to our former fellow-captives, and thus rightfully within range of Satan's arrows, instead of resisting them or taking condemnation from experiencing them: but rather we see them as good opportunities for replacing them by who we now are–Christ as us; and thus they are useful negatives through which He The Positive as us can continually reveal Himself. Temptations and trials which we once regarded as bad and dangerous liabilities are now adventurous assets.
So, I just wanted to share this with you, because it seems to me that you are going forward so gloriously boldly, seeing this as the Twentieth Century Reformation for the church worldwide, and we're with you in it, but raising just one aspect in which I wonder whether there can be some helpful adjustment, if our understanding is right–for the perfecting of what above all we seek to present in perfect and biblical as well as spiritual reality. I have written more fully on this in this
Yes, I Am
book.
With my loving greetings to you with great joy at this glorious renewed movings of the Spirit among us.
Norman
More Articles from The Intercessor, Vol 29 No 1