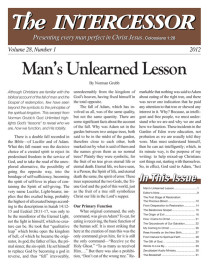 The Barebones Gospel

The book of Romans describes three stages by which God unveils His total purpose for man, "created and now re-created in Christ to find his place in God and He in us." In the following excerpt, Norman describes the first stage of this revelation–the Gospel so basic that even a child can understand.
These three stages are nowhere more clearly explained and presented to us than in the great Roman letter, and it is there that we will now examine them more closely, always bearing in mind their ultimate goal: that man was originally created and now re-created in Christ to find his place in God and He in us. 
The first stage may be called the outward approach. Man has become an extrovert, or at least he seeks to live like one. To look too far within might be disturbing. He tries to live on the surface; work, pleasure, practical interests, social and religious activities, the world's merry-go-round. So it is from the outside that God approaches him. He can understand a God in heaven; he can see a Savior in history; he can recognize the sins he himself has committed. On this level, then, the gospel is preached to him. Look at the first five chapters of Romans, where more plainly than anywhere else in Scripture, the way of salvation is presented. First, "the wrath of God is revealed from heaven against all ungodliness and unrighteousness of men" (1:18). Then the sins of man are exposed in loath-some detail, and attributed to a worship of the creature rather than the Creator (1:21-32). The coming "day of wrath and revelation of the righteous judgment of God" is proclaimed, where doers of evil and workers of good will be judged without respect of persons, and rewards and punishments meted out (2:5-11). No pronouncements could be in plainer language: a child can understand them. The name of the Judge is then given (2:16), and the verdict of guilty on all the world unmistakably foretold, for the simple reason that all have sinned, and "there is none righteous, no, not one" (3:19-23). What an inescapable presentation of facts, which by these statements of Scripture and the word of the preacher have opened millions of blinded eyes! The gospel of free grace is then presented in the same practical, objective and reasonable form. Despite these hard facts of sheer justice, there is a way by which the guilty are pronounced righteous. God found Himself a worthy substitute, and "set Him forth" for all to see at an exact place and on a fixed date: Christ Jesus, was the "propitiation through faith in His blood" (3:24, 25): and faith means not works of self-effort, but simple "believing on Him that justifieth the ungodly" (3:27, 28): to that man, woman or child who so believes, "his faith is counted for righteousness" (4:3-5). 
The primitive forest-dweller, the woman in purdah, the little child: or alternatively, the sophisticated town–dweller, hedonist, intellectual, religious, can all understand such facts, if they will. To them all is Christ "evidently set forth crucified." It is the outward approach. It does not deal with any such matters as our dwelling in God and He in us: it does not draw attention to the ramifications of the self-life, or raise questions of soul and spirit. In those first five chapters of Romans, up to 5:11, no reference is made to an inner relationship to God, except the one statement that "the love of God is shed abroad in our hearts by the Holy Ghost." 
More Articles from The Intercessor, Vol 28 No 1