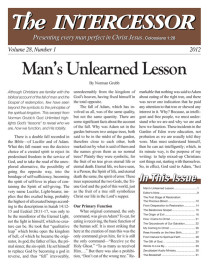 Man's Unlearned Lesson

Although Christians are familiar with the biblical account of the fall of man and the Gospel of redemption, few have seen beyond the symbols to the principles of the spiritual kingdom. This excerpt from Norman Grubb's God  Unlimited highlights God's "lessons" to reveal who we are, how we function, and His totality. 
There is a double fall recorded in the Bible–of Lucifer and of Adam. What this fall meant was the decisive choice of a created spirit to reject its predestined freedom in the service of God, and to take the road of the unexplored alternative, the possibility of going the opposite way, into the bondage of self-sufficiency, becoming the spirit of self-love in place of containing the Spirit of self-giving. The very name Lucifer, Light-bearer, implies that this exalted being, probably the highest of all created beings according to the descriptions in Isaiah 14:12-15 and Ezekiel 28:11-17, was only to be the manifestor of the Eternal Light, not the light in himself, which no creature can be. He took that "qualitative leap" which broke open the kingdom of hell, of which he became the originator, its god, the father of lies, the primal sinner, the sin-spirit. He set himself to replace God by becoming a god in reverse, and thus "fell" irrevocably, unredeemably from the kingdom of God's heaven, having fixed himself in the total opposite.
The fall of Adam, which has involved us all, was of the same quality, but not the same quantity. There are some significant facts about the account of the fall. Why was Adam set in the garden between two unique trees, both said to be in the midst of the garden, therefore close to each other, both marked out by what is said of them and the names given them as no normal trees? Plainly they were symbolic, for the fruit of no tree gives eternal life or eternal death. Eternal life, we have seen, is a Person, the Spirit of life, and eternal death the same, the spirit of error. These trees represented the two Gods, the Triune God and the god of this world, just as the fruit of a tree still symbolizes Christ our life in the Lord's supper. 
Our Primary Function 
What original command, the only command, was given Adam? To eat, for eating is receiving, the basic function of the human self. It is most striking that here at the creation of man this was the only command given him, for it is still the only command–"Receive ye the Holy Ghost." "To as many as received Him…." But there was also a prohibition, "Don't eat of the wrong tree." Remarkable that nothing was said to Adam about eating of the right tree, and there was never one indication that he paid any attention to that tree or shewed any interest in it. Why? Because, as intelligent and free people, we must understand who we are and why we are and how we function. These incidents in the Garden of Eden were education, not probation as we are usually told they were. Man must understand himself, then he can act intelligently; which, in its minute way, is the purpose of my writing: to help mixed-up Christians sort things out, starting with themselves. So, in effect, God said to Adam, "Just eat, just learn that is the primary function of a human being–receptivity."
But there was another subtle piece of education wrapped up in this, subtle because man must learn it by himself, and not have it outwardly spoon-fed to him. "Don't eat of the wrong tree" would mean that, as a free being, he could go the wrong way; and supposing he was tempted to do so, then what? There lay the hidden lesson. Humans are containers, to be possessed by another Spirit in the human spirit. They are slaves to be bossed (Rom. 6:16). They do not boss themselves. If therefore Adam feels the pull to go in the wrong direction, it is not in him to resist or refuse. But he and Eve did feel that pull. So then what? There was the tree of life, all the positive power in it to do the right and resist the wrong, for that tree was Christ. Adam never so much as glanced in its direction, because it never dawned on him that humans are basically helpless, and that his deliverance could not be in his own resistance, but only in the counteraction of the Spirit of Truth within him, if he took of Him. He never did. He never even glimpsed the basic lesson man has to learn, and so he was shanghaied straight into the trap. He remained a recipient, for man always is that, but he received the wrong spirit through the wrong tree–"the spirit that now worketh in the children of disobedience," the spirit of self-sufficiency, the spirit of self-love, the spirit of error. 
Man's Helplessness 
That is why man has to take the long, long trail back to the discovery of his helplessness, a trail that only ends when we reach Romans chapter seven, a trail which has many a booby trap in it, many a tree-root to trip the unwary; and it is a trail nearly always trodden after the new birth, not before, because we have become so completely at home in the illusion of our self-sufficient selves that we do not lightly learn the lesson that the father of our race failed to learn. But we must learn it, because we say again, if God is going to live His life intelligently in intelligent and willing humans, they must learn and accept the truth about themselves as well as about Himself; and that is also precisely why we are busying ourselves about talking these things over in such detail. 
Even the facts of the Fall and our consequent condition are rarely known. Few seem to have grasped that man is not just an independent self doing as he pleases and doing it in his own strength. He never has been this. He has always been indwelt by a god. He has always had an inner union–to whom? "Greater is He that is in you (the believer) than he that is in the world." Who is this second "he" in the world, if not the Satanic spirit? And he is actually named a few verses later (1 John 4:6): "Hereby know we the Spirit of truth and the spirit of error." We have already quoted the great passage descriptive of the condition of fallen humanity–Ephesians 2:1–3–which includes that statement, "the spirit that now worketh in the children of disobedience"; or the other, "in whom the god of this world hath blinded the minds…." 
Sin is a Person 
The fact that is hidden from many is that sin is essentially a person, just as holiness is a Person. Holiness is the "Spirit of holiness" (Rom. 1:4), the Holy Spirit. We have pointed out all along that since the human is the container of the Divine Person, all goodness, love, righteousness, wisdom, power, holiness and the rest are, not we, but HE in us, "Jesus Christ who has been made unto us wisdom, righteousness, sanctification, redemption." But the opposite is equally and logically true. Sin is not a thing, but an indwelling person, the spirit of fear, the spirit of bondage, the evil spirit, the spirit of the world, the spirit of anti- Christ. Sins are that spirit expressing himself through the human faculties and appetites, just as holiness and love are the Other Spirit expressing Himself through the same channels. Thus a pregnant word is spoken of the first sin recorded after the Fall–the sin of Cain, when John says that he "was of that wicked one and slew his brother." Precisely, it was not primarily Cain that was the murderer, but he whom Jesus called "a murderer from the beginning"–through Cain. 
This is important because our very premise is wrong if we think that our first father could have resisted temptation. If he could, we can. But can we? Is not that our problem and failure, until we learn that the way to meet temptation is by recognizing the One in us, and not by struggling against it ourselves? We start mixed-up, if we start by thinking that the Garden of Eden was a scene of probation to try men out. God is no such experimenter, dangling men on a string to see how they will react. God knoweth our frame that we are but dust, and He only puts us through absolutely necessary grades of education that we may learn, even as the Son Himself had to "learn obedience (recognition of His Father in action in Him) through the things which he suffered (temptations)"; and thus we can become eternally free, healthy, happy cooperators with God, knowing exactly who He is and who we are, and loving the relationship. 
One other fact should be noted. I said that Adam's fall was qualitatively the same as Lucifer's, but not quantitatively. Lucifer's fall was total. He chose in himself to be a god of another quality, and thus set himself as a rival and alternative to God. His sin and fall were absolute and irrevocable. He became god in reverse. Adam's fall was of the same quality, but not quantity. He fell through the temptation of another, through deceit, lies, misrepresentation. He was responsible and therefore guilty, for he chose to follow instead of seeking the way of escape right there available to him, and therefore his fall had the same quality of disobedience and rebellion; but it was not in quantity complete and absolute in the sense of an open-faced rejection of God. His interest was rather the attractions of the flesh than revolt against God. If he could have kept both God and sin, he would have done so. His outlook was not totally reversed. He had not irrevocably chosen evil to be his good. He was more a kidnapped slave than a willing son of the devil; indeed Scripture speaks of us as children, not sons, of the evil one, and a child is defined as "differing nothing from a servant." Adam, therefore, knew good and evil, whereas Satan knows only evil as his good. Adam had the moral sense, the conscience, the "law written in the heart," an impress of the image of God in him not obliterated as in Satan, and God could and did meet and talk with him immediately after his fall. Adam was redeemable. But more of that and its consequences later. 
The Purpose of Redemption 
Now we can see God's problem, if we may use such human language, and the only possible purpose of redemption. How will He regain for Himself His stolen property–us humans who have become containers and manifestors of that usurping god, the spirit of self–love, in place of Himself, the Spirit of self–giving, whom we had been created to receive in the Tree of life? So often the gospel is preached and the offer of salvation made on a much more superficial level. The idea is given that we are out of step with God through sin, but that a restoration has been made by the atoning death of Christ, which has removed the guilt and eternal consequences of our sins, and restored to us sonship and fellowship with God. Now let us carry on living with the help of God. But, we are then told, we shall not live as we ought to, nor find heart satisfaction unless we own Him as Lord as well as Savior: Savior He must be or we are damned: Lord He should be or our lives will be fruitless. To have Him as Savior is mandatory: to have Him as Lord is optional. What nonsense! Redemption is only redemption when God regains (buys back) for Himself His dwelling place, our human personalities which were created for no other purpose than to contain Him. Therefore unless redemption immediately makes that a fact, and a saved sinner is from that instant the dwelling place of the Living God, there is no salvation. 
Through ignorance a redeemed person may not realize what has happened to him and may blunder about as a consequence, but it has happened all the same; and so often the responsibility for our blundering, soulish, fleshmanifesting though redeemed lives, lies at the door of a gospel only halfpreached, or believers only half instructed. And does that not really mean that the preachers themselves are only half–enlightened, because we surely give out what we have within? There is much talk these days of depth-psychology. We surely need evangelical depth-theology. Do we not need to reorientate our gospel message, and tell right out to the non-Christians that we are not bringing them some panacea for happier living or future security? We are bringing them a total revolution, a life which is nothing less than God Himself living in them through the radical replacement effected by Christ crucified and risen, with all the radical consequences which will follow from a Christ-centered in place of self-centred life. And it is by no means merely the non-Christians who need to become Christians. The much harder job is to make the Christians Christians! God's full salvation! To use human language again, He had two problems to solve; one was His, the other ours. God's problem was broken law. Broken law has inevitable consequences. Law is the term we use to define the way a thing works. It works this way, not that. Break the law and you suffer the consequences. The law of our lungs is that they must have air. Refuse them air and we suffocate. The fundamental law of the universe is love, for God is love. Everything which is not God's self-giving love is broken law; therefore our whole natural life without Christ living in us is broken law, for He only is self-giving love; everything else is self-loving love. The consequence of this broken law is repeatedly made plain in the Bible in terms like everlasting destruction from the presence of the Lord: outer darkness: weeping and gnashing of teeth: indignation and wrath, tribulation and anguish: where their worm dieth not and the fire is not quenched: the lake which burneth with fire forever and ever. How can even God deliver us from such consequences? 
The whole Bible revelation from the earliest chapters of Genesis to the end of Revelation gives one plain answer. Substitutionary sacrifice is the only way of "deliverance from the wrath to come," and that sacrifice was the offering of God's own lamb, His Son, whom He "sent to be the propitiation for our sins"; it was actually God Himself "in Christ reconciling the world unto Himself." Such a fact, though attested to by all the centuries of Bible revelation, will forever be an absurdity to natural philosophy. Justification by the blood of Christ–human reason can never take that and never has, nor the other truths concerning Christ coming in the flesh, His incarnation, physical resurrection and return in person; human reason is the vehicle, albeit the highest, of human self–sufficiency; and blinded self never can and never will see God by its own resources. God's truth can only come by God's revelation, not of this world, and is only available to faith; and faith means nothing less than the bowing down and falling prone of proud reason, and the committal of ourselves with all the passion of our being to Someone and Something He did for us which we can never and shall never prove, but do believe. It is the absurdity of faith–to the Greeks in their human wisdom foolishness, and the Greeks live on by their thousands today, often in the garb of Christian preachers and seminaries–but to us who believe "Christ, the wisdom of God and the power of God."
By this one tremendous act in history, planned and prepared even before sin and the human race were in existence (which gives us a glimpse into the certainty that God has been managing His own affairs and ours before ever the devil gave the appearance of taking over), what we called God's problem was totally resolved. Not only had the penalty been paid by the One who was made a curse for us; but with that, the guilt was non–existent; forgiveness had become a universal certainty, because the One who forgives is the One who had made the forgiveness possible in His blood; and finality is reached in the term which was such a favourite of Paul's–justification, the condemned criminal leaving the court without a stain on his character, as if he had never committed the crimes. So it is with us who are in Christ by faith–"accepted in the Beloved," "made the righteousness of God in Him." Perfect and forever wonderful. 
Removing Sin's Source 
But that has not resolved what we call the second problem–man's problem. Justification removes the consequences of man's sins, but not the source of them. The root must be dealt with, not merely the fruit. If the ultimate problem and cause of all the devastation is the indwelling spirit of error, salvation can only be complete if he is cast out forever, and the union of this false spirit with the human spirit destroyed. If the sole purpose of redemption is that we humans should be God's dwelling place, then it is obvious that a salvation which only removes the guilt and penalty of man's rebellion, but not the rebel king on his usurped throne, has come short of its purpose. God cannot seat Himself on a throne  occupied, nor can He permit a rival claimant within. The New Testament writers, therefore, take us on from the circumference to the center of Christ's redeeming work, and open to us the inner core of its total accomplishment. It might almost be called the hidden truth; not that it is hidden in the Scriptures; it is presented as plainly and factually as the truth of justification, and is really only a logical extension of it; but it is hidden in the sense that thousands treasure the outer shell of salvation; far fewer crack the shell and feed on the kernel. 
The Second Aspect of Redemption 
We are entitled to recognize this as a distinct second aspect of the one work of redemption, because Paul presents it as such. Romans 1–5 and 6–8 are the classic passages on the two. In this second one, we are pointed away from a Saviour dying alone on Calvary for our sins, to ourselves who died with Him. We have to look at Christ crucified then from two different points of view. In the first, we see Him dying there alone on our behalf. He trod that winepress alone. He was uniquely our substitute. We gaze on Him there as the Israelites on the brazen serpent, an illustration He Himself used to Nicodemus concerning His coming death. The most sacred word in the Scripture which presents this truth to us is His blood–"the precious blood of Christ, as of a lamb without blemish and without spot." It is a sure sign that a humble believer has divine illumination concerning his sin and Christ's redemption, when that blood is most precious to him and he anticipates worshipping forever at the feet of "the Lamb as it had been slain in the midst of the throne"; and it is equally a danger signal when any who profess to believe, belittle the blood. The blood is the life, as Moses revealed, and His blood was the life of God drained out to its last drop for the whole world. 
But then we have a change of emphasis. We no longer look at Christ crucified, and concentrating our attention solely on Him dying for us, see just who He is and what He did for us, and see Him as a lonely figure hanging there. Our attention is now turned to the fact that He did it for us. We see Him now as our representative. If He was there for us, then we were there also. We do not see Him alone now, we rather see ourselves whom He represented. It might be called the reverse side of the one coin. The interest is now centered, not on what He went through to pay the penalty for our sins, but on what effect such a death and resurrection has on us in our present personal lives, in the light of the fact that we went through it with Him. Obviously this is a more difficult mental concept, and that is part of the reason why it is so sidestepped in our thinking, grasping and teaching. Any child can understand the historical fact of the Savior dying two thousand years ago for us; but it is more difficult to understand a living relationship whereby I myself, a living twentieth century person, actually participated in a scene of 2000 years ago, with certain revolutionary effects on my daily life. But understanding is only one key to a double-locked door. Faith is the other key, and faith is not mental acceptance by human reason, it is passionate inwardness by which our whole being embraces and attaches itself to a Person who just is not to natural reasoning. When that stride of faith has been really taken over the gulf that forever separates natural reason from supernatural revelation, then an inward Christ is met with inwardly ("the Son revealed in me" as Paul wrote of his conversion), and then it is no longer difficult to speak the language or understand the truths of this reverse side of the cross when they are presented to us–we are with Him there. 
What then were the consequences of this fact that when He died and rose, it was actually we, the whole world of believers, who died and rose with Him? The fact that He was called by Paul the last Adam is a striking indication. Adam is the progenitor, the forefather of the race. The whole coming race was in his loins as a seed. Therefore what he was, we are. He having received the wrong spirit into him, we are born with that same false indwelling person. As David said, "in sin did my mother conceive me," remembering that sin is basically the spirit of sin, the god of sin. The last Adam, therefore, is God's replacement for the first; indeed in God's perspective and foreordination a negative is always only a type or foreshadowing of its positive, which accounts for Paul saying that Adam was a figure of Him that was to come; and that again is a significant hint to us of what our attitude should be when we pray for needs to be supplied or situations changed. The last Adam is also the progenitor of the last race, to be God's eternal dwelling–place and means of manifestation. God's grace is that He does not create some new race as presumably He could; but He recreates the new out of the old; for love must save, even as we must be co-saviours when Love lives in us. To do this, the last Adam must be born a man among men, and as the God–man in whom Satan had no place, try though he may, go through a death and resurrection. The death would sever the old and false union, the resurrection would be the new union. 
I know no three Scriptures which state this more succinctly than 2 Cor. 5:21, Rom. 6:10, 1 Pet. 3:18. The first opens the depth of the Saviour's identification with us. God made Him to be sin for us. To bear our sins was to suffer in our stead. To be made sin was to be in God's sight a world indwelt by the spirit of sin. That is the depth to which He went. This in itself was necessary if the next statement was to become fact: "in that He died, He died unto sin once." He had died for sins; now it says He died unto sin. When a person dies, body is separated from spirit. When Jesus died, having been made sin (having the spirit of sin), His holy dead body was eternally separated from that sin–spirit; but it was not just Jesus lying there a dead body; it was we. We, all believing people, that moment were cut off from the indwelling usurper. When He arose from the dead, the third statement says He was "quickened by the Spirit," the Holy Spirit of God. Here was the firstborn from the dead of the new humanity with the Spirit of God, His own Spirit united to Him as representing us. We believers were all there also. In Him the old union was forever broken, the new union forever replaced it. God had come into His own. 
Here was full salvation, commemorated whenever we partake of the symbols of the body and blood of Christ: the blood by which we are justified and continually cleansed, which was a Christ regarded as dying by Himself for us: the body by which the old union is severed and the new created. Paul, significantly enough, says of those twofold symbols that we are "one bread and one body," for we were identified with Him as His body in His death and resurrection; but he does not say we were one blood, for that was uniquely He Himself. 
How Do We Know? 
Now comes the question of experiencing what we may admit to be the truth. How many times I meet this heart cry, "But how make this real to myself? I know it in theory, I believe it mentally, but…." We have to get right down to the fundamental human issue. How do we experience what is beyond experience? How do we know what is beyond knowledge? How do we believe the impossible, unbelievable, absurd? Let us make no mistake about it. Here is where the battle is joined. God's word proclaims an unbridgeable breach in human existence. Man denies this. Man claims that every apparent breach can be bridged on a human level. That claim has been the occupation of philosophy from its beginnings with the Greeks, and the occupation of liberal theology, and the aim of ethics, and the objective of every religion except Christianity, and of a lot of Christianity also. The reason is plain. Admit the breach, and you destroy the autonomy of the self. But self–sufficiency, and a philosophy which will sustain it, is the be–all and end–all of a self–orientated humanity. Therefore sin must be explained away as ignorance or instinct, man's innate goodness must be postulated, and man's way to God smoothed through a supposed faith in our innate rootage in Him, or in His supposed character of undiscriminating love; or in the acceptability of our repentances, contrition, religious observances and so forth. Anything that preserves the integrity of the self and provides some mediation with the Eternal of which human reason and dignity can approve. 
But sin, creating an unbridgeable gulf between ourselves and God! What is that? Human reason can neither stomach nor explain that. And a movement over from the Other Side, of the Eternal into time, of the Invisible and Unknowable into a human body, of the Absolute into a relative existence, of the Creator among the created! Such is the outside limit of absurdity! So we come right up against it. Is faith easy? Yes, when you have got accustomed to it–at least easier. No, when the first trembling steps are being taken. Faith means something far more than repeating a creed. It means something that has penetrated us on the inside. It is not just truth in general. It is my truth. Not just the gospel, but my gospel. In other words something has stirred within which has been dawning light to us, not of ourselves. It has come from the Other Side. The Bible word is conviction–of the Spirit. Some word from God has reached us which we just know to be true.
A Personal Example 
In my own case, it was when, as a lad of eighteen, my football ambitions were shattered by an accident, and in hospital just one thought crossed my mind. Is there nothing but selfishness in the world? For I am totally selfish: my father, my mother, my home, the world is for me! I could not then have said that was the Spirit of God. But I knew it was truth. I would not even have recognized it as a flash from the Other Side. But it was. It was the preparatio evangelica for me. It conditioned me to recognize myself, not just as one that thought and did things of which I was ashamed, but as a sinner before the Ultimate, before God. That again was revelation: the sudden recognition that God is holy, I unholy, and therefore eternally unfit to dwell with Him. And finally the flash of thought into my mind that Jesus Christ, God's Son, really did shed His blood for me, and therefore there was not wrath, but acceptance for me. Could I prove one of those things? Not one. Could I be sure that it was God who said them to me, introduced them into my thinking? No. Teaching had something to do with it. I had been taught through the years the Bible and the gospel. But external teaching does not save. It may be fuel for the lamp of the Spirit, that is all. How does God speak then, and how do we believe? I don't know, because it all comes from the Other Side. 
That precisely is faith. The nearest we can say is that through the human faculties of mind and heart there come to all (I believe) hidden communications of the Spirit, disturbances of the status quo, of our rationalizations, our funk holes in which we try to hide our sinfulness from ourselves and from Him, our false pursuit of satisfaction in things of time and sense, our build–up of a human ethic, religion, philosophy or idealism which crumbles when matched with the actual realities of our self-centered lives, or our pretended and endeavored forms of communion with God. As we respond to these pricks, which was the name given to the goadings of the Spirit in the apostle Paul, further revelations of inner truth come to us, revelations to us if to no one else, revelations which have their ultimate source and guarantee in the Scriptures: "if they speak not according to this word, there is no light in them." 
Settled In Us 
But the moment comes when we settle it, or rather God settles it in us. We can prove nothing. The wise of this world may be able to shoot holes in our logic or reasons. We readily grant that the One in whom we now have put our faith is unknowable to the world, invisible, and we can never say we know or see Him except by faith. Historic facts are available, but again we admit that history is unprovable. We have only the word of the historians or eyewitnesses. We have no ultimate grounds upon which to base our belief in the reliability and infallibility of the Bible; indeed plenty can be brought against it. We further admit that certain facts concerning the life and death of Christ are altogether beyond human probabilities–His deity, His incarnation, His physical resurrection, His ascension. Pile question mark upon question mark, we admit all. But faith has nothing to do with these. Faith is itself from the Other Side, and is as inexplicable and absurd as that in which it believes. Faith has nothing to say for itself beyond the bare statement that from certain inward convictions which are convictions to it, it stakes its all on God as truth in His revelation through the Bible and supremely the Christ of the Bible. For myself I have stated the two main convictions which constrained me forty–seven years ago to gamble my life on God: first, what was the obvious, that I was a 100 per cent self–centered person; and second, that God was the wholly opposite, 100 per cent self–giving, so that He actually gave Himself in the Person of His Son to change me into His likeness. That final fact convinced me. I said I could follow to eternity a God who is forever the Servant of His own creation, even to the point of giving His own life for His enemies; and I could wish for nothing higher that that such a Person could and should live that same quality of life through selfish me. And so say I today. 
–God Unlimited
More Articles from The Intercessor, Vol 28 No 1