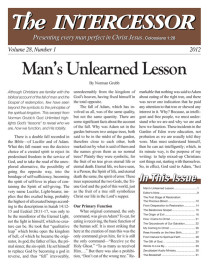 Editor's Note

Norman Grubb observed that often "the Gospel of Salvation is magnificently presented, seekers are led to Christ; but the totality of the Gospel, the Gospel in its ultimate category is by no means so clearly presented, nor maybe even understood by teacher as well as taught." In this issue, we have brought together articles and features to probe the miracle and mystery of Salvation–the first stage of what Norman calls "the totality of the Gospel." 
We begin with a piercing revelation of the purpose of the temptation of man–not a "test" of man's faithfulness, but the initiation of God's unfolding of "Man's Unlearned Lesson," the necessary discovery of who we really are and how we function in His Kingdom. Similarly, "The Origin of Evil," starts at Creation to reveal the importance of choice–with its awesome consequences–for man to rightly function in true freedom. 
Though most Christians are acquainted with the facts of Redemption, "The Groundwork of Our Salvation," excerpted from Norman Grubb's The Deep Things of God, explores its overarching implications for us today. In the same vein, "The First Stage–the Precious Blood" unfolds the unfathomable love and wisdom of God as He Himself, incarnated as the Son, became the only possible means of our redemption–and paid for it with His own blood. 
Tucked away in The Liberating Secret is perhaps Norman Grubb's most succinct presentation of what he calls the "first stage," or God's "outward approach" to restore man back to Himself. Re-titled "The Barebones Gospel," this brief offering gives the basic biblical facts, understandable to the mind and conscience of any man, woman, or child, by which we must be saved. 
Any discussion of the Gospel is incomplete without examining the "one and only key" to personally appropriate biblical truth: faith. "From Natural to Spiritual Faith," excerpted from Norman Grubb's The Law of Faith, describes how the process of faith, our means of functioning in the natural world, is exercised in the supernatural realm. 
Lastly, personal experience is the evidence of the miracle of Salvation. In this issue we include "My Coming to Christ," Norman's Grubb's compelling narrative of the events leading to his personal "spiritual Waterloo" and the firstfruits of his subsequent lifelong spiritual adventure. Similarly, Page Prewitt's "How I Came to Christ," reveals the simplicity of the Gospel of Jesus Christ–that Pearl of Great Price. 
We trust that this issue will prove an adventure in exploring the Gospel of Salvation–the unfolding of God's revelation to us "that man was originally created and now re-created in Christ to find his place in God and He in us." 
More Articles from The Intercessor, Vol 28 No 1