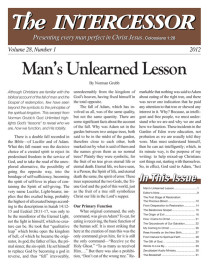 From Natural to Spiritual Faith

God Himself entered the human arena by the one act of matchless grace in sending His beloved Son in the likeness of sinful flesh and as a sacrifice for sin. And in doing this, He took every possible means that could be taken to quicken love and stimulate faith in Himself. In order to act, faith must first see. Very well then, God will meet faith on its own ground. 
First, there remains in man, even at the fall, the moral sense, the conscience, the law written in the heart, the capacity of knowing right from wrong, of recognizing the highest, of thirsting after his lost perfection. These God then stimulates through history by revelations of truth, accompanied by mighty works of deliverance, by His dealings with His chosen people, all rays and foreshadowings of the true light which was to shine, all material for a truth-seeking faith. 
Then comes the moment, in the fullness of time, when the true light shines out in the darkness, the Word is made flesh and dwells among us, full of grace and truth. His incomparable words, His deeds, His symbolic acts of giving the bread and wine, His victorious redeeming death, His carefully attested resurrection, His appearances, His visible ascension, the coming of the Spirit, the transformed followers, their written records, peak on peak, form the mighty mountain range of visual testimony. 
And so God comes down to meet man's faith, with His Son, His Word, His Spirit. The gulf is bridged. Faith can operate in the realm of the Kingdom of Heaven as simply and naturally as in the things of earth. 
And now let us watch this process of faith as it passes from its exercise in the natural to the supernatural. What happens when the Spirit of God brings conviction of sin? It is obvious. He penetrates the thick walls of our self-righteousness. Every man by nature has built around him some working philosophy of life. He is as good as other folk. He does not do his neighbor any harm. He believes in a Creator who is love, so hell is unthinkable, and all will be right. Or else he has a frankly materialistic and hedonistic, or agnostic, or even atheistic, point of view. Anyhow, he has some basis to life, however flimsy, however unsatisfactory, or however self-satisfying. And to that basis his faith is attached. He is a believer all right–in his particular outlook: it may be a false faith, a perverted faith, but it is his faith. 
Now, conviction of sin knocks that flimsy prop from under him. It no longer satisfies, it is no longer reliable. He sees through it: all his righteousnesses are as filthy rags: his sins are ever before him: he has hewn him cisterns, broken cisterns, that can hold no water. Now his faith is at sea, tossed hither and thither, with nothing left for it to take hold of. Where can it ground its anchor? 
The Spirit points to Jesus. The Spirit and the Bride say, Come. The Word speaks its message, "Look unto Me and be ye saved." "Him that cometh unto Me I will in no wise cast out": "He that believeth on Me hath everlasting life." Here is faith's sure resting-place. Here is its rock of ages–Jesus, the Son of God. 
The decision is made, Christ for me: "Nothing in my hand I bring, simply to thy Cross I cling." Faith dares to take Him at His word: "The Lord is my shepherd": "My Beloved is Mine and I am His." Not a new faculty of faith, mind you, but a new content for faith. That's all. The very same faith which was once centred in the man's own righteousness is now torn from that false embrace to rest itself upon "that which is through faith of Christ, the righteousness which is of God by faith." A natural faculty purified, redirected, possessed and controlled by the Spirit. 
And let us note that the one per cent of human faith had to go out to meet the 99 per cent of God's grace. Without this, not all the conviction in the world, not all the sorrow for sin, the change of mind, the prayers and tears and resolutions, could bring the sinner to the enjoyment of that grace. The central faculty of faith had to be exercised, that faculty which is personality in action. The man who had chosen to believe in a false philosophy of life, who had acted out his faith by his self-pleasing, self-confident way of life, had now by an equally deliberate choice to reject that philosophy as a basis for his faith, and by that same faith to accept Jesus in all the fullness of His forgiveness, mercy and renewal. The faith could not save, only His abounding grace could do that; but the faith was the decisive action of a free person, seeing, believing, receiving, and opening his being to the control of Jesus Christ, his new-found Lord. 
More Articles from The Intercessor, Vol 28 No 1