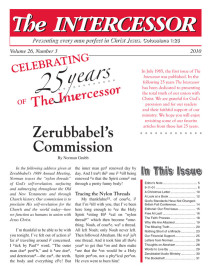 Zerubbabel's Commission

IN JULY 1985, THE FIRST ISSUE OF THE INTERCESSOR WAS PUBLISHED. IN THE FOLLOWING 25 YEARS THE INTERCESSOR HAS BEEN DEDICATED TO PRESENTING THE TOTAL TRUTH OF OUR UNION WITH CHRIST. WE ARE GRATEFUL FOR GOD'S PROVISION AND FOR OUR READERS AND THEIR FAITHFUL SUPPORT OF OUR MINISTRY. WE HOPE YOU WILL ENJOY REVISITING SOME OF OUR FAVORITE ARTICLES FROM THESE LAST 25 YEARS.
In the following address given at Zerubbabel's 1989 Annual Meeting, Norman traces the "nylon threads" of God's self-revelation, surfacing and submerging throughout the Old and New Testaments and through Church history. Our commission is to proclaim His self-revelation for the Church and the world today–how we function as humans in union with Jesus Christ.
I'm thankful to be able to be with you tonight. I've felt out of action as far as traveling around is concerned. I stick by Paul's word, "The outer man does perish," and it sure does, and deteriorates–the ears, the teeth, the body and everything else! But the inner man gets renewed day by day. And I trust this one is still being renewed so that the Spirit comes out through a pretty funny body!
Tracing the Nylon Threads
My thankfulness, of course, is that I'm still with you, that I've been here long enough to see the Holy Spirit setting His seal on "nylon threads" which then become some-thing. Noah, of course, was a thread. All left Noah; only Noah never left. Then followed Abraham. He was just one thread. And it took him all those years to get that son and then make sure that the son would be a Holy Spirit person, not a physical person. He even went to burn him!
And so it went, thread by thread until Jesus came. Even the "Total" was just a thread, the son of Mary. He moved in to the ultimate, which is spirit. And so he went through physical death so that the Spirit person in His certain form could take other certain forms–resurrection forms. So we are Spirit revived, and He is now the first-born of the many brethren. It's gone on like that, hasn't it?
Before Pentecost He had twelve runaways with Him. They ran away and left Him alone. He died alone. But He had said, "The real Me, the 'I AM' in Me, is the Spirit 'I AM.'" Jesus was the Spirit 'I AM' in outer form. He said, "While I'm in outer form, I've got no way into you, be-cause you don't really know the Spirit in Me; you hang around the outer form." So He said, "It's good that I go. I'll pray the Father that the same Person who operates as Me will assume outer form and come into you and operate by you, as in Me."
He moved then to faith, a word of faith, in saying, "I'll send the Holy Spirit." He moved from praying to saying that the same Person would come up again and again through these threads. And the threads would become ropes and expand. Then He left that group behind.
They were tested to see if they meant business because it took six weeks until Pentecost came, didn't it? "He'll come, He'll come, we will stick to it, stick to it. He'll come, and when He comes, we'll know it." That's faith which becomes a word and then a deed. You know, you believe, you wait, you believe, and then He comes. He came at Pentecost in one outer way with the tongues of fire and the mighty winds–the only time He came that way–but it was the Person who came.
Then the 120 became persons who had the Person. They lost sight of the Person who was crucified in the physical and who rose in the physical. You can't trust a physical Jesus who died or a physical Jesus who rose. Where is He? We go to a Spirit who knows, don't we? The Spirit knows. And they knew He was the risen, ascended, coming Jesus. And He is coming to gather all wholly in to the one, one day. The whole thing will be one, all in all–and they knew it. The 120? Well, they say there are fifteen hundred million on earth today. That thin nylon thread has come up. The Holy Spirit works like that, doesn't He?
God's Revelation for Today
We will say He's done this for us. He has different methods, different phrases of the truth, different emphases, as He had with Luther: "justified by faith." New things happen in the body of Christ. God has given us something which is a presentation of the whole business in our terms for today. There may be better terms coming the next generation, certainly.
I have put those terms in a little phrase I am using, just as Einstein came out with one tiny sentence after his years of mathematical analysis on technical subjects. His was E = MC²: energy equals mass multiplied by the speed of light squared. Ours is "formerly Satan-I, now through Calvary, Christ-I, and never I-I." This is by faith, of course, and the point is that there never has been an I-I, an independent self.
We've had "negative tests" on this–which are good, because it takes a negative to produce a positive. There are those who would say, "It's a bunch of nonsense, leave us alone." We know it's a fact that the Church just doesn't say it. We have to say it's still rarely said, and where it has been said, it has been said by revelation.
Paul put this into its form in Galatians. He said, "By revelation I've seen it" (Gal. 1:12). "But though we, or an angel from heaven, preach any other gospel unto you other than what we have preached unto you, let him be accursed" (Gal. 1:8). Now, hopefully for all of us here, and for increasing numbers, something's happened to you, somehow this is He to you, this is truth to you.
We as humans were walking Satans–S atan-I–and we got muddled up for a long time and thought we were just I-I. But we discovered that we are Christ-I, by revelation, and that's where we are now. That's our rock, our revelation–Christ-I. That's our basis. My own thrill is that I've been spared long enough to be with you and see the Spirit confirming this in us. This is what He has entrusted to us. We're the commissioned people, the commissioned people who know who they are and have a drive to transmit this truth to others.
Proclaiming the Total Truth to the World
The commissioned people not only have the knowing, but are driven to get this out. We're here to be driven. We've got to get this out, we've got to find out how it is to go out, if this is what we say it is. And we're saying we have a fresh presentation to the Church of Christ of who the redeemed really are–who we are as real people as we pass thorough this process of grace.
Our numbers are arising, and it is my joy to be with you in whatever ways the Spirit will expand Himself by you. We're very thankful for the negative fires which have burned a bit on us, and sharpened and polished us up when those who were part of us have left us. We're always saddened when they do. Some still do and others still may. And we say the sharpening is that. But we'll take it to the whole Church of the whole world.
I was with a man–by God's grace He has always called me to take an affinity with somebody who has the real goods–and I met this man just once. I sensed the real goods, and I got an affinity with him. He started on the gospel level and so on. The point I'm making is that he sighted something which could take the gospel to the world. When the Lord took him sixteen years afterward, not much fruit was there, but one of the last things he said to me was, "You watch. The Lord called me to get this started."
So He removes the starting people, as Jesus himself was removed. But He came again at Pentecost by the Holy Spirit. So I'm expecting to be removed. I'm expecting that when I go on, there are going to be expansion bases on the foundations we call the four pillars–sacrifice, faith, holiness and fellowship. So that's our background, isn't it? We have a Holy Ghost conviction which we call total truth. We have mastered it, examined it and let other people attack it and get at it. Yet we still say this is what we see in the Scriptures, what comes down to us by the witness of the Spirit, and is put here in its simple form.
The value is in its simplicity. Complication means you don't yet quite get it. Love is very simple, God is very simple, and we're a very simple people–just doing what Christ tells us to do. But it has its basis, it has its equation. So I haven't got more to say on this except that the Lord is raising up among us the teachers and expanders of what we're talking about. I learned that principle as partners with C.T. Studd.
Zerubbabel–Spoken Word of Faith
We picked up the name "Zerubbabel," and it's a bit of a mystery to people. They don't know what it means. It means the spoken word of faith, and it is our trade to use the spoken word of faith. Zerubbabel means, "Who art thou, O great mountain? Before Zerubbabel thou shalt become a plain!" (Zech. 4:7). What you see is a mountain in your outer seeing. By a position of faith you see an open plain by which God is going to send us His supplies.
 
Maybe we're right in calling it Zerubbabel. I'm more inclined to call our new conference center "The Burning Bush." People would under-stand then what we mean–a burning and a shining light. But we keep off organizations and special titles and operate on the fellowship basis, which is the mind of Christ coming through all who are involved. This is the consensus method. Democracy does work. So we define the Lord's mind by consensus and then move into operation.
So that's our basis, isn't it? Our consensus of conviction on the total truth is what we operate together. The basic method of operation is what the Bible calls the word of faith. The word of faith comes in the same way as, "Let there be light." It is the be-ginning. "In the beginning was the Word." And the Word was the second form of the Trinity speaking the word. He spoke what was in the mind of the Father, and He formed it into words. Then the word moved out into spirit substance–thought, word, deed.
The central operation is the word, the spoken word. A thought is indefinite. A word is saying it, and the dded is the word having become substance indeed. That's the word of faith!–and among God's people that can operate when we've gotten far enough to recognize that the operator is God. We are the agents. That of course is part of our foundation. We're the body  members of the Head. The difference, then, is that the word of faith doesn't come from the agent but from the operator. The agent knows how to get to know the words of the operator and then moves in on the principles of the word of faith. The basis of that principle then is, "What is God's thought to me? What is God up to?"
More Articles from The Intercessor, Vol 26 No 3