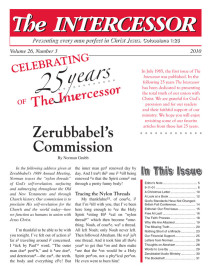 Nothing Short of a Miracle

Some of our readers may be familiar with our youth magazine, Z-News. Z-News is a simple quarterly publication designed to introduce children to the Colossians 1:27 truth, "Christ in you, the hope of glory." Our late friend Dottie Tupper started the publication in the summer of 1989. At Dottie's invitation, I became involved with Z-News by the second issue just doing little drawings. At that time, I was 19 years old and just beginning to emerge from a pit of sin and despair with no hope and no direction in my life. Today I have the privilege of being the editor of Z-News, teaching a children's Sunday school class and teaching art to K-8th graders in the public school system in North Carolina. It's amazing to look back and see God's faithfulness over the past 16 years, both in my life and in the life of Z-News. In a way, my life really started at the same time Z-News was first created, and our testimonies have been intertwined ever since.
My life used to be hopeless and bleak. I had a negative view about God and my circumstances, and it affected every area of my life. My view of God stemmed from my ungrateful heart, as I believed he gave me a "raw deal." I was a special case, and no one else was like me or understood what it was like to be me. I used to see myself as an independent person, and lived from my feelings of shyness, self-consciousness, and self-pity. I believed that these feelings were "just me." This was sin, and was extremely debilitating in my life. It affected me to the extent that I could not speak in a room full of people without breaking down in tears–even for something as simple as an introduction.
I did not plan much of my future because I didn't know how I would ever make it on my own. My family was dysfunctional, but I didn't ever see that I could "make it" on my own away from home. I avoided authority and uncomfortable situations. Although I went to church when I was younger and was taught the Bible, I had zero integrity. Instead, I rebelled and turned totally away from God. I lived a life of immorality including abusing drugs and alcohol during most of my teenage years. Eventually I became more desperate and longed for an answer and freedom from this bondage. Nothing worked, until in a moment of desperation, my mother shared with me a truth I had not known before. This truth was simple and was the total answer I was seeking!
The total truth that I came to know is what our Z-News and Intercessor magazines are founded on– the principle of no independent self. I am not "just-me," but am joined to Christ. I learned that we humans are composed of three parts: body, soul, and spirit. I always lived from body and soul, and that was my total focus and reality. That was my huge problem because when I saw myself independently, I was really giving Satan the opportunity to have free reign of my members. Instead of focusing on all the negative ebbing and flowing of my body and soul as I had done all my life, I began to focus on spirit– the part that never changes, where I am joined to Christ. I claimed then that I was whole, complete, and lacking nothing–for one reason and one reason only–that Christ is this in me. I knew I couldn't say that about "just me," but I could definitely say it about Him. I could then no longer say that "Christ-I" is limited by any feelings or circumstances. The Creator of the universe lives in me, and knows NO limits. This was the TOTAL answer that I was seeking! And it was applicable in EVERY area of life. Though seemingly just words in daily living, I believed it, meant it when I said it, and I saw God begin to work a complete miracle in me!
This was a time of "new beginnings." As God began a work in me, He provided a network of new friends/believers, and I had the opportunity to contribute artwork for the new youth magazine, Z-News. I first attended our local Bible Study in Massachusetts and Zerubbabel conferences and summer camps. It was great news that others believed the truth, shared how their own lives were transformed and helped me know it for myself. My life then began to dramatically change as I dared to claim that I was not an in-dependent person, but was joined to Christ, and "…it is no longer I that live, but Christ lives in me" (Gal. 2:20). I trusted God in small things, believing He could handle any situation perfectly through me. Having the total, practical answer gave me confidence to take action where I was formerly debilitated. He could handle the next thing that was before me to do, and could do it despite the negative feelings and thoughts I had. It was relieving because I didn't trust "myself" but trusted Christ to take action through me. Simple, yet not always easy to say, especially when body/soul pulls seemed so opposite.
As I began to take steps by faith I was able to do things I once thought impossible–trusting Christ to do what I could not. He did the impossible through me–and could speak to a group of people and have something worthwhile to say with-out crying. I learned to do the next right thing, which thankfully included working more and more with Z-News. I was able to share what I was learning about Christ living my life as I was learning how to handle more responsibilities with the magazine. I see now that it was part of God's plan to have my life and the life of Z-News coincide, and was all part of His perfect plan to bring me to today.
God provided an outlet for me to begin to take what I believed and share it in simple terms with Z-News readers, and it was a privilege to be able to do this. The spiritual growth in my own life occurred alongside the growth of Z-News, and I was able to share this in the magazine, beginning with simple artwork in the 2nd and 3rd issues. By the 5th issue, I shared my testimony ("I Felt So Lost") and was involved in the creation, set-up and production with my friends Robyn Mace and Scott Prewitt. Robyn would travel from Maryland, I would travel from Massachusetts, and we would meet in New Jersey at the home of Z-News' creator, Dottie Tupper. We typed, cut, pasted and put Z-News together in two days, literally on the floor of Dottie's living room. We loved this time we had together and were grateful that we had taken part in an important commission for young people. These were the early days of the magazine and early days of my redeemed life.
Even before I recognized it, God was preparing me to carry out His will for me. I earned a secretarial certificate from a business school in Boston, which was a first significant walk of faith for me because it was so far outside my comfort zone. There I learned administrative skills, which I have always used in the jobs God lined up for me, both for employment and for our youth ministry. My parents owned a print shop where I worked for several years and learned how to plan, prepare and produce printed materials, which was a foundation for understanding how to publish Z-News. I attended a local college for visual arts, (I recently went back to college to earn a teaching degree), which has now become my career, as I am a full time art educator. Through these years, I attended Zerubbabel conferences and became more involved with Z-News and working creatively with young people. I didn't realize the big picture at the time, but did the next right thing God had for me to do, trusting Christ to be able to do it through me. Now I see clearly that God had these specific details worked out for the larger plan He had for me in our youth ministry.
Through the years, I continued working on the magazine, and by the 10th issue I had moved to North Carolina with close friends who were committed to our ministry based on the truth of Galatians 2:20, through which each of us had experienced freedom. God continued to do a further work in me as I realized that I was bound in those areas in which I still saw myself independently (which means I really believed Satan's lie). I will spare many of the details, but can sum up that EVERY problem stemmed from my sin of unbelief (thinking I was just-me again) and refusing to trust God and His sufficiency in ALL areas of my life.
There were some things I did not want to give up and preferred my ideas and perceptions to God's. This was sin. As a result, I missed out on one and a half years of my commission and ministry through Z-News, which I deeply regret. Although I cannot get that time back, I am reassured that I have been forgiven for it. After reaching a point of desperation and brokenness from the consequences of my choices, I confessed my sin to God and others, and repented and turned from it. I don't take lightly that my life today is a second chance–a redeemed life. I am even thankful for that negative side, because it is such a contrast to the joy, freedom and forgiveness I now know.
My life today is victorious and nothing short of a miracle! I went from being unable to state my name in a room full of people to becoming a gradeschool teacher where I rely on my ability to communicate verbally. I ultimately changed from believing I was "just me" (the lie of independence) to knowing that Christ is in me and can live perfectly through me, despite my feelings. I am whole and complete, lacking nothing. Christ truly has lived the life I cannot! This truth works, because the person Christ works, and my life is a testimony to that. I want others to know this amazing truth that has changed my life, and that's why I am so glad to share my testimony and to help share the truth with the next generation of young people through Z-News.
 
 
More Articles from The Intercessor, Vol 26 No 3