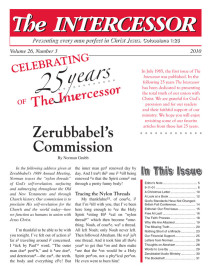 Editor's Note

In the next two issues we will be celebrating 25 years of The Intercessor by re-publishing some of the best articles and features that present the total truth of Galatians 2:20 and Colossians 1:27 "that we may present every man perfect in Christ Jesus." The emphasis of this issue is the distinctiveness of the Total Truth message as the missing link in the Church today.
Our lead article is a talk by Nor-man Grubb to the Zerubbabel fellowship during the 1986 Annual Meeting in which he presents an astounding overview of the workings of the Spirit to reveal God in His fullness through His called people–"nylon threads" emerging and submerging in time, unveiling hidden aspects of God anew to successive generations. Several articles in this issue reveal the emergence of that "nylon thread" in and as us today.
"The Missing Truth," reprinted from the first-ever issue of The Intercessor, contains Norman's bold assertion that the message we are proclaiming is as crucial for the Church today as was the truth He entrusted to Martin Luther for his generation–the true meaning and operation of the human self.
Norman's early editorial "Why We Are Attacked" directly address-es the controversy that arose over his publication It's As Simple As This with a remarkably clear explanation of the distinctiveness of our understanding of the replaced life and the universal error of believing in a self-functioning self. That very booklet becomes the focus of "A Look at a Book" review–and details its very personal, life-changing impact on the reviewer's life. In "Letter to Page," Norman gives biblical clarity on issues that have proven to be stumbling stones for many Christians, such as How can we be "dead to self"? And "Free At Last" explores how we walk in newness of life by our understanding of the implications of Galatians 2:20 during the trials and temptations that test our faith.
Also in this issue is a glimpse into the founding vision for Zerubbabel Ministries (Editorial from Our First Issue) and its fruition as told through several personal accounts of lives changed through both the message and the messengers who pour themselves out to see "Christ formed in others according to the mighty working of the Spirit." And that "mighty working of the Spirit" is manifested dramatically in Scott Prewitt's gripping moment-by-moment personal account as a volunteer responder after the 9-11-01 attack on the Pentagon, giving him the privilege to be "an earpiece and mouthpiece of God during this time when so may were turning to the Heavenly Father for answers."
We hope our readers will en-joy and benefit from this issue celebrating twenty-five years of freely sharing God's Total Truth to all who will receive it.
More Articles from The Intercessor, Vol 26 No 3