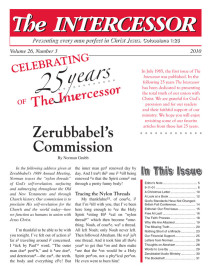 Editorial…Our First Issue

Welcome to this our first issue of The Intercessor. What can we say, but that how glad we are to have this opportunity to publicly share and loudly proclaim "that which we have heard, which we have seen with our eyes.. .of the Word of Life," which has become our Living Total Reality? We can build on no other Foundation, nor do we ever leave this Center, of the crucified and resurrected Jesus Christ, as Paul said, "For I determined not to know anything among you, save Jesus Christ, and Him crucified," and "that I may know Him, and the power of His resurrection."
The Intercessor is being published, in association with Zerubbabel Outreach, to function both as a sharing magazine, to proclaim God's "Christ in us as us" reality to the whole church of Christ, and also as a newsmagazine to regularly publish news and information of current activities and events happening nationwide and abroad, of the Spirit's outpourings. We are also specially privileged to bring news about the Zerubbabel Conference Center, the land now being purchased, with plans to build soon in the mountains of North Carolina, near Boone.
Who are we? There's a bunch of us, actually! Most of you who receive this first issue will have replied to the letter we sent out a couple of months ago, listing all the names of folks who sent greetings from our Jackson, MS, meeting in January–some 50-plus. At that meeting, several of us, with the consensus of the whole group, heard the "word" to function as a coordinating fellowship, to spearhead some of these activities we will be listing in our magazine.
What, then, are we about? Why are we calling this The Intercessor? "Intercessor" is an awfully big word. But we see this as the age of the "intercessor," a growing-up time of God's Church, a coming of age, as Paul put it, "Unto a perfect man, unto the measure of the stature of the fullness of Christ." And this means not just individuals here and there, but the whole body of Christ's Church!
The "fullness of Christ!" What else could that mean in any given individual but that He is living that life–a human life that is Christ ex-pressed. "Christ magnified in my body," said Paul. Then what is the fullness of "Christ expressed" in and as us? Peter describes the unceasing activity and direction of the Life of Christ in Acts 10:38: "How God anointed Jesus Christ of Nazareth with the Holy Ghost and with power: who went about doing good, and healing all that were oppressed of the devil: for God was with Him."
So then, of greatest interest to us, and the subject material to which The Intercessor will be giving primary attention, what is the secret of Jesus'
Acts 10:38 activity? We will center on five: first, He knew who He was–
"Before Abraham was, I AM." Secondly, He knew how he functioned as a human being–"The Father that dwelleth in he, He doeth the works." Thirdly, He knew His purpose–"My meat is to do the will of Him that sent me, and to finish His work." Fourthly, He knew the word of command, of achieving faith–"And he arose.. .and said unto the sea, 'Peace, be still.' And the wind ceased.. .And they said one to another, 'What manner of man is this, that even the winds and the sea obey him?'" And then finally, as the central key to all, He knew and lived out the death/resurrection principle of the cross: "I am the good shepherd, the good shepherd gives His life for the sheep…Except a corn of wheat fall into the ground and die, it abideth alone, but if it die, it bringeth forth much fruit."
Therefore, the articles in The Intercessor, and the activities, teachers, or publications we recommend, will generally be giving heed to these main issues, and their sub-topics: knowing who we are; how we function as human beings; the Father's purpose by us; achieving faith; and the "royal priesthood" principles of intercession. And, obviously, we have no interest in merely imparting "ear-itching" head knowledge, but as we have suggested in our title, we see ourselves joining in Paul's bold commission of Colossians 1:28, of presenting "every man perfect in Christ Jesus." A Church with "enlightened eyes–rooted and grounded in love, comprehending with all saints what is the breadth, and length, and depth and height…to know the love of Christ…being filled with all the fullness of God," all "perfect workmen," and "thoroughly furnished unto all good works."
 
More Articles from The Intercessor, Vol 26 No 3