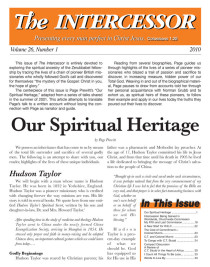 The Cost of Commitment–Colonel Munro

The first time Norman told me about David Munro, this wild, smoking, drinking army man, he said he was at home in London and while out walking, he passed by a Salvation Army meeting and he was converted. So he came to know Christ at a later age. Norman said his life changed drastically and his wife never really accepted the change. He was married to one of Pauline's older sisters, and she didn't like his giving up his social life evidently, from what Norman said.
Ii remember Norman kind of looked at me and said, "They just had to live it out." But he told me a lot about David. Obviously Norman loved him very deeply because at the end he looked at me and teared up and said, "…and that was David." So that was Colonel Munro who helped Norman steal the WEC records, and cut the phone lines.
More Articles from The Intercessor, Vol 26 No 1