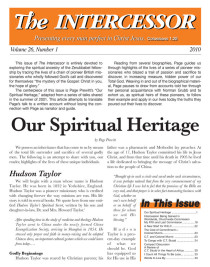 A Review of C.T. Studd in the Heart of Africa

A Review of
C. T. Studd in the Heart of Africa
by Norman Grubb
 
by Joanna Coatney
C.T. Studd in the Heart of Africa is a wonderfully captivating CD series packed with fascinating stories and tidbits from someone who experienced Studd first hand–his son-in-law. Norman Grubb married one of Studd's four daughters, Pauline. Together they represented Studd's Heart of Africa Mission (later the World Wide Evangelization Crusade) both in the field with C.T. and later on the home front in England.
Norman describes Studd as "radical," someone who "pulled no punches." You will see why when you listen to this series! Educated at Eton and Cambridge in England, Studd made a name for himself as a world class cricketer, but at the peek of his career gave up his fame and fortune to win souls for Jesus. After pioneering in China and India, C.T. spent the last 16 years of his life in the African Congo, during which he saw his wife a total of two weeks.
Like many radical followers of Jesus Christ, C.T. Studd was controversial. Norman tells how Studd's ailing health led a doctor who happened to be passing through the Congo to recommend morphine to help keep him going. Studd was willing to try it if it meant he could keep going longer and share the Gospel with more Africans. But many labeled him a drug addict, and of course it didn't help that it had to be smuggled into the country! On top of that, Studd put out a booklet called "Don't Care a Damn" (D.C.D. for short) after hearing a retired military man use the phrase to describe his passion and dedication for king and country. Studd loved such an all-out attitude, and challenged others to "D.C.D. for anything, save the Glory of Jesus, Obedience to God, and the Evangelization of the World." Norman describes how Studd was thrilled to find that Paul said the same thing (in so many words!) in Philippians 3: "…for whom I have suffered the loss of all things, and do count them but dung, that I may win Christ." But this was going too far for some, particularly the committee back home in England. They later decided to confront Studd in person in Africa with the intention of kicking him out of the mission he had founded. God had other plans, though, as you will hear Norman detail on the first disc of this three disc series.
Norman laughs and cries throughout this series as he remembers humorous stories and beloved friends, such as Rees Howells, whose life and revelations on intercession he details on the third disc, and Alfred Buxton, C.T. Studd's other son-in-law, who first accompanied Studd to the Congo and was with him many years. One humorous story worth noting was the dramatic and somewhat comical tale of how Norman and his brother-in-law, an ex-military man–Colonel Munro–"broke in" to the mission's headquarters to reclaim the records by which the mission was run after the committee had threatened to fire Studd. The climax of the story is when Colonel Munro excitedly cuts the phone lines in an act of bravery and defiance! Norman's pleasure in recounting the escapade is most enjoyable. His mentor Rees Howells had encouraged him to reclaim the mission in the name of the Lord after noting in the mission's legal documents that the founder (Studd) had the veto and therefore the committee couldn't kick him out. This is just a taste of the adventures of faith that Norman lived throughout his later years and has writ-ten about in several books.
The tiny day-to-day details of Studd's life in Africa, described by Norman, are both fascinating and challenging: rising every morning at 2 a.m. to pray and read; translating from 4-6 a.m.; living a simple life in a bamboo hut with only a bed, a table and a chair; on occasion travelling to the African villages by night so as not to waste precious teaching time; wearing the same shorts and shirt everyday and sewing pajama bottoms to the ends of his shorts as he got older and felt the cold more easily! He dedicated his remaining years to saving souls in Africa. But as Norman tells us, "Studd didn't make churches; he made Holy Ghost people–Christ in people. There was a fire that burned in Studd, a burning light." It is astonishing to hear that 20,000 Africans attended Studd's funeral, travelling from surrounding villages with their bed rolls and a bunch of bananas. What a testimony to the impact he had on the lives of a previously godless people!
The final two discs of this series Norman shares, among other things, the special relationship he had with his mentor Rees Howells: how they met, his Bible College in Wales and all that Norman learned from him in the area of intercession, detailing the faith stand Howell's took during World War II.
This CD series is a true gem. We are blessed to be able to listen to Norman's first-hand account of Studd in the Heart of Africa and the legacy he left continues to this day.
 
More Articles from The Intercessor, Vol 26 No 1