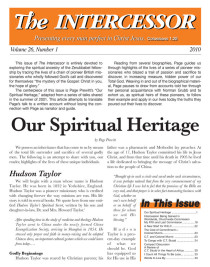 C.T. and Colonel Munro

C. T. 's life story describes the provision of their faithful God for themselves and . their four girls through the forty years of [C.T.'s] wedded life, at times in poverty, at times in abundance, but always sufficient for daily needs. The point that interests us now is the persistence of faith which C.T. had in the promise that if he had given all to God he could claim 'a hundredfold' return in this life (Matt. 19:29). 'You see,' he used to say, 'if I look after the salvation of God's family, He will look after the salvation of mine.'
The four girls decided for Christ in their teens. When grown up all married men in the lord's work, but his eldest daughter became a widow in 1913, and during the war became the bride of a brilliant soldier of King George, but by no means of King Jesus. C.T., whose heart always went out to courage of any kind, and who loved a real man, had great affection for this son-in-law whom he was never to meet on earth. With affection went quenchless faith. Other Christian relatives showed alarm and concern, but he just took it for granted that the Father, to Whom he had given a life's devotion, would never fail him in giving him the final desire of his heart, a family united in Christ. 'David will come in,' he would say, 'and then God will get the use of the ability and courage which only his king and country have had up till now.'
 
Those of us who knew David at home can-not say that it looked like it! I am afraid we thought him a hopeless case; yet there is no man living that can withstand the power of faith. Having risen from sergeant to lieut.-colonel in the Great War, with his name on the list for promotion to brigadier general when it ended, and gaining as he passed from rank to rank a whole string of decorations, D.C.M., M.C., D.S.O., medal of St. George of Russia 1st class, two mentions in dispatches, he finally retired with the rank of lieut.-Colonel in the Gordon Highlanders, to take up farming in Rhodesia.
The old problem of parents abroad and a child at home decided them to sell out and they returned to England in 1929. While deciding on their next step they came to live at No. 17, Highland-road, which was their father's home and always open to them, but was also the Crusade headquarters in London. The lion was trapped, but all so naturally. The one who could not be reached by the unreality of talk was to see for himself the reality of Christian living. Nothing was said to him directly for six months, and then there was only one indecisive conversation. But the walls of Jericho were crumbling, and the last letter C.T. received on earth in the heart of Africa was to tell him that the last member of his family circle would met him on the other side, 'made nigh by the blood of Christ.'
'I had gradually had my eyes opened to my own personal need of salvation,' said Colonel Munro. 'I am not of a very yielding disposition, but the Lord has His own way of dealing with people, and in spite of myself I began to see that there was more in religion than I had thought. The desire was born in me to really know God, as others said they knew Him. I then asked the Lord to forgive all my transgressions, but I could not honestly say that as a result of this I felt any particular change in myself. Thinking that perhaps I had not done it in a right way, I kept on asking for forgiveness and hoping for the best, until one evening, when exercising the dog, I, in desperation, asked the Lord to come and dwell in me and keep me from all sin. At once I knew that my request had been granted, and thereafter the Lord meant something to me that I had never dreamt of before. Now, praise the Lord, I know that He lives: I know what it feels like to have God in my life: and I knew that even I by His grace and power can be of some use to Him.'
There were no half-measures in him. Just as C.T. prophesied, he began to fight in the ranks of God's army as effectively as he had done in the British Army. At that time of our need, he became honorary business secretary of the Crusade, and, with Miss Walder and Miss Muller, our office secretaries, took in hand all that side of the work. He never felt that this was his permanent call, but gave his whole time to it for the next two and a half years, and then moved out to the oversight of evangelistic work among soldiers, while still remaining our treasurer. To-day he is secretary of the Evangelization Society. At this critical moment, by one stroke, the Lord answered C.T.'s final prayer for his family and gave us a much-needed manager of our personal affairs.
–From After C.T. Studd
More Articles from The Intercessor, Vol 26 No 1