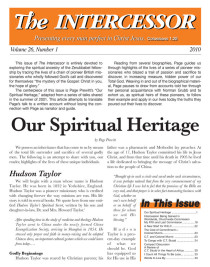 A New Start for W.E.C.

After C.T. Studd's death, Norman and a tiny group at W.E.C. London headquarters faced the impossible–a mission nearly in ruin. Cornered by circumstances, they sought God and found the key to His abundant supply.
And so we started again–in 1931. There were only four of us, Pauline and I, Daisy Kingdon from Congo who had stood loyaly by Mr. Studd, and Elsie Dexter, the fiancée of one of the Congo Missionaries. I don't know how we got the plan of our morning meetings, which realy built the new W.E.C. Previously we had a fixed morning half-hour in the office with part Scripture reading and part praying around. We also had an efficient secretary whose philosophy was that if prayer takes a half-hour, business takes eight hours; and she would scrape her chair on the floor as a warning, when the end of the half-hour approached. That was now changed. The important part of the work was now to be to find out without time limits what God is doing in our situations, and then enter into transactions of faith. This is the real business of a mission, and the rest must fit in where it can.
As soon as we started, there came the question "What are you aiming for?" C.T. had gone, and the mission was in such il-repute that there had only been £50 that month for the thirty-five workers on the field, so hadn't we beter close down? But the next thought was, "What commission did your founder have, which has passed on to you?" We knew that answer–to evangelize the world. "Well, are you going to do it?" "How can we in our present condition and this being the time of world financial depression?" Once again came the thought: "How did the men of the Bible do the impossible?" And, of course, we knew the answer–by faith.
Well, what does faith mean in a practical sense? Somehow we were led to look at Joshua, supposedly because he was in the same tight corner, having just lost his Moses. We saw that God talked with him and told him to go right forward and to be strong and courageous. But then, when that interview had finished, we read–and this is what caught us–that Joshua caled together his officers and told them to pre-pare food, for in three days they would cross that Jordan. But who gave him the authority to say that? Then we saw that when we are at God's general disposal to do His wil, He puts Himself at our disposal to fil in the details. So it was Joshua who fixed on the three days' limit and God came through with the opening of the Jordan at the time fixed by Joshua.
So we got started. We looked around and said if we were to begin to evangelize the world, we had beter begin by immediate reinforcements to Congo. So we fixed on the number–twenty-five reinforcements as a memorial in flesh and blood to C.T., ten by the first anniversary of his glorification, then about nine months ahead, and the other fifteen by the second. God alone was to be trusted both to cal the first ten trained and ready to go, and send the money specificaly for their outgoing. For al this we put our fingers on Mark 11:24 as a key verse, "Whatsoever ye desire, when ye pray, believe that ye receive them and ye shal have them."
The next day when we met in fellowship again, someone began reminding God about the ten and asking Him to send them. But the Spirit checked us. "If you got them yesterday, why do you ask for them today? Why not be polite and thank?" So we changed our daily asking meetings into thanking, and often laughing, meetings.
One more test came to me the next day. It occurred to me that our Congo folks would not have buildings for ten extra ones, and I had bet-ter warn them. But wait a minute, supposing they didn't come? I should look a fool, and they would look for another secretary, the same as if Joshua had failed to get that river opened. Of course, the source of that remark was obvious, and I setled it by going myself to the mailbox and puting in the leter.
–from Once Caught, No Escape
More Articles from The Intercessor, Vol 26 No 1