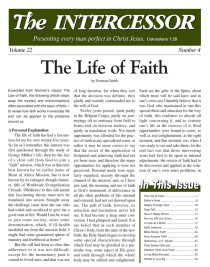 Not my Will but Yours

God's greatest desire for us is for us to live life by putting our faith in the fact that it's He living despite what we are feeling. He expects us to march into the battles of life, feeling terrified and with sweat on our brow. That was Jesus, wasn't it? He sweated blood in the garden of Gethsemane even through he knew from the foundation of the world that He was going to go to the Cross.
Nevertheless, when the time came for His crucifixion, His plea was, "Let this cup pass." His feeling was fear. His feeling was pain. The whole point is that whatever the human Jesus was feeling, His feelings were swallowed up in His choice to do the will of His Father. This was who He was and what He came to do. You and I can do the same thing. To do so is a life-changing experience.
-Page Prewitt
More Articles from The Intercessor, Vol 22 No 4