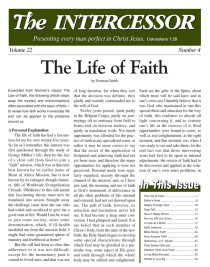 Book Review: The Law of Faith, Chapter 26

In their own words, here's why three different people think chapter 26, "Fruitbearing Faith," from Norman's landmark book on faith, The Law of Faith, is well worth reading.
Meryl:
In this chapter, Norman describes the culmination of the Christian life: the nature of God reproduced in the personality given over to Him." God drives us out of self-pleasing into self-giving—a life of intercession. He talks about the personal cost of intercession. This caused me to consider my own weakness and unwillingness to be an intercessor because of the price—I thought: "Everybody is willing and capable, but I am unwilling and incapable." It came as a huge relief to me to be reminded by Norman that even if we feel unwilling to commit ourselves to the control of God's Spirit, just do it! If we do this, an Almighty Person, the Third Person of the Trinity, comes in who is mightier than our wills. That was so encouraging! Yes, there is no great person ("me") who can do this—only Christ interceding through a willing vessel.
Another thing Norman talks about is the "secret of the Lord"—that the battle is won and fought within. And the victory is Christ's Cross in its inner operation. He says: "If we turn our attention away from our resentments, reactions, proposed activities, and die to them until we are inwardly free from the motions of self, then God's voice can be heard and His way seen and outlook accepted."
Also, I thought about what Norman said about rewards—that our reward is as great as our travail. I thought about people who have travailed for years to see Christ formed in others—people who have paid the price of intercession—and how great their reward will be.
Jon:
Sometimes I wonder what is the purpose of my life?—I'm not a missionary in China, or a witness to the masses. Then I realize I am seeing myself independently to say that. What I am is a willing vessel and Jesus Christ is living out His life through me. I think about the burden of an intercessor for lost souls— like the youth in the local church I've been attending. I get some idea of what their lives might be like and I feel burdened for them. I feel a responsibility to be Christ to them— investing time in them; and I know that there will be a price. I may need to sacrifice my friendship or popularity with them to honestly confront them, when necessary. This is what God said to me, "Have you thought about this?"
So I found this chapter encouraging but also challenging. I feel blessed to be where I am and to know that there is no self-operating self, that it really is Christ living through my vessel—but I also have a responsibility—to share God's truth with others and to labor to see Christ formed in them—not forgetting that it is Christ who does the work through my willing vessel. He might not be working through me as a missionary in China (not today) but He is living out through me every minute of every day even in the most mundane of circumstances; and He has ways of reaching others through me that I may not even realize. If it is all Him then no matter what I am doing I am being for others.
Kim:
When we believe who we are, it comes with a responsibility. It's not just: "we're saved, we're okay now," and that's it. Norman talked about what can be done about the souls we work with, around our town. At Curves [Kim's business] one girl who works for me has told me she is searching for something. When I read this chapter, I thought of her. I have a burden and responsibility. There might be a cost—she may not like what I say to her. But another encouraging thing Norman talked about was the Law of the Harvest—with intercession, fruits have to follow cost. It's a law like spring follows winter. It may not be seen in the lifetime of the person who intercedes, but it's a sure thing.
More Articles from The Intercessor, Vol 22 No 4