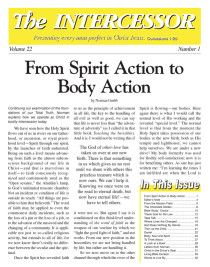 A look At A Book

BOOK REVIEW:
No Independent Self
by Norman Grubb
Whether you are someone who has been delving into Norman's insights for years or are a newcomer to his teachings, this little 12 page booklet is a real gem. Norman's opening sentence encapsulates the purpose of this booklet: "The basis of our total truth, which we are taking to the whole church in the whole world, is that the human self has no nature of its own." The human self expresses a deity nature—either that of the false deity, the spirit of error, or the true deity, the Spirit of Truth (1 John 4:6).
In this booklet Norman traces the sin of independent believing from its origin at the Fall, takes us through the role of the law in exposing our sin to us and finally shows us how we can not only become 'free at last' but from there can move on to 'that More than Conqueror Reality.' Sound appealing? Then this booklet is surely worth a read. Throughout, Norman bases his message on scripture with references and examples from Abraham, Moses, Paul, and others.
Let us backtrack and look in a little more detail at how the truth of 'No Independent Self' is expounded for us in this booklet. Norman's explanation of the Law of Opposites helps us to understand the origins of our independent thinking. He explains that the fundamental law of the universe is that there are pairs of opposites and that nothing operates except by one swallowing up the other (2 Cor. 5:4). Just as in the physical realm this operates with light-dark, hot-cold, sweet-bitter etc., so in our inner selves there is self-giving or self-loving; self-for-others or selffor- self. We only know ourselves and function by being confronted by the choice of opposites. God's plan is to have a vast family of sons in His image, expressing His fixed other-love nature and who will manage the universe with His Son (Heb.1:2; Rom.8:17). This necessitates us being confronted by the reality of opposites in ourselves and choosing to express one or the other. This was Adam and Eve's choice in the Garden of Eden, where, having responded to Satan's lie, they not only became expressers of Satan's self-for-self nature but were also tricked into the false concept of seeing themselves as independent. And so it has continued….
From an explanation of the origins of our independent thinking Norman takes us through the role of the law in our spiritual journey to redemption. Along with the law and its judgements there was a constant means of restoration by blood sacrifices and therefore there were always those who had a living relationship with God—or as Norman describes them, "a thin nylon thread of believers." Then in the fullness of time, Jesus's sacrifice provided justification for all who move in by inner faith and outer word confession of Him.
However, the law's final revelation, we are told, is something the vast majority of the redeemed remain ignorant of. It is for those who hunger and thirst after righteousness. The law's final revelation that Norman is here referring to is the root of sin—the Satanic deceit of thinking we are independent selves, who by ourselves can resist all Satan's assaults. As new creations in Christ we are still tempted by fear, hate, lust, pride and many more. While under the delusion of being independent we make resolutions, we struggle, we seek to resist but fail time and again. While we gratefully accept forgiveness we hopelessly recognise that we'll go through the same cycle soon again. Norman says that "only those who are desperate can find the releasing secret." He points to Paul's experiences as related in Rom. 6-8, which conclude with the fixed law of the Spirit of Life forever replacing the former fixed law of sin and Satan control.
If you have (and which of us has not?) battled with the old cycle of struggling against sin, being defeated, asking forgiveness, resolving not to go there again and starting the process all over a short time later, then these few pages can be a lifeline of hope. You can experience the freedom of knowing that there is no 'you' who can resist Satan's pulls. With Norman's help you can gain insight into Paul's great discovery that the human self is neutral. You can join with him on his journey of realizing that he is 'dead to the law' and experience the liberation that comes with that.
I love that Norman remains a realist to the last. While he leads us to that 'More than Conqueror Reality' he recognises that we are still alive to Satan's assaults. The difference for us now is that we are no longer fighting the wrong battle. We can now view these Satanic assaults as James told us to—by being thankful for good constant practice in the application of our faith.
More Articles from The Intercessor, Vol 22 No 1