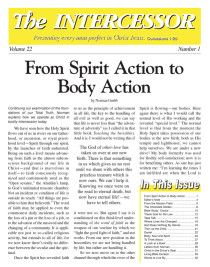 The Intercession of Rees Howells – Daniel

Daniel
Stage 1: The Preparation
But Daniel purposed in his heart that he would not defile himself. –Daniel 18
Why, when thousands were taken to Babylon at the time of the Captivity, did God pick out these four young men, Daniel and his three companions? They were men who lived for God and not for themselves. What a chance these Jewish captives had: to be educated in the king's palace, to have the best of food and everything else. But Daniel did not think in this way. He 'purposed in his heart that he would not defile himself with the portion of the king's meat, nor with the wine which he drank.' This was the beginning of the young man who was to tell what would happen at the end of the age. You first prove God where you are or you will never prove him anywhere else. Once you enter that spiritual realm where Daniel was for three years, you never want to come out of it. When you are living 'within the veil' nothing can disturb you. You cannot take one natural thought or motive there. There was nothing in this world for Daniel to live for. He was a eunuch and lived on the plainest of food. Nothing in the palace attracted these four young men, and at the end of three years God gave them 'knowledge and skill in all learning and wisdom: and Daniel had understanding in all visions and dreams.' God gave them the very things on which the king would test them at the end of the three years, and they were then given authority and merit. God had refined them and changed them so that they lived for him and his glory alone in a heathen court.
Stage 2: The Interpreter
Then was the secret revealed unto Daniel in a night vision. –Daniel 2:19
The telling of dreams was a science in Babylon but Daniel surpassed all the magicians, the astrologers, the sorcerers and the Chaldeans. Did Daniel know beforehand that he could give the interpretation of the dream? When God gave him an understanding in visions and dreams did it include telling the dream as well, when the dream was forgotten? How did Daniel know it? Only the king knew that what Daniel said was right. I do not believe that the magicians and the others believed it. They were only praising their gods that their lives were saved. The interpretation was such that it was difficult for any man to believe it, but Daniel convinced Nebuchadnezzar. He said, 'There is a God in heaven that revealeth secrets' and he gave God's plan for the Gentile world until the end of the age. What a scene! This great king, the 'head of gold,' falling down in the presence of God and worshipping Daniel. Nebuchadnezzar realised that God was in Daniel.
We hear no more of this until the king had another dream. God was going to give Daniel the opportunity for everyone in Babylon to know of this. Daniel had to die to the first experience but there was to be a resurrection. There will always be a resurrection on a death. 'The tree that thou sawest…it is thou, O King…they shall drive thee from men and thy dwelling shall be with the beasts of the field…till thou know that the Most High ruleth in the kingdom of men and giveth it to whomsoever he will' (Daniel 4:20, 25). The magicians did not believe before but now they would talk over Daniel's words and wonder about them until they were fulfilled a year later. Nebuchadnezzar had been exalted by his success and how difficult it was to tell him of the judgment that was to befall him.
Again in chapter 5, Daniel was given yet another chance to interpret to Belshazzar the writing on the wall. How God revealed himself through this man and showed that it was he who was ruling in the affairs of men! Was it Daniel's intercession that brought judgment on Belshazzar? He not only convinced Nebuchadnezzar and Belshazzar that God was speaking to them through him but he convinced Darius and Cyrus also.
The Fiery Furnace
Our God whom we serve is able to deliver us from the burning fiery furnace, and he will deliver us out of thine hand, O king. But if not, be it known unto thee, O king, that we will not serve thy gods nor worship the golden image which thou hast set up. –Daniel 3:17, 18
The ordinary people were not called to the dedication of the image that Nebuchadnezzar had set up. What a position these three young men were in. They believed the Word through Isaiah, 'When thou walkest through the fire thou shalt not be burned' (Isaiah 43:2), and they walked with God into an impossibility. They had a chance to be a blessing not only in Babylon but to millions of people after them. Even without deliverance they said they would not worship the golden image. Unless everything in you has died and you are on the altar, you will save your life 100 per cent. These men went into that furnace not to be burned but for victory. God will not deliver on the point of a challenge unless there is faith, and God will only use you on a point of proved faith. These three young men raised up a standard of faith—that it could 'quench the violence of fire' (Hebrews 11.34).
Stage 3: The Intercessor (1)
This Daniel was preferred above the presidents and princes because an excellent spirit was in him; and the king thought to set him over the whole realm. Then the presidents and princes sought to find occasion against Daniel concerning the kingdom; but they could find none occasion nor fault; neither was there any error or fault found in him. Then said these men, 'We shall not find any occasion against this Daniel except we find it against him concerning the law of his God.' Then the king commanded and they brought Daniel and cast him into the den of lions…Daniel was taken up out of the den and no manner of hurt was found upon him, because he believed in his God. –Daniel 6:3, 4, 5, 16, 23
What did it mean to a man who had gone to a country as a captive to rise to such a position that God could rule Babylon through him? The great figures of all time have been the Jewish people. God will not use a shallow man. What a wonderful life this man lived that his enemies could find no fault in him. There is nothing like a life of depending upon God for daily needs to walk uprightly.
Daniel knew the law and even the king was not above the law of the Medes and Persians. There was no need for Daniel to challenge the law in the open. It was only for 30 days and he may have taken some time to decide to challenge it. The 'old man' is always strong until he is challenged and then he will try to trust God when there is no test, but fail when there is. You are what you are in a test. Daniel convinced a heathen king of the holiness and almightiness of God. In doing what he did, Daniel knew he was challenging the lion's den. The king was displeased with himself because he had been led astray and stood to lose the man in whom he had confidence. As a rule you do not know how far a challenge will go. Did it go further than Daniel expected? Could not deliverance come from the king? It could not. But the king said, 'Thy God whom thou servest continually, he will deliver you.' If the Spirit of God is in you, others will know it. Pharaoh recognised it in Joseph and here it was repeated in Daniel. What a night Daniel spent in the lions' den! 'My God hath sent his angel and hath shut the lions' mouths.' When God finds one person testing and proving a position of faith, that one stands out through eternity. Darius published his decree that throughout his kingdom men should reverence the God of Daniel.
Stage 3: The Intercessor (2)
I, Daniel, understood by books…whereof the word of the Lord came to Jeremiah the prophet, that he would accomplish seventy years in the desolations of Jerusalem. And I set my face unto the Lord God, to seek by prayer and supplications, with fasting and sackcloth and ashes. –Daniel 9:2, 3
In Babylon Daniel came up stage by stage until he could believe for the deliverance of the nation. When did God begin to prepare for this deliverance: at the end of the 70 years or at the beginning? Daniel was now an old man but he had lived a blameless life in the court of the kings of Babylon and now he was to be an intercessor for his people. During those years the great revelations of the future were given until the time came for him to pray the people back to their land in accordance with the prophecy of Jeremiah. His life was forfeit after the experience of the lions' den and he lived only for the glory of God and for his will.
These things are not brought about in any automatic way and Daniel had to 'set himself to seek God for the fulfillment of Jeremiah's prophecy' by prayer and fasting and supplications. There was nothing of self in that wonderful prayer. He identified himself with his people in their sin and apostacy and pleaded for forgiveness, that God's righteous anger might be abated, and he ended with the cry from his inmost being, 'O Lord, forgive; O Lord, harken and do; defer not for thine own sake, O my God: for thy city and thy people are called by thy name.' Is it any wonder that the reply came with assurance that his prayer had indeed been heard? He lived on into the reign of Cyrus, King of Persia, and saw the beginning of the fulfillment of the prophecy. 'Now in the first year of Cyrus, king of Persia, that the word of the Lord spoken by the mouth of Jeremiah might be accomplished, the Lord stirred up the spirit of Cyrus, king of Persia, that he made a proclamation throughout all his kingdom…Thus saith Cyrus, king of Persia, "All the kingdoms of the earth hath the Lord God of heaven given me; and he hath charged me to build a house in Jerusalem which is in Judah. Who is there among you of all his people? The Lord his God be with him and let him go up." ' (2 Chronicles 36.22, 23.)
–from The Intercession of Rees Howells by Doris Ruscoe

More Articles from The Intercessor, Vol 22 No 1