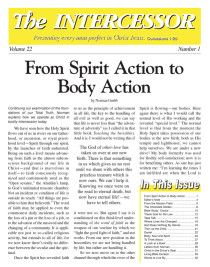 Editor's Note

As Easter approaches, we celebrate the inconceivable fact that the Son of God came to earth as a Man not only to identify with us in our humanity and demonstrate who God is, but to bodily lay down His life to save us. Our lead article, "From Spirit Action to Body Action," taken from Norman Grubb's last full book Yes, I Am, delves into the mystery of bodily intercession. From the takeover in our spirit by the God of other-love at our new birth and the refining and through progressive stages of faith, God's purpose is that we bodily become "the localized individual means by which the Spirit reaches out through us."
"Daniel," excerpted from Doris Ruscoe's Intercession in Action, is an excellent biblical case study in intercession. Rees Howells presents each of the phases in Daniel's long life that brought him into his position as an intercessor for the deliverance of the entire Jewish nation out of captivity.
"God Does Nothing by Halves," taken from The Spontaneous You, also discusses the deeper implications of the Resurrection. The love purpose of God, writes Norman, is to regain His stolen property (fallen humanity). In addressing the "second half" of God's solution, Norman deals with the source of selfcenteredness and the complete solution found in our union with Christ at His death and resurrection.
On a more personal vein, Kari Mace's "Train Up a Child" is a delightfully personal account of her involvement in the daily lives of the teens she has committed to disciple.
In a truly penetrating and perceptive Bible study, Brett Burrowes tackles the doctrine of "Choice." This study, reprinted from the November/December 1993 Intercessor, explores the necessity, purpose, and scope of the choices we face. And on a practical level, Jon Langley's delightful account "Christ in the Driver's Seat" demonstrates the importance of his choice to believe, against appearances and feelings, that Christ is truly in control of all circumstances. Jon's vignette gives a common example of the obstacles we face in daily living that tempt us into unbelief—that get us "lost"—literally!
Two articles by Page Prewitt shed light on the vital issue of our human makeup and how we function as spirit- indwelt beings. In the second part of "Body, Soul & Spirit," Page explores the difference between soul and spirit, the enticement of believing that what we feel is who we are, and the way out of this dangerous sin trap of unbelief. Page's second article, "Where Lives are Changed" presents help for those who know Galatians 2:20 truth, but fail to live it out. For more on this topic, Irene Gilsenan's review of Norman Grubb's booklet No Independent Self provides an excellent taste of Norman's teaching on that vital aspect of our basic makeup and relationship with God.
"Thank God for the Law—The Guide to our Manhood in Christ" is Norman's thorough study of the purpose and function of the Law. This article is a "must read" for anyone wanting an accurate understanding of the necessity of the law to bring us into full, victorious living.
 This issue features C.T. Studd's booklet, "The Chocolate Soldier— Heroism the Lost Chord of Christianity," a colorful and penetrating perspective on the high calling of the Christian. In Part 1, C.T. challenges men and women to take up the challenge of living entirely and only for Christ and His kingdom—as a soldier, "braver than the bravest."
As we peek into this issue's Letter from Norman, we find him discussing the "absurdity of faith"—that faith resides in another realm and cannot be proven in this realm. And as always, he does not hesitate to go to the heart of the need by addressing specific concerns with insightful, personal counsel.
Finally, don't miss this issue's "Tape Talk" in which Janie Prewitt provides a taste of an exciting new addition to our audio offerings, Norman Grubb on "The Ways of God."
More Articles from The Intercessor, Vol 22 No 1