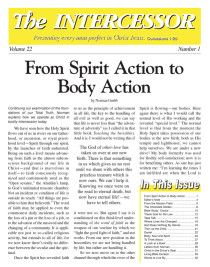 Tape Talk

CD REVIEW:
The Ways of God
by Norman Grubb
This recording of a two-night session given by Norman Grubb is full (from beginning to end) of his teachings and truths. I find it impossible to sum up all that Norman covers because it is so far-reaching. He does not limit this lesson to one subject or even a simple outline following A, B, C or 1, 2, 3. What he does do, though, is present truth after truth that are all individual flashes of clarity and yet woven together by the constant thread of the reality of the spirit dimension that Norman so clearly and consistently teaches.
In this review, I will touch briefly on the main points of Norman's talk. In this recording you will find Norman's further explanations and clarifications. One note: it is so enjoyable and interesting to hear Norman give his introductions. He talks of his life calling, his objectives in life from a young age and the three questions he has continuously asked about life. He then excitedly exclaims that we are all learners under One Teacher!
Norman begins with explaining who we really are—our real selves are spirit people in matter form. This is the secret to how we can unite with God— in spirit. He is spirit and we unite with Him in our spirit. He goes on to say that all truth is spirit. All reality is spirit. Norman explains how when you've really got this, you have the key to living life.
The next exciting subject Norman presents is that of God's self-giving self. Norman delights in proclaiming that God is complete and that His satisfaction is in completing His universe. He notes that the word Lamb is used 21 times in the book of Revelation as a description for the Almighty God. While an earthly lamb is helpless, the heavenly lamb is presented as totally available for us and always there to complete us.
Norman goes on to talk about prayer, our destiny as co-sons in God's family with Christ as our brother, coheirs and co-managers of God's universe, and being the lamps for God's light to shine through.
"God knows His stuff!" says Norman. In His perfect determination of the course of His universe, God has made us safe persons from our origins of temptation and freedom of choice in the Garden of Eden to our present choices in life today. We as humanity had to be tempted to be for ourselves, had to face our wrong choices and want out of them before we could see our need for a Savior. Norman goes on to teach how we are not independent in our humanity, but that our human vessel was created to contain Christ. As we grow through the three stages of faith: children, young men and then fathers, we move into a consciousness that "it isn't me, but He." Norman differentiates between body, soul and spirit as he tells how we go from "wrong self, to no self, to right self."
Norman gives the definition of faith. He asks and then answers the question, "How do we operate in the action of faith in this new life? How do we operate from within this new spirit dimension?"
Norman ends this tape by sharing the truth he has sought after and found. God is in everything. There is no detail that He is not the author of. All of life's answers lie in seeing God's hand in everything. He does not permit Satan to do his evil in the world, He determines what He will allow Satan to do. What Satan means for evil, God means for good. All of life's problems lie in the opposite of this—in negative believing— in not resting in the faith that God has perfectly planned every happening in His universe. And we are the privileged and blessed recipients of this loving, planned perfection.
This series is a new addition to our audio offerings and will be available on CD in the near future. Look out for other Norman Grubb teachings available on CD soon.

More Articles from The Intercessor, Vol 22 No 1