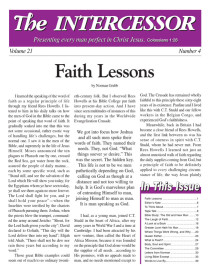 Tape Talk

TAPE REVIEW:
FAITH CREATES A REALITY
by Page Prewitt
Who are we before and after being born-again? Who or what is sin? And how does faith create reality? These questions and more are answered on this very enlightening tape.
Page is full of life and fun to listen to on this tape, as she reminisces with old friends, answers questions, and recalls her own experiences that illustrate how faith creates reality. I will include several excerpts from this tape that really got my attention.
Page begins by illustrating that a person consists of a body, soul and spirit. Before we were born-again our human spirits were joined to Satan's spirit. She recites parts of Ephesians 2:1-2, Romans 7 and other Bible verses to back up her statements. One theologian she knows thinks sin is a thing, like a virus; we catch it and can't seem to ever get rid of it. But Page counters with the truth, "Since the Bible says that God is Love and God is a person, the opposite is therefore true; sin or misuse is a person." As Paul says, "Not I, but sin dwelling in me." In addition, she points out that if it is true that sin is a thing, then we are stuck. "On the other hand, if sin is a person then we have hope."
She explains that after our new birth our human spirits are joined to the Holy Spirit. The old Satan spirit is out. According to the Bible, "He that is joined to the Lord is one spirit. We died with him and the same Spirit that raised him up is in us."
We don't, however, become a whole new thing; we contain a new nature. Page illustrates this by describing an egg. An egg consists of one yolk and one white, always separate inside the egg. No matter what we do on the outside we can never mix the insides of an egg. You see, when we're born-again, our human spirit stays the same. All that changes is our operator. This is important, because if we were totally taken over by Satan we could not have accepted Christ. Likewise, if we were totally taken over by Christ's Spirit and became a whole new thing, we could never sin. We know, however, that neither is true.
A little later in her talk Page explains temptation. Though Satan was in us before our new birth, after we are born-again he is outside of us. Nevertheless, Satan still pulls on our soul from the outside, and affects us from the inside through memories and ideas that stir up our emotions. Then when stirred up, Satan speaks to us/you and tells you, "See, that's who you really are." The truth is there is no reality in our soul other than what it feels or thinks. Both are totally neutral and have no motive. Choice is made from spirit, and the only choice we can freely make is to believe or not to believe God and His truth about us.
Page teaches the difference between soul and spirit by sharing the following personal experience. Several years ago, she and Norman Grubb were invited to a Youth for Christ luncheon. There was a lady seated up front that Page found herself disliking. You see, she was all put together, and an "ideal Christian." At the time Page thought of herself as a Christian failure. Later, she told Norman that she disliked someone at the luncheon. Norman also noticed the same woman. He said, "Oh, I didn't take to her much either, but, I say to myself, there's another here who loves her perfectly."
The following paragraphs narrate Page's daring beliefs that changed her life and will change our lives too if we dare to believe in the same way. Years ago, when Page first learned the glorious truth that she was Christ in her form, she remembers saying over and over again to herself, "I'm Christ in my form, I'm Christ in my form, I'm probably the only one in this place that knows that I'm Christ in my form. When I first dared to believe it and say it to myself and sometimes to another person, a miracle happened. Without notice of any behavior change, I began to be satisfied with myself, and I didn't care what others thought or noticed about me. I was finally satisfied with myself, the bottom line being not me, but Christ. So where was my beef or complaint? I, instead, held onto, 'I'm Christ in my form' for dear life because it was suicidal to move off of it."
"What I didn't know then was that by believing that I was Christ/I, it eliminated independent believing which is really Satan believing." She didn't believe, like some others did, that this part of me is Christ, this bad sin is Satan and this mediocre stuff is just me. In fact, when we believe or fall for the trick that it's just good old or bad old me, that's unbelief, and Satan gets his hooks into us to lead us around on the outside.
When asked some questions about it, Page clarified by saying that none of the following are correct: I am unorganized or I am organized, I'm so dumb or I'm so intelligent. I,I,I. Then Satan says, "That's right. You are such and such." Satan wants our concentration on the "problems," such as fear or whatever we think is our problem. "I used to think my fear would get better, be eased or maybe I'd grow out of it, but my feeling may never change."
"A doctor doesn't just give you a lozenge for a sore throat. He gets to the root of the problem. Our problem is not the fear, being unorganized, what you're feeling, what you're doing or what they're doing. The root of the problem is the 'I.' You just think you are just you and I thought I was just 'I'."
"This is Satan's big lie: You're just you; the things you like about yourself, you get prideful about, the things you hate about yourself, you are miserable about. It's all the lie Satan took for himself, I am just me and will be god unto myself."
"The Bible says that in the beginning was God and He is all there is, and everything comes from God. Even Satan can't operate by himself. You see the lie of 'I'—me doing my own thing is really Satan in masquerade. And he's been doing that since the fall of Adam."
"Faith creates reality, so believing in ourselves brings about Satan reality. That's his costume, and Satan reality is not just an idea. It's him walking around in us—misusing us."
"On the other hand, believing into God brings about God reality. Daring to believe it was He living His life out through me, made it Christ, and it's He whether others like it or not. This is not just a message that works; we have a Person working in us."
In conclusion, there are many more dialogues and wonderful stories illustrating the truth of who we are and how it works on this tape. Besides seeing body, soul and spirit in a new light, I thoroughly enjoyed listening to Page narrate her life stories. She is not only a fabulous teacher, but a person who exudes life and love. I highly recommend this tape to anyone who has not listened to it recently.
More Articles from The Intercessor, Vol 21 No 4