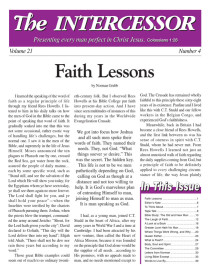 Editor's Note

During the Christmas season we delight to be reminded of the miracle of the Incarnation—the God of outpoured love literally stepped out of eternity into time to redeem His creation and offer us the life He always intended for us. As we contemplate the birth and life of the perfectly sinless Son of Man as He walked on earth in the weakness of human flesh, we rejoice in the love of such a God who paid such a price for our redemption. But what then? It was not just to redeem us that Jesus walked on earth. It was also to demonstrate the exact nature of the life we are intended to live as born-again children of God and joint heirs with Christ—"God in flesh appearing."
This issue explores two interconnected themes: the correct understanding of our human make-up and how we live out our calling as God's agents at the third and highest level of faith.
Picking up where Brett left off in last issue's Bible Study, Norman cuts through the misconception of the biblical term flesh to show that "flesh" is not evil, but simply our body-soul makeup— our right humanity—and "merely the human agent of the operating spirit." From there Norman explains that although Satan is no longer running us from the inside (spirit-center), through our flesh he can still stimulate flesh pulls (temptation to sin). Recognizing that these pulls and enticements are not, in themselves, sin and that we are no longer under their domination, I take the opportunity to affirm that I am in a spirit- union with Jesus Christ, dead to these pulls on my flesh, and "the indwelling of Christ's spirit-nature of other love puts [my] pulls to death and replaces them with good fruits."
In three "Letters from Norman," we get an additional peek into the practical, personal way Norman poured himself out to help a struggling believer to address the negative "pulls of the flesh" by faith—"merely taking God at His word, with no concern about what you feel about it."
Norman's "Where things Went Wrong and Why" gives us an overview of God's purpose for creating us. This succinct article explores the nature of God, freedom, choice, and the necessity and origin of evil. Especially insightful is the portrayal of what really happened when Adam ate from the wrong tree, explaining not only how Satan captured the human race, but also the true makeup of humanity as a container of Deity.
In his Bible Study "The Old and New Man," Brett Burrowes addresses another common misconception about our humanity: the idea that our human nature has been flawed by the Fall and that born-again Christians have two natures, the old and the new. Brett carefully shows the roots of this error and counters it through the teachings of Peter, Paul, and John. We have no independent, self-operating, flawed human nature—we are vessels operated by one of two indwelling deities whose "nature" we manifest.
This topic, the basis of our "total truth" message, is further examined in a newly published article, "Body, Soul, and Spirit," by Page Prewitt. Teaching from the Scriptures with examples from her personal spiritual struggle, Page illustrates how we are containers of deity with no self-operating nature of our own—indwelt first by Satan from birth and then by Christ at our conversion. She drives home the liberating implications of this fact: not only was Satan defeated on the Cross by Christ's death and resurrection, but he was cast out of us at our conversion to be forever replaced by a spirit-union with Jesus.
Marian Kinahan's "Greater Love Hath No Man" describes the transformation she experienced when she recognized that God is not merely her "helper"—as if she is separate from Him—but lives in her at her very spiritcenter, manifesting through her the very nature of Jesus Christ. This is not the story of super-human exploits, but of victorious day-to-day living amid the circumstances we all experience— workplace challenges, family relationships, and just facing the day alone.
Carol Hoffman's Tape Talk highlights Page Prewitt's excellent audiotape, "Faith Creates a Reality." In this tape, Page describes a seldom-taught key principle for our operation as human expressions of Jesus Christ. "Faith creates a reality," says Page, "so believing in ourselves brings about Satan reality. That's his costume, and Satan reality is not just an idea—it's him walking around in us—misusing us. On the other hand, believing into God brings about God reality." Rich in personal illustrations, Page's talk penetrates deeply into the faith-life and its practical application to our lives.
Norman uses "Faith Lessons" to continue last issue's study on speaking the word of faith. His personal crisis as head of a mission whose founder had just died drove him to "the faith way as the only way—the only workable way— of living, applicable to every detail of our lives." In almost journal-like detail Norman shares the questioning, apparent impossibilities, and step-by-step fulfillment of the first word of faith—for ten fully-trained missionaries for C.T. Studd's little mission, then as his faith expanded—for fifteen, fifty, seventyfive, and on to 1500 workers establishing the gospel in over forty fields. As always, Norman moves beyond his specific experience to extract the principles of faith still available to us in any circumstance today. Especially helpful is Norman's penetrating insight into "catching onto the mind of God" and operating from this third "fatherhood" level to reach clear, specific, seeminglyimpossible objectives.
Speaking of C.T. Studd—we get a further taste of C.T.'s own "Joy to the World" in "The Laugh of Faith, Part 2." Chronicling the joy that comes only from bold faith in Jesus, C.T. takes us from the disciples' initial failure at Jesus' arrest and crucifixion to their final victory of faith. In C.T.'s unforgettable terminology, "The disciples had lost heavily on the first innings, but taking the matter greatly to heart, and coming to themselves and to Jesus, who coached them up well in between time, they won the match in fine style on the second, and that too without their twelfth man, and this is how it is won."
Finally, we invite you to a "taste" of Norman's delightful, inspiring, and insightful autobiography Once Caught, No Escape in this issue's "A Look at a Book." We are very happy to announce in this issue that the reprint of this book is now available to order through Zerubbabel Press.
So this issue of The Intercessor, in keeping with the Christmas season (and throughout the year), again proclaims "the mystery hidden from the ages and now made manifest: Christ in you." Or, in the words of the Christmas season, "God in flesh appearing."
More Articles from The Intercessor, Vol 21 No 4