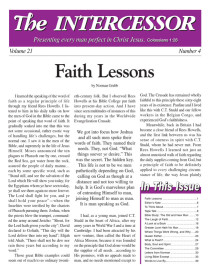 A Look at a Book

BOOK REVIEW:
Once Caught, No Escape
by Norman Grubb
Once Caught, No Escape is Norman Grubb's autobiography, now republished by Zerubbabel Press. In its pages we come to know a remarkable soldier of Christ, one who has made a unique contribution to Christian thinking in the 20th century. This riveting account of his life moves beyond the factual description of the formative events in his life, fascinating though they are, to the experiences that brought him to a deeper insight into God. The book is aptly titled, for once God "captured" him, Norman was driven to share the truth he knew, no matter the cost.
He begins with a brief account of his family's lineage—with a touch of the "blueblood" in it, as he puts it—and his gratitude that he grew up in a Christian home. It was while home on vacation from boarding school that he experienced the first crisis of his young life—a family friend confronted him about his relationship to Christ. His commitment—on his knees—to Jesus Christ was followed by a revelation: "If that is so, I don't have to go to hell, God is my Father, and heaven is my home….these were the simple gospel facts by which I, and millions of others, have 'passed from death unto life,' and 'the Spirit had borne witness with my spirit' that I was a child of God." So began his lifelong devotion to his Savior.
When the First World War began, Norman received his commission as a second lieutenant in the Gloucester Regiment. His description of life in the trenches is riveting, but even more moving is his obsession to witness to young men who may have had only a short time to live. This was an obsession that never left him.
While in the hospital recuperating from an injury, an event of "revolutionary importance" occurred. He was introduced to C.T. Studd's "The Heart of Africa Mission" through a small booklet: "No sooner had I begun to read than as clear an inward voice as ever I heard in my life said, 'That's where you are to go.' I had received my life's call and knew it." Those familiar with Norman's superb biography of the famous missionary, and Norman's father-in-law, C.T. Studd, will remember C.T. as one of the Cambridge Seven who gave up his fortune when he went to the mission field and relied solely on God for his needs. Norman was drawn to this firebrand who had sacrificed all for Christ, and to his ferocious passion to spread the gospel. But after joining Studd in the Congo Norman faced his second spiritual crisis as he came face to face with his own shortcomings as a missionary. How he battled out his problem before God and forever settled his Galatians 2:20 identity by faith are critical to an understanding of his life and serve as a roadmap for all facing the same heart cry.
C.T. was one of the two major spiritual influences on Norman's life. The other was Rees Howells, his "beloved friend above all friends." His biography, Rees Howells, Intercessor, has become a Christian classic. It was from Rees that Norman learned the principles of faith that were to guide him after C.T. died, when the mission he had founded looked in ruins, and Norman, his wife Pauline, and one missionary home on furlough were all that remained on the home front. As Norman puts it, "C.T. lived faith; but from Rees Howells I learned how to operate faith as the principle of God's action by man." The development of the WEC—the Worldwide Evangelization Crusade—is the result of Norman's stepping out in faith and believing God for the impossible. The first "test case" in the fledging mission—believing God would send 10 candidates equipped and funded for the mission field by the first anniversary of Studd's death—is both inspiring and instructive in the ways of faith. Norman has written that there is a school of faith and a life of faith. School days were now over, and he had learned how God operates through His human vessels, lessons he passed on to so many by personal example and the written word.
Norman faced a third spiritual crisis, when, after reading a particular book, he seemed to lose his faith in God altogether. His interpretation of the crisis is a superb and concise summary of what he came to call the total truth, expanded and developed in his later works. What he came to see of God, and God in man, was to become the keystone of his theology for the rest of his life. In his own words: "The heart of the stabilizing revelation to me, and what has become the total answer to all life for me, has been that there is only One Person in the universe, and that the whole universe is His myriad forms of Self-manifestation." In distinguishing this crisis from the second he settled in Africa, he states, "in the earlier Congo 'second experience,' Christ in me became a permanent reality: in this one, I in Christ became the permanency: the recognition of me (and all the redeemed) being a part of the One, and functioning each in our local situation as He Himself in a branch form."
In the foreword to Once Caught, No Escape, Norman says that he has written "straight out of my heart and mind," and that he has surely done. He writes with unreserved honesty, self-deprecating humor, and profound insight. His description of missionary life in the early 1900's in the heart of Africa is captivating, as are his memories of World War I army days. He recounts his courtship of Pauline, old-fashioned to our ears today, and their sometimes meager rations resulting from living on faith with no salary. His role in the development of the Christian Literature Crusade and Intervarsity Fellowship are not widely known, but Norman's leadership was pivotal in both cases. But it is Norman himself who inspires those who read this book. He was a man drenched in the scriptures, and totally dedicated to sharing the great truth of Jesus Christ—our savoir, indweller, and life. He laid down his life that many others might come to know who they are in Christ, and paid the intercessor's price to do so. Zerubbabel Press is honored and privileged to be able to make the story of this extraordinary man available again.
More Articles from The Intercessor, Vol 21 No 4