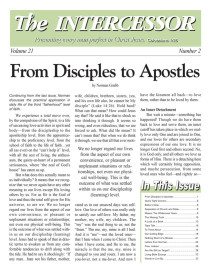 Editor's Note

As we continue to revisit precious truths heralded in The Intercessor over the last 20 years, this issue is rich in insight into the highest calling of the Christian and the distinctiveness of what we call the "total truth." In the lead article "From Disciples to Apostles," Norman Grubb describes the "life of unceasing love-activities in spirit and body" that flows from those who have moved over by faith into the "fatherhood" or "apostleship" level of faith. At this level of believing there comes an inner detachment from people and things—not in outward activities, but by a total shift in focus in the inner man: we no longer love "God first and others second. No, it is God only, and all others we love as forms of Him." There is a cost—life is no longer about "my" goals, "my" happiness. Instead, we experience each circumstance as Christ-as-me fulfilling God's loving and saving purpose for others.
Similarly, Norman points out in "Our Cutting Edge" that the human self can only find its fulfillment— its "total positive"—when we realize that we are not independent selves but created to be indwelt by God Himself. Using Galatians and Romans 7 we explore the truth missing from much of the evangelical church today—"that final toplevel deceit of the false indweller expressing his nature as us and by us." The Church is aware of the positive—" not I, but Christ,"—Norman points out. But only in Romans 7 do we clearly see the negative—that all self-effort is Satan masquerading as us. With this realization comes the liberating truth that the negative was nailed to the Cross—Jesus Christ became sin for us. Using his personal experience, Norman describes how, through his inability to love as Christ loves, he was driven to find a "total" God—the only Lover—and his rightful place in union with Christ as the channel of the indwelling Lover.
In "The Missing Truth" (Jan- Feb 1993), we explore the depths of Satan's insidious lie—so prevalent among believers today—that the answer to life is found in some form of self-development or self-completion. Although the Bible-believing church knows the glorious facts of the Gospel, the totality of God's purpose for us and how we operate is still hidden to most Christians. Once again Norman exposes the lie of self-operating self, proclaiming the biblical and radical truth of how we humans function and the totality of God's remedy for our inability to live as we should. But he goes further— charging us to boldly proclaim this missing truth to our generation: "Just as much as [God] entrusted the truth of justification by faith to Martin Luther for his generation…God has entrusted the missing truth to us for our generation of the church of Jesus Christ…the true meaning and operation of the human self."
"Are We Still On Target (part 2)" is a continuation of Norman's 1984 message to his mission, the Worldwide Evangelization Crusade (WEC). Having examined the Pillar of Sacrifice and the Pillar of Holiness, Norman explores the Pillar of Faith and takes us to "the glory side": how faith becomes substance, the essence of true prayer, the word of faith, and our intercessory calling. Although directed to the people in his mission, this message sums up our total truth message and provides an opportunity to assess its reality in our lives today.
Amid this issue's emphasis on the highest, apostleship level of the Christian life, "A Look at a Book" reviews The Law of Faith, Norman's classic exposition of the faith-life. A primer on how to enter into the richness of a life lived in union with Christ, this book examines "life-transforming biblical principles and testimonies to such a life of faith."
To illustrate the rich teaching in this issue, we find examples both from the Scriptures and in the lives of people today that demonstrate the power of our total truth. Norman's study of lives of Elijah and Elisha presented in "Tape Talk" pinpoint the effectiveness of a life firmly grounded on the union of Spirit with spirit—"Not I but Christ…yet I." Elijah boldly proclaimed to wicked King Ahab that it would not rain except "according to my word." Elisha, knowing his inability to fill his master's shoes, asked God grant him "a double portion of your spirit," acknowledging that Elijah's power was found only by God's Spirit flowing through a human vessel— proven by his remarkable acts as he went about daily living.
But is this power available to us today? Two testimonies in this issue demonstrate the power of God to overcome sin and produce fruitful lives. Janie Prewitt shares in detail how she finally was freed from longstanding sin through repentance and appropriating the truth that she is joined with Jesus Christ in her spirit. Dacia Trethewey traces the parallel development of the Z-News youth magazine and her own spiritual maturity. From self-focus and crippling shyness to a fruitful, creative life, God brought her through to the "glory side" of a life as it was meant to be lived.
In a special feature, Tommy Prewitt's op-ed highlights the fallacy of "separation of church and state" so often misrepresented as a constitutional guarantee, presenting the true position of our country's Founding Fathers on Christianity.
Finally in "Letters from Norman" we are reminded that the "I" that was crucified with Christ has nothing wrong with it—never a "just me" but a vessel—either of Satan (from birth), or of Christ at our second birth. Norman reminds us that this truth "is our precious treasure and contribution, so guard it and spread it!"—which is, of course, what The Intercessor has sought to do for the past 20 years. This issue is a call to action—to live from and proclaim our total sufficiency in union with Christ.
More Articles from The Intercessor, Vol 21 No 2