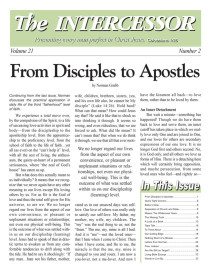 Moses: The Wilderness Years

Moses: The Wilderness Years
And Moses said, 'Wherefore hast though afflicted thy servant? And wherefore have I not found favour in thy sight, that though layest the burden of all this people upon me?…I am not able to bear all this people alone, because it is too heavy for me.'
–Numbers 11:11, 14.
 This is one of the few times you find weakness in the great prophet. I wonder whether this was the first position where he backslid? The people, so often murmuring, were dissatisfied with manna, the food which God had given them, and Moses was so disturbed on this occasion that he got into the state to question God, 'Am I a father to this people?' He had believed greater things than this before so why should he go under in this test? But if you have any failure in your life never criticize Moses, unless you have believed as much as he believed and beyond him. At this point his burden for the nation was such that he would rather die than not go through.
When Aaron and Miriam murmured against him, God upheld Moses and said, 'With this man I have spoken face to face,' and with no other did he do this. The Word also says that 'the man Moses was very meek, above all the men which were upon the face of the earth' (Numbers 12:3). The rarest thing on earth is meekness, but Moses had been in personal touch with God himself, and no flesh can stand in his presence. Only God can change your nature and put meekness in place of pride. It costs to come into this spirit of meekness.
 And the Lord said unto Moses, 'How long will this people provoke me and how long will it be err they believe me?…I will smite them with the pestilence and disinherit them, and will make of thee a greater nation and mightier than they' …and Moses said, 'Pardon, I beseech thee, the iniquity of this people according unto the greatness of thy mercy' …and the Lord said, 'I have pardoned according to thy word.'
–Numbers 14:11, 12, 19, 20
 At Kadesh-barnea God judged the people on their own report. They had turned against him many times before and had been forgiven many times, but there comes a moment where you cannot get forgiveness. The writer to the Hebrews tells us that Esau came there. The 'old man' thinks he can continue to sin and get forgiveness but once God acts you cannot be reinstated. These people never believed God. He will always test believing on a point where there is no other source of deliverance. Faith is the greatest weapon God has put in the hands of the believer but it must be a believing in the spirit. A believing that is only mental assent or of the senses will never hold out. People will always believe when there are signs but what kind of believing is that? Signs do not change people.
At Kadesh-barnea the people sinned against the covenant God had made at Sinai, that he would drive out the nations in the land before them. Only Caleb and Joshua believed, and God said that everyone of those who had disbelieved would never enter the land. Plague carried thousands away but plague never touched Caleb and Joshua. Would you think that these people with their persistent unbelief should enter the land? Moses prevailed again so that God did not destroy them at that time but they were never to enter the land. In despair they tried to go against the enemy but God was not with them, they were defeated and had to turn back into the wilderness. Then came the rebellion of Korah, Dathan and Abiram, and 250 princes stood with them against Moses, claiming that God was as much with them as with him. Again Moses stood in the gap but all those who rebelled were destroyed. It was a great crisis but Moses told Aaron, as high priest, to take a censor with fire from the altar, and incense, and to go amongst the people to make an atonement, 'and he stood between the living and the dead and the plague stayed.'
 And Moses lifted up his hand and with his rod he smote the rock twice: and the water came out abundantly…And the Lord spake unto Moses and Aaron, 'Because ye believed me not, to sanctify me in the eyes of the children of Israel, therefore ye shall not bring this congregation into the land which I have given them.'
–Numbers 20:11, 12
 And I besought the Lord at that time saying, 'O Lord God…I pray thee, let me go over and see the good land that is beyond Jordan…but the Lord was wroth with me for your sakes…and said, 'Let is suffice thee; speak no more unto me of this matter.' Deuteronomy 3:23-26.
The moment you limit God you do it once too many times. This is what Moses did at Meribah, and God turned him down. Whatever you do is not counted if by unbelief or disobedience you hinder God. Moses failed and was not to go one step further. He failed in the place where God offered victory. Three times he tried to get God to reverse his judgment but God could not do it. Moses had been commissioned to take the nation right in to the promised land but here he failed to believe God and to sanctify him in front of the people, and because of this he was barred from the land. How sad, that Moses fell, as well as Aaron and Miriam. Nevertheless the covenant still stood, and a new generation entered the land under Joshua and Caleb.
During those years in the wilderness, Moses taught the new generation the laws of the kingdom, the laws they were to obey when they entered the promised land. In the book of Deuteronomy we see him preparing the people for the time when they would go in to the land of Canaan. In chapter 32 is the song of Moses, calling not only the people but the heavens and the earth to give heed to his words. The years in the wilderness were years of testing, to prove what was in the nation before they went into the land.
–from The Intercession of Rees Howells by Doris Ruscoe
More Articles from The Intercessor, Vol 21 No 2