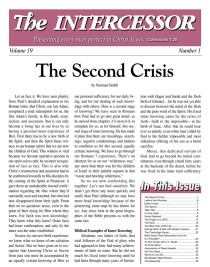 Union Realized

The following is an email from Kim Rogers to Page Prewitt, telling of her revelation of her union with Christ, and Page's reply.
Dear Page,
I have finally got it!! I mean really got it. For the last week and a half I have experienced Christ really living in me for the first time! I can't describe what it's been like, but I know that you know what I mean. I am finally realising the freedom of living in Him. I am knowing the poise and confidence that you and Norman both talk about.
I was thinking about you this morning and I know that none of this would be possible if it wasn't for your faithfulness as a Christ vessel and His love through you for me. For all these years you have wanted the best for me—for me to know Christ's life in me. Thank you, thank you, thank you!
Everything you said to me in October was true and when I REALLY did put my faith and trust in Him, sure enough HE really is living! I know already it is not easy when all the old feelings and doubts come in, but our hope is in Him—like you said, He doesn't have any trouble 'making it.'
 You have been so faithful and I just wanted you to know that you have made a difference in my life. I am just beginning to get a glimpse of what Christ has done through you and what He can do in me. Wow!
Anyway, I have attached the email I sent to Janie explaining how all this came about (with me).
I hope this news will bless you. Thank you again for not giving up on me and for wanting the best for me always.
I love you
Dear Janie,
Thanks for your email. Thanks also for your picture Christmas card. My parents came round the other day and my mother saw the photo of you all on my mantlepiece. She picked it up and looked at it and commented on how nice it is. I think Stephanie was very young when Mom was over there.
Anyway, I've got a lot to tell you! Sorry it's been so long.
I spent Christmas with Meryl at Jackson Close and then the two of us went over to Ireland. I basically knew that 'I' wasn't right—I wasn't flowing with the others and I wasn't pleased to be together like they were. I told the others about this and the fact that I had a big struggle going on inside, which seemed like a big war between thoughts that I didn't want to be having and knowing that I wanted to be 'right.'
We talked several times about my attitude toward my parents and other things. Eventually, the only thing I was holding onto was that I KNOW that God's way is right and that there is nothing for me out in the world that will work out or be right. Meryl and Irene talked to me about how it is for them believing who they are and that the only assurance they have is that GOD SAYS it is Christ living in them, as them.
Basically, on New Year's Eve I made a commitment to go God's way and to believe what He says about ME (and others).
What has become more clear to me since then is that I was refusing to believe God's word about me because 'I' didn't see how it could be true. I was either putting myself down in condemnation, that I was so bad/ineffective/prone to be 'off' that Christ couldn't be living in ME. On the other side I was totally prideful and judgmental of others.
What was also going on was that for so long 'I' was TRYING to do the right thing, be the right way, say the right thing etc… etc…
After my New Year commitment, I saw a rainbow at the airport coming home and got home to a new delivery of Intercessors, with the lead article 'Why Doesn't it Work ?' I couldn't believe it!. I read it that day and it made clear to me why I had been living in such a turmoil!! Norman describes that exact phenomenon and says that it is what Paul is experiencing in Romans 7. I had been trying to keep the 'law' on an outward level—I thought I had to try and be like everyone else. I was always afraid to be myself and I knew that I didn't have the same insides as the others (in the fellowship). This was because in my believing in a ME, Satan took over and it was really HIM living. It was HE that was living out all the crap that I didn't like, in my members—not ME.
I know this sounds so obvious and what we have all learnt for years. I have been disobedient to what God has told me about myself and others, and I am sorry for the effects that this has had on the body of Christ.
Although I have learnt about this truth all these years, I have not really committed to it for myself, until now, even though I have seen it working in others. The good news is that for the first time I have experienced real freedom! I began to realise how much condemnation I had been living under. The first few days back at work, many daily situations arose where in the past I have thought that 'I' shouldn't have done that or said that or whatever. Instead of that I affirmed that Christ IS living in ME as me and what He does is His business.
Basically I have scrutinised just about everything I did and made MYSELF judge of whether it was 'okay' or not. However, I was judging everything by 'my' outer standards, eg. being organised, on time etc. NOT by God's standards—what is on the inside. Whilst I was a 'nice' person on the outside—inside I was full of hateful thoughts and judgments.
What I see now though is that this WAS NEVER ME— THIS WAS SATAN!!!!! I couldn't be my own person—even if I wanted to! My only choice is Christ or Satan.
I can't describe those first few days finally living in the freedom that Christ is living and that I can just BE—safe that He is the real me.
I had been living in such bondage and torment— trying to be one thing and thinking I was something else. Argghhh!!!
For the first time, I have really seen that my life CAN be different! I can have the peace, love, joy etc. that I see in others because all of that is Jesus Christ and He is the real me. Hallelujah!!
So that's pretty much the update! Thanks for all your love and support. Tell Page that 'I've really got it now!'. I will mail her soon.
Love always, KIM x
Dear Kim,
This certainly is a blessing to me. I am thrilled for you. Yes if we are clean (no known unconfessed sin) and dare to believe it is Christ living as us He really does live His life in and through us. Feelings have NOTHING to do with it. Like the weather does not change the inner me (rain, sun, wind, snow, etc.) feelings do not change your operator, that is, unless you choose to believe your feelings, good or bad. Yes it is freedom like none other to know that "the creator of the universe" is the one living and He can do things anyway He wants to.
Much love and thanks for writing. Page
More Articles from The Intercessor, Vol 19 No 1