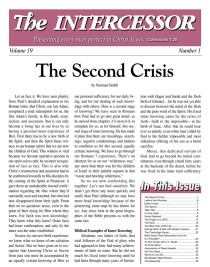 Tape Talk

TAPE REVIEW:
C. T. Studd
by Norman Grubb
Radical…pulled no punches… paid the price…pioneer…no ordinary missionary. Reminiscing about his famous father-in-law, these are some of the ways in which Norman Grubb describes C.T. Studd.
The last night that Norman and his wife Pauline (C.T.'s youngest daughter) spent with Studd in Africa, the young mission which he had pioneered and founded, was under fierce attack from the committee back home in England. C.T.: "God's put me through many tight corners; I've had the luxury of seeing Him deliver me from the tight corners. If He doesn't deliver me out of this, He's a…NO He isn't, because He will."
Learning that there was a dismissal group sent out by the committee, C.T. opened a can of sausages (a treat reserved for special times) and led a prayer meeting to thank God for the group on their way and most of all for the sausages. Though the group got very close, they became frightened and turned back.
Studd was criticized for the very qualities that made him the unique pioneer that he was. His passion in life was to see "Jesus Christ running about in black bodies." At fifty years of age, both he and his wife in ill-health, defying the doctors, he obeyed God and launched out into the heart of Africa, which would have been a tremendous feat for healthy men half his age.
Through severe hardships and diseases, he managed to keep his body going for many years and when a doctor turned up and suggested to him that he could be greatly helped by taking morphine (for what later turned out to be gallstones), he saw it as the way to enable himself to keep working hard for Christ and gratefully followed the advice. That was one of the "nails in the coffin of public opinion" that the committee used against him. The other was a booklet that he wrote entitled The DCD (excerpted in this issue). Upon asking one of his fellow missionaries, a former soldier, how they put their vows in the British Army, the answer was "we don't care a damn about anything except to die for king and country." "That's it," exclaimed Studd, "We're don't care damners except for anything but Jesus." Therefore, when the committee got wind of this, his fate was sealed in their minds—he was a drug addict and had a devil!
Norman tells a very interesting story about the way in which the Congo was opened to missionaries. For years a brutal king ruled the Belgian Congo, thus there was a barrier preventing people from entering. Teddy Roosevelt (whom Norman calls "the old pioneer") was out there on a big game hunt and lost his way.  Alone in the heart of Africa, he was found and rescued by Charles Hulburt, founder of the Africa Inland Mission. So grateful for the rescue, T.R. asked Mr. Hulburt what he could do to repay him. Mr. Hulburt replied "get permission to get into the Congo." And so we see how God was preparing the way for C.T. to enter. Norman repeated a phrase many times throughout the tapes: "That clever God!"
There are just so many stories packed into these tapes, stories of faith and stories of anguish, with C.T. always true to his vision of planting Jesus Christ in people. He hammered the Word of God into them, and equally required excellence in practical matters. When placing a post in the ground for a building they were constructing, it had to be straight. When some boys lost a button, he had them look all day for it (buttons were used as currency). He knew he was forming the foundation for an entire people and it must be pure.
I went to Norman's house one day in 1988, armed with my tape recorder, and asked him to talk about our history, and about the two men he credits for influencing his life—C.T. Studd and Rees Howells. These many years later, as I listened to these tapes, I was thrilled hearing the stories in Norman's words. Some of them are hard to understand, but if you persevere and use the rewind button, you'll get it.
When the clouds of suspicion were so great around the little mission, Norman visited Rees who said: "I'm with Studd; he has paid the price (of intercession)—the harvest will come; you stay with him." Though C.T. Studd and Rees Howells never met, they both made a huge impact on Norman's life, and thus indirectly on each of us.
Note: in the next issue of The Intercessor we will review the second part of these tapes: Norman's recollections of Rees Howells.
More Articles from The Intercessor, Vol 19 No 1