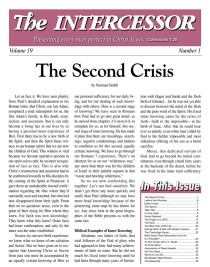 The Best Year of My Life

"I am more spiritual than you are. I am a better mom than you are. Ha, ha!!! She didn't pay very much attention to me; well at least I am skinnier than her. I know more about color than you do. People think I am a better artist than he is. Ha, ha!!! Look!!! Ha, ha, my children are more important, more special, than yours are!!! I'm going to get back at him anyway I can for what he said to me," thought I and similar with almost every breath.
I caused fights with my husband and children to feel in control and to punish him. My mind gloated about me and how great I thought I was and conversely how I was better than just about everyone I knew at least in one area. I took pleasure in my family and "friends" misfortunes. Though I was born again at age 17, and stopped some of my sin behavior, I remained puffed up with pride and mean to everyone I knew. Finally, after numerous years of cruelty to my family and fellowship, I was told not to come home. That was the beginning of the best year of my life.
Since I had not worked outside of my home for about 21 years, getting a job and fending for myself was quite a shock. Ironically, after I arrogantly said I would never work at certain places (fast-food), I got a job at a popular fastfood restaurant for $8 an hour. Having little money, having to take orders from superiors, and running around or standing for nearly eight grueling hours a day, five days a week was not only the consequences of sin, but a constant reminder that I was a horrible mother, wife and person.
A couple of months later, I decided to become serious about getting my life straight. At the prompting of a friend, I made up my mind to call her at least twice a week in order to confess sin and talk about the effects my sin had on others. The following verses, among others, helped me to see my sin and to answer the question "why me?": "Better live on the corner of the roof than share a house with a quarrelsome wife," (Proverbs 21:9) and "A wife of noble character is her husband's crown, but a disgraceful wife is like rottenness to his bones," (Proverbs 12:4; my friend told me about the last one). I also realized that thinking that I was special or better than anyone in any way was believing that I was an independent I, really Satan using my members to do his evil. According to the Bible, we are containers of Him if we are born again; we are the branches and He the Vine. As Christians, we are all His body, the body of Christ, each part having its place, but no one more important than another.
Even after confession, I continued to think and act competitively (mean) towards co-workers, and it really upset me to do so. Still, I kept right on confessing these sins to my friend. Soon when I noticed such thinking, I'd say, "Okay God, what I think is your problem, I'm your container and unless you do something about it, I'll probably always think these mean thoughts." (I remembered Norman, on video, basically saying to a person who couldn't stop sinning to stop fighting the sin, it's God's problem.) My friend said that it would also help me to stop sinning if I'd remember how my sin hurt others.
Around Thanksgiving time my friend suggested that I make a thankful list. Not only was what I thought God's business, and He was my keeper, now He gave me a new way to think.
I thanked God for my co-workers' salvations, especially those I had the most trouble with. I visualized that Jesus Christ is a River of Life to each and every one of them through me. I thanked Him when my legs hurt from standing all day, because I could identify with other women who have to stand all day. I thanked Him when I felt lonely or bored because I lived alone, because it was a reminder and a consequence of how mean I was to family and friends. I could also identify with other people who lived alone including members of our fellowship. I thanked Him that my situation was His will and perfect not only for me, but for my family. When I had a mean thought, I could say with relief, "Whew!!!! Thank you Father, that's not who I am. (It's not I, but Christ—Gal. 2:20) Whatever the difficulty, it was God in disguise and I could find a reason to be thankful for it. Here is a verse that came to mind often and was a stand I took: "This is the day the Lord hath made; I will rejoice and be glad in it." (Psalm 118:24)
"The sacrifices of God are a broken spirit; a broken and contrite heart. O God you will not despise". (Psalm 51:17) A broken and contrite heart is what I wanted, but I knew I couldn't drum it up and I had no idea what it would even be like. He would be that through me. All I know is, as more time passed I became more and more upset at how I treated (sinned against) my family and fellowship. Close to a year after being kick out of my home, I asked for forgiveness from the fellowship and soon afterwards from my family. Today I am back in fellowship and living at home. Best of all, I know He is a river of life through me to everyone in my life and whatever situation I'm in He is the author of it. Thank you, Father!!! "Delight thyself in the Lord, and He will give you the desires of your heart". (Psalm 37:4)
Yes, it was the best year of my life, and I wouldn't trade it for the world!
More Articles from The Intercessor, Vol 19 No 1