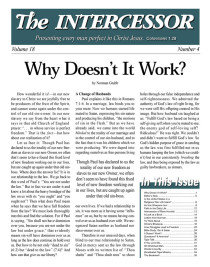 Why Doesn't It Work?

How wonderful it is! — in our new slavery to Christ we are joyfully free to be producers of the fruit of the Spirit, and cannot come again under the control of our old sin-owner. In our new slavery we say from the heart what it says in that old Church of England prayer: ". . . in whose service is perfect freedom." That is the fact — but how about our realization of it?
Let us face it: Though Paul has declared to us the totality of our new freedom as slaves to our new Owner, we often don't seem to have found this fixed level of new freedom working out in our lives, but are caught up again under that old sin-boss. Where does the answer lie? It is in our relationship to the law. We go back to this word of Paul's: "You are not under the law." But in fact we are under it and know a lot about the heavy bondage of the law on us with its "you ought" and "you ought not"! Then what does Paul mean when he says that we have full freedom from the law? We must look thoroughly into this and find the solution. For if Paul is saying, "Sin shall not have dominion over you, because you are not under the law but under grace," that evidently means sin will have dominion over us as long as the law does continue its hold over us. But how to be not only "dead to sin" (6:2) but "dead to the law" (7:4)? And how can that give us our liberty?
A Change of Husbands
Paul explains it like this in Romans 7:1-6. In a marriage, law binds you to your mate. Now we humans started life mated to Satan, expressing his sin nature and producing his children, "the motions of sin in the flesh." But as we have already said, we came into the world blinded to the reality of our marriage and to the control of our sin-husband, and to the fact that it was his children which we were producing. We were duped into regarding ourselves as free persons living our own lives. If we had a relationship to sin, it was more as it having some "influence" on us, but by no means having control over us as husband over wife. We recognized Satan neither as husband nor slave-owner over us.
Therefore in our unsaved days, when blind to our true relationship to Satan, God in mercy sent us the law through Moses with its written list of "Thou shalts'' and "Thou shalt nots" to shoot holes through our false independence and self-righteousness. We admitted the authority of God's law of right living, for we were still His offspring created in His image. But how husband sin laughed at us: "Fulfill God's law based on being a self-giving self, when you're mated to me, the enemy god of self-loving self? Ridiculous!" He was right. We couldn't and didn't want to fulfill God's law. So God's hidden purpose of grace in sending us the law was first fulfilled not in us humans keeping the law (which we couldn't) but in our consistently breaking the law, and thus being exposed by the law as guilty lawbreakers, as sinners.
So by the law we were ultimately driven to take that first great outward step of "coming honest" and acknowledging our guilt, repenting, and being delivered from the curse and condemnation of the law of God's own Son, "set forth" as the propitiation for our sins.
But then comes the further step. The total work of the law is not just to expose the fact of sins committed and the consequent judgment. It is that "by the law is the knowledge of sin" — not sins, but the sin principle which was dwelling in us when the father and originator of sin dwelt in us. 
A New Union
Paul, through analogy, explains how we are at first married to and totally controlled by our Satan-husband, but then by one stroke the marriage is broken up — Christ's death as our representative cutting us off from the marriage to Satan! Having died with Christ, we are now dead to our old husband. That means that the law can no longer point its finger at us as unable to keep its commands — unable because our husband (who expressed himself by us) would never let us — for death has put an end to that marriage; so the law has no further condemning claim in that respect. "Wherefore, my brethren, you became dead to the law by the body of Christ, that you should be married to another" (7:4).
He then uses the marriage illustration, just as he had used the owner-slave illustration, to bring home the same truth to us: that we humans are always under a deity management. So there's no such thing as we humans remaining unmarried, just the same as we couldn't remain free from slavery. Therefore the marvel of God's grace, says Paul, is that at the moment our old marriage was broken by the death of Christ our representative, immediately in His resurrection He became our new Husband in place of Satan. There's no such thing as a time period in which we are a kind of widow! We have immediately changed husbands and entered into our new marriage contract, in which "the law of the Spirit of life in Christ Jesus has made us free from the law of sin and death" (8:2).
When I inwardly know this and have got the facts in clear focus, I find that my new Husband has me, to my delight, in His total ownership; and I have nothing to do in our family life beyond producing the fruits of our marriage, the fruit of the Spirit. Then the law has disappeared from me, because my new Husband, who is the resurrected Christ, fulfills it by our union life. I thus have become dead to the law in its outer form — the form in which God first sent it, so as to expose me to the reality of my old Satan-husband. 
Confusion in Our New "Marriage"
What perfect joy for us who have come this whole way by grace into our new union and know, in its full reality, our marriage to our new Husband! But actually, the point of what Paul is now writing about, and bringing to its climax in Romans 7, is that we've not yet properly understood our relationship to our two husbands. Being all tangled up, our concepts need to be untangled. The tangle is caused by the false idea of myself as an independent person, about which I've been deceived from the Fall. Not knowing that as a sinner I lived under the total management of my old husband and solely expressed him and reproduced his children, but wrongly thinking I then had an independent life of my own, I started out living my new life thinking that now also, as a redeemed human, I have an ability of my own and so can fulfill the law. And so my former husband catches me unaware. When I think I ought to be "doing my own thing" for God (for now, being redeemed, I delight in the law of God) Satan cunningly re-exerts his control over me and causes me to fulfill his flesh will. How can this be? Because "doing my own thing" is Satan's principle, the very cause of his and Adam's fall. It is the sin principle. Here then is the value of the continuing law to my life. I needed to have one final radical exposure of the "nonsense" of my supposed independence. By this, at last, I can see I have never been independent: because the self-relying self was the sin-spirit in me. Until, however, I consciously know and enter into the reality of not only my cutoff from my old husband, but also my marriage to my new Husband, I will still be in an illusory condition of independence, and so actually under the remote control of my old husband. There is no in-between status. So the law completes its work by revealing the illusion of my independence, and grace reveals the reality of my new marriage. Once I move into that, the law ceases to exist as having an outer claim on me, since it is now being inwardly fulfilled in me. This is why Paul puts such strong emphasis upon the completion of God's purposes through the law for my freedom, exposing sin as well as sins, and the lie about a time of independence intervening between the old ownership and the new, the old husband and the new.
How wonderful to know that I am now married to Christ! To know that "I am my Beloved's, and His desire is toward me" (S. of S. 7: 10). 
Romans Seven Puts Me Straight
Paul then continues to open the truth of the value of the law to us by illustrating it from his own experience, in Romans 7:7-25. It centers around the subtlety of the Ten Commandments, and particularly the one commandment which penetrates through outer acts to inner motive: "Thou shalt not covet." He explains how he was once quite unconscious of any tendency to covet —  which he calls "being alive without the law." But later, on some occasion, this tenth commandment hit him. After a first reaction of "Not me — I'm not covetous," he was devastated to find in his heart every form of covetousness — "all manner of concupiscence," he calls it — and this bowled him over. It flooded him like a tidal wave. And so, he states, "sin revived, and I died" to any idea of self-ability to keep God's law. This experience was what God used to open his eyes to the fallacy of self-reliant selfhood and to lead him both into the experience and glorious understanding of "union truth": union with Satan replaced by union with Christ.
So Paul continues his teachings in Romans 7. Let us dig right in and examine in depth what the effects of the law are on us and learn about our final total deliverance from it — which occurs when we've reached the awakened and concerned stage, as Paul did over his temptation to covet.
First, we can clearly identify Paul's "man" as ourselves in our new creation, because "delighting in the law of God after the inward man" (7:22) obviously implies it is someone who has the new-heart outlook of a redeemed son of God.
So here we are, inwardly delighting in God's law, and yet frustrated and defeated; challenged by the law, yet laughed at by sin, making it plain that it has us in its control. Here we are, as Paul said, not doing what we should do, and often doing what we hate to do.
But now, through this frustrated condition, maybe sometimes lasting for years, we come to one clear recognition — facts force it upon us: our obvious inability to keep the law. We recognize also that the blame is not on us. We want to do the right thing but haven't the power: "To will is present with me, but how to perform that which is good I find not" (7:18) — so at last we can trace the trouble down to the culprit. What a vital revelation! It is not I, it is sin that dwells in me, masquerading as self-effort.
The Big Lie
At last, light has begun to break in on us. Twice over (see verses 17 and 20) Paul exclaims, "That's it, that's it; it is not I, it is sin dwelling in me." It is not the redeemed Paul who is the culprit. It is indwelling sin. He sees it plainly to be not himself but something quite apart from himself. "It is no more I that do it, but sin that dwells in me." The culprit is self-relying self! The "sinner" is a separate power who claims to have him as his captive. "I am carnal, sold under sin" (7:14). The commandment came, Paul explains, and when he rose up to do it, sin played a deceitful trick on him: "I've got you. You can't do it. I'm your master and you're my slave, for your very self-reliance is my bondmark in you!"
At that time it would have appeared to Paul, and certainly to multitudes of us, that we are in a condition of permanent warfare. It looks as if we have two natures — my redeemed self that wants to do good, and indwelling sin which defies and defeats me — dog eating dog. And thousands of God's people think that's all it can be: a life of struggle, striving, and much failure…with self-condemnation.
And that, of course, is the big lie. But the vital point is that I can't see it as a lie until I first have finally, once for all, got out of my system this delusion that I myself can do good or evil. It is because of this delusion that I either accept guilty failure or put on false self-righteousness. Paul, in that still mistaken idea about himself, had said (7:21), "When I would do good…" — but the catch is, a human can't do good. That can only be done by Christ in us. And when Paul goes on to say "…evil is present with me," he equally can't do evil, for that is Satan in us. But he didn't then know that. Satan alone is the doer of evil; God alone is the doer of good. 
The Final Revelation
But now came the breakthrough of this whole revelation to him — that the human is never anything but the vessel, container, branch, etc., of the indwelling deity. Now he sees it! "The law has nothing to say to me. It is not I who am covetous; those sinful urges come from an altogether different source — not I, but indwelling sin."
The law has really been my friend. . . hanging over me and putting its pressure on me until at last I see my delusion about self-effort living. Until I see that self-effort is Satan's principle the power of indwelling sin has me in its control.
So here is the revelation of total importance — or shall we say, the negative side of the total positive revelation. We can compare it to our prior experience in our unsaved days: I could not settle into the positive recognition of Christ as my substitute and sin-bearer until I first knew, in a total negative way, that I was a lost sinner, with my righteousness as filthy rags…and nothing I could do about it. Only then could I say, "Oh, I see! He took my place."
So now, in this central battle raging around my redeemed self, how can I live my life as a consistent Christian and meet the challenge of the law and its "you oughts"? I cannot see the positive revelation of Christ living His life in me, replacing the false indweller, until I have first seen the total negative revelation of it — that the command has nothing to do with my "human" me except as my being a vessel or container, but has all to do with this false indweller who is still claiming to live in me and express himself through me. I learn that he grabbed me as I was trying to keep the commandments (an expression of self-effort) and "deceived me and slew me. "I can now see why it says "deceived me" — because sin was making a whole, lying claim to indwell and control me, while all the time really Christ was in me…and I didn't know it. Until I did know it, and experience it, it meant nothing to me and left sin in deceitful control of me. That was how the law with its "you oughts" also kept its control over me and brought me under its condemnation…while I was under this lying illusion of self-responsibility and equally in the delusion that sin dwelt in me instead of it really being Christ living in me. 
For many years after his retirement as General Secretary of the Worldwide Evangelization Crusade, Norman Grubb traveled extensively sharing the truth of our union with Christ. He also carried on a huge personal correspondence with individuals throughout the world. He was the author of many books and pamphlets, a number of which are available through the Zerubbabel Book Ministry. Norman lived with his daughter, Priscilla, in Fort Washington, PA. Norman P. Grubb entered the Kingdom at 98 years of age.

More Articles from The Intercessor, Vol 18 No 4