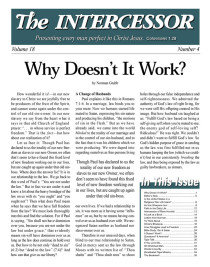 Inner Struggles Lead to Freedom

In many ways I had a privileged childhood. I grew up in a nice middle class home on a farm about one hour's drive from Dublin in Ireland. Our family was a little unusual in that our household consisted not only of my parents, my brother and myself — but also my three grandparents. Another somewhat unusual aspect of my childhood was that I grew up in one of the small minority of Protestant homes in Southern Ireland (approximately 5% of the population). I attended a local Protestant elementary school and at age 11 went to a Protestant girls' boarding school.
This may all sound a bit of a Walton-like idyll, but of course life is seldom like that and mine was no exception. First of all, please be clear that Protestant was not synonymous with Christian in my experience. Although I went regularly to church and Sunday school, I knew nothing of the need to have Christ as my personal saviour. Interspersed with the many positives of family life was a fair sprinkling of the almost inevitable conflicts and difficulties one might expect. Faced with life's challenges and not knowing we could turn to God for help, we sought it elsewhere. For me, food was my refuge from an early age. To fast forward a little, I am currently nearing the end of studying for a psychology degree in my "free" time. Only yesterday I was reading about parental styles and children's behaviour. Of the three parental styles described by one researcher (permissive, authoritarian and authoritative) my childhood fell largely into the permissive category. Some of the characteristics of children brought up in this way are: lacking in self-control, impulsive, resistive, non-compliant to adults, lacking in self-reliance, low in goal-directed activities, aggressive and domineering. I can recognise myself in all of these. From a young age I liked to get my own way and often managed to do so. My lack of self-control was evident in my frequent trips to the cookie jar, which was not out of bounds for me! 
The Bible tells us that "in all things God works for the good of those who love Him, who have been called according to His purpose" (Rom. 8:28). God graciously used some of my negative qualities to draw me to Himself. Towards the end of my high school days my resistive, non-compliant nature was very much to the fore — particularly regarding my belief in God. I started to question His existence and had frequent arguments with my religion teacher. I finished school and went to university in Dublin, expecting to find answers to life's deepest questions in the advanced learning I was about to embark on (I studied for a pass degree!). In my first year in college I did find the answers I was looking for — though not through my academic pursuits! I met a born-again Christian in my lectures, who was a member of Christian Union. I remember thinking, "Poor girl, no one has told her that religion is out-dated" — so I set about putting her straight on the matter! We had many long discussions, which resulted in me starting to read my Bible and going to a Bible study group and some other Christian Union meetings. Before too long I wanted what these Christians had. I remember kneeling by my bed in tears and praying that Jesus Christ would be my personal saviour.
For the next 20 years I attended various churches, moving from the more liturgical services of my Anglican background to non-conformist and house churches. Although I enjoyed many of them, I always seemed to be looking for something more. Through this time food continued to be a big problem for me. I would fluctuate between trying to lose weight and giving up on the possibility. Then about 12 years ago, when I weighed 210 pounds, I eventually managed to stick to a diet and lost about 55 pounds. That was the beginning of even bigger struggles. I started to regain weight and began purging to try to prevent the inevitable. As well as gaining back a lot of weight, I was now bulimic and more out of control than ever. I prayed to God for help, felt condemned about my behaviour, hoped He would forgive me and always felt too ashamed and scared to talk to anyone about it. Yet somehow I managed to live a life that looked fairly normal on the outside.
At this time one of the members of a house church I used to belong to had started going to Zerubbabel conferences and was very enthusiastic about what she was learning. I went to my first conference in England during Easter 1992 and started to grasp the truth that Jesus Christ hadn't come into my life to help me live it better but rather that He had come to live His life through me. I began to understand the significance of the fact that "I no longer live but Christ lives in me" (Gal. 2:20). I attended my first summer camp in North Carolina the following year and have been every year since. I was so relieved to be around Christians who openly talked about sin and struggles they had to deal with. I felt free to talk about my big secret — my eating disorder, and was helped and supported in trusting Christ to live through me in this as in all other areas. Within a few months the bingeing and purging had stopped and I was very grateful, by the grace of God, to be enabled to eat "normally." I don't want to give the impression that this was some sort of quick fix — it was a matter of trusting Christ moment by moment to live through me. I still struggle with weight at times and it's an area where I am constantly reminded of my need of Christ. Of course the reality is that whether something feels easy or difficult I always need Him to do the living.
Since coming to know this truth I am no longer always looking for something more. I really do believe that Norman Grubb was not exaggerating when he called it the Total Truth. I am very grateful for his teaching and also for the fact that I belong to a fellowship where honesty, openness and accountability are the order of the day. I also appreciate the fact that God's standards, as revealed in His word, are the only acceptable ones. 
You may remember that earlier on I identified with a number of behaviours associated with a permissive upbringing. I wish I could say they all disappeared as soon as I became a Christian, or came to know the truth of Christ living my life, but I'm afraid that is not how it was. God has had to deal with other areas of my life where I persisted in going after my own way. Of course as an adult Christian this was much more serious than a child ignoring her parents' wishes. This time I was ignoring God's wishes. Instead of desiring His self-for-others life I was more absorbed by what was in it for me. I am ashamed that others were deeply hurt by me as I aggressively sought my selfish ends, while outwardly pretending to want God's way. Yet I am also very grateful for God's persistence in dealing with these sins and for His forgiveness when I truly repented of them. Today I find it hard to imagine life without knowing Christ as I do. Much of life is just doing the next thing while being fixed in the fact that it really is not me but He. Yet I think that probably on a daily basis, and sometimes many times a day, situations occur to remind me how grateful I am to know I don't have to handle them on my own. 
This year at summer camp we talked a lot about the lives of pioneers who worked unstintingly for the cause of the gospel. One of those we discussed was Norman Grubb. I was reminded that I owe Norman a double gratitude. He was one of the founders of the Intervarsity Fellowship, which resulted in Christian Unions being set up in universities across Britain and Ireland. It was through one of these Christian Unions that I first became a Christian 32 years ago. Today I continue to be blessed by the truth which he has expounded in his books and tapes.    
More Articles from The Intercessor, Vol 18 No 4