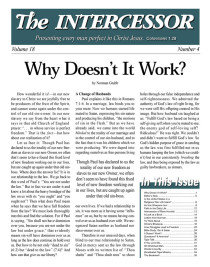 As Iron Sharpens Iron

The following pages are excerpts of correspondence between Joanna Langley and Elliot Coatney, which began in August and transpired over a series of weeks and months. At a ministry summer conference, the two shared similar convictions for past sins that had wrought untold consequences, tarnished their testimonies as Christians and meant many a missed opportunity for spreading the Good News. With strong desires to make amends and to move forward from a Christ-for-me perspective to one of Christ-for-others, Joanna and Elliot encourage each other in the opportunities God presents them with as they share their excitements and frustrations, questions and insights in sharing the Good News. 
"I charge you therefore, before God and the Lord Jesus Christ, who will judge the living and the dead at His appearing, and His kingdom: Preach the word! Be ready in season and out of season. Convince, rebuke, exhort, with all longsuffering and teaching" (2 Tim 4:1-2). 
Hi Elliot!
 
How are you? Can you believe it's only just a week since the summer conference ended. It seems like a long time ago. I have thought a lot about the end-of-conference meeting and about the conversation you and I had as we left. This truth we know — Christ in you, the hope of glory — is not just meant for us. We have been given it to share with the lost, hurting world out there. I know you equally had clear convictions that night. God very clearly put specific people on my heart whom I know I affected with my sin, and now that I am back home in the town where most of them live, I am thinking about how and when to contact them.  I think for me it is so easy to lose sight of what seemed so real a conviction at the time and just carry on as before. Maybe we can keep each other accountable to what God stirred in us that night and encourage each other along the way. I am planning to call my friend Dave from work and to email two old school friends. I also plan to invite two other friends over to the house. I have had a couple of dreams now about people I know who have died and gone to hell and I have known I could have done something about it. Awful but that is the reality.
Joanna 
Joanna, 
Thanks for the note. I would say the same that it's easy for me to lose sight of the conviction of just a week ago. God has been pressing on me pretty hard though.  I talked with Steven out in his driveway for over two hours last night. He shared a lot about how God has done a work in him in the last few months that has really opened his eyes to the needs of the hurting world out there. We also talked a lot about goals and how that relates to being there for those people.   In my conversation with Steve, we talked about the parable of the talents and of the virgins and the oil, and I know that God is telling me to be earning a return on my talents and to be prepared with oil. Most immediately, I've made plans to meet up with a friend from my high school tennis team. He's a nice guy, but his life is a mess. I'm really hoping for an opportunity to share truth and light with him.
Elliot 
Haven't our eyes been opened to a whole new way of seeing? Since my last email to you I have contacted one of my old school friend. I wrote her an email. I thought I would find writing it quite difficult but it just seemed to flow right out. I explained what was going on with me when I left home in sin and told her that I am concerned for her and would hate it if anything happened to her if she wasn't saved. I finished by telling her what she needed to do to accept Christ. I haven't seen her in 3 years so I have no idea what she'll think — I guess she'll either think I'm crazy, a religious nut, or she might actually take it seriously! 
I have been reading C.T. Studd and something that really struck me was C.T.'s account of one particular man's conversion.  After accepting Christ he said, "I must go to the town where I have done all this evil and sin and in that very place tell the good tidings." I feel God is giving me the chance to do just that, obviously on a smaller scale, although God's business is God's business. Here I am back in the town where I lived out my sin and affected many, and now contacting the very people I affected, telling them of the sin I committed and how Christ has saved me and set me free. I am convinced that this is why God has me back in Northampton (well at least one of the reasons anyway).
Joanna 
It's great to hear about all of the things/people God is working on through you. Thanks for sharing. I will play tennis with my friend from high school on Monday.  
God has also put on my heart a friend of mine from college. He visited me in Boone three years ago, and we got a chance to talk in depth about spirit things. It sounded as if he had really wrestled with the truth of Christianity while taking a course on C.S. Lewis and talking with an evangelistic Christian who was also in the class.  This friend of mine was ripe to hear the truth, but because of sin I was in at the time, I was in no state to be of continued help to him. We lost track of each other for about a year or so, but since then we have spoken on the phone every once in a while. I think there is a tremendous opportunity with him. 
I've almost finished Hudson Taylor's autobiography, and I am really enjoying it. I used to feel disheartened reading about these missionary lives that are so different from my own, but I'm more encouraged now. I know that the same Spirit lives in me as lived in them and will live out as boldly inasmuch as I practice faith to take hold of the Truth.
Elliot 
I am glad we are keeping in touch; it is great to be able to share these things with you. I think it is really exciting about your friends you wrote about.  
I have just spoken to one of my school friends. I felt a little shaky coming off the phone. I sense that she is very prickly and like a boil, if I touch the wrong spot she will just explode (maybe that's what needs to happen). She lives with her long-term boyfriend and is supposedly a Christian. She knows where I stand on this, and I think she is very antagonistic about it. I wrote her a letter a while back with some pretty clear-cut scriptures which I am sure she hated.  She obviously doesn't want to give up her sin. We might meet up Tuesday night. I haven't seen her in about 3  years, so it will be very strange. Mostly I feel pretty scared about it and very inadequate. I really feel like I do not know how to handle her at all, but I am glad I feel this way because as Christ told Paul: "My Power works best in your weakness." I am just the available vessel to be used however He sees fit. God knows how to handle her and I trust Him.
Joanna 
I know that conversation must have felt very difficult. When someone is in sin and doesn't want to quit, the last thing they want to hear is Biblical truth — they run from the light because their deeds are evil (John 3:20).  I played tennis with my friend from school today after work. We talked about what we each had been doing lately. I felt uncomfortable when he was talking about his girlfriend he lives with. I don't want to go on like I think it's ok, but I also don't think it would be effective to say anything confrontational about it — he's not even a Christian. His real problem isn't the sin, it's the spirit of sin operating in him. But like I said, I'm concerned that my silence on the matter communicates agreement.
Elliot 
I'm glad it went well with Skip. I agree with what you wrote. I don't think you can call someone on something like living in sin unless they are professing to be a Christian; although in time it could be used as evidence of his sinfulness before God — whether he is a Christian or not, the sin is still sin. Maybe you could just start by sharing what you believe for yourself and how it has changed your life. I bet he knows what he is doing is not right and your testimony might be enough to convict him. 
I can't believe the conversation I just had with my friend Dave. We went to a pub, and it was pretty smoky and loud — hardly very conducive circumstances to talking about Jesus Christ and salvation. Then before I knew it I had my opportunity. I talked to him for a while about me leaving home in sin and how I turned my back on God. He just said that it was great I am ok and happy now, and these things happen for a reason, etc. I then made it personal and told him about my dream — that he died and I was upset because I knew he wasn't saved and I could have done something about it. I said that I wanted him to be saved and to know where he was going if he died tonight. 
He wasn't sure what it meant to be a sinner and so I asked if he had done wrong things in his life, hurt people, etc. It wasn't long before he thought of an example and so then I told him that he needed Jesus Christ as his Saviour. I told him that all he needed to do was ask forgiveness and ask Jesus into his life. I asked him if he would seriously think about it. I stressed the urgency and he said he would. Isn't this great?  I really hope he does think about it — it can be so easy for people to just go on about their lives and not give spirit matters a thought. Please God press him on this decision. 
The August 4 passage in My Utmost for His Highest was really good. It was all very good but I will leave you with the part I especially liked: "We do not know what God is after, but we have to maintain our relationship with Him whatever happens. We must never allow anything to injure our relationship with God; if it does get injured we must take time and get it put right. The main thing about Christianity is not the work we do but the relationship we maintain and the atmosphere produced by the relationship. That is all God asks to look after, and it is the one thing that is being continually assailed." Bye for now!
Joanna 
It sounds like you really made an inroad with Dave — that in spite of a noisy pub! It seems like he would have no choice but to listen up after telling him about your dream. I know what you mean about it being easy for people to just go on with their lives and forget about it. I think that's the battle we are waging with Satan. Satan has endless tools he can use to get non-believers (and believers) distracted. If you've read Screwtape Letters by C.S. Lewis, you can just picture Satan and his henchmen hard at work.  I'm still eager for an opportunity to share with somebody — I can't get a hold of my friend from college, and I won't see my other friend until Monday when we play tennis again. I'm trying to find email addresses of two of friends from high school I was close to, but it's going to take some work. 
I finished reading Hudson Taylor's autobiography and read nearly half of C.T. Studd last night (I was bingeing). They really get you fired up. At the same time, the August 4th passage in My Utmost for His Highest does certainly keep things in perspective. We don't have a job to do but a relationship to maintain. It can be easy for me to miss that when reading of the doing (which was really just maintaining) in the Hudson Taylor bio, C.T. Studd: Cricketer & Pioneer, Once Caught, No Escape, et al. 
I read the part you were referring to in Studd where the Chinese man goes back to his hometown where he had committed his sin and preached the Good News. What they did to the man in return for his preaching was harrowing. But the man kept on. He had that vision of the Glory beyond. I feel like I'm only just now starting to wake up to a tiny glimmer of it for myself. 
Elliot 
God knows you are a ready, available vessel, and in His timing I am sure He will give you the opportunity. Of course, those mundane seemingly insignificant times are just as much Him living out His saving purposes, only we don't get to see behind the scenes. Perhaps these times are even more important, requiring faith that He is at work whether we see it or not. 
For Bible study this week we went through the Roman Road, how to talk to someone about being saved, what questions might come up, and what verses are useful. We talked about several of the questions the two friends I wrote you about had both asked. We had a really good study as a result.
Joanna 
Well, I dove right in with my friend while we were sitting down on the tennis court after playing. God gave a little opening, and I took it. Talk about inadequate — I just feel like I bumbled around. I was so aware of how helpful it is to know scripture. The few times that God brought a verse to mind, it was such a relief. No matter what, you can always rely on scripture. 
This friend of mine has spent some time in the Catholic Church. He said that he believes in God and that he prays to Jesus. But he is "scared" of religion. I told him that religion has no place in my life and that I have only a relationship — a relationship with God through Jesus Christ. My friend wants to hold on to the idea that people can go to heaven with good works. He also uses the historic and present violence of the major religions to discount Christianity. Not only that, but he thinks that, with regard to eastern religions, billions of people can't be all wrong. Ouch. 
I told him that if he believes in a perfect, holy, pure, and righteous God, then he could understand that such a God can have nothing to do with anything impure, with any kind of sin. I told him that, Jesus Christ is the only one to offer an answer to sin that would otherwise eternally separate man from a just God. He gave me the old line that we should agree to disagree. I didn't agree to that, but I did say that I think it's healthy to have a fear of Christianity (agree with your adversary quickly, Matt. 5:25). I said that while Christianity is true, it's certainly not a sappy, happy, hayride. It's serious, and there's a cost. Jesus was uncompromising — but at the same time, truth of Christ brings joy, peace, and eternal life. In the end, he said that he appreciates the opportunity to talk about such things and that he hopes to again. 
I'm thankful that God has opened a door, whether or not he listens up. Until he and I play again next week, I will be reviewing some verses that will undoubtedly prove helpful — like you all did at your Bible Study. 
Elliot 
I'm so excited you had that opportunity. I am glad to know I am not the only one who feels inadequate talking to someone about what I believe. I loved what you said, particularly about your faith having nothing to do with religion; that it is about a relationship with God. I think a lot of people are put off by the word "religion." Great also that he hopes to talk about it again. I hope my friends will too. In the meantime, like you said, we can arm ourselves with God's Word! 
Joanna
I talked to my friend from college for a while on the phone Thursday night. I talked about coming out to see him, and he seemed to like the idea. He told me that he is doing better now but that "the Big Guy upstairs" has been working on him. He had a serious relationship with a girl go sour and he sank into serious depression that abated with counselling and medication only to return again shortly afterward. He said he feels better now with other medication. I hurt for him as he told me all of this. I told him that I had gone to a doctor for depression when I was in high school, and that every week I talk with an older friend/father-figure who is a counsellor. I think the conversation really helped to re-establish the closeness of our friendship, and I believe it will pave the way for opportunities to share about the only real answer he can ever know in his life. 
I too finished C.T. Studd last night, and the only remedy was to pick up Once Caught, No Escape. I'm nearly halfway through it now. I have loved reading those books. I have read both before but didn't get much out of them (says something about where I was). I am so encouraged by these books. I have no delusions about being "like" these persons of faith, but at the same time, I have the same Person living in me. And it's all about Him and not me and my circumstances anyway isn't it!
Elliot 
What news — it sounds like he really needs some answers. I like the sound of you going to visit him. I think it's amazing that he was on your heart and now we hear he is not doing well and is really in need. I would love for him to know what we know, particularly that we are whole and complete in Christ and not by some romance.
Joanna 
I met my friend to play tennis again today, but it started to rain — God's opportunity. We ended up going over to his apartment. It was a bit strange with the live-in girlfriend there. Once again, we got on God matters — three of us this time. My friend pulled out a book someone had given him — it's called something like Making a Case for Christ. It was no coincidence that I had Mere Christianity in my bag. I started talking about it and got them interested in it. Then, what d'ya know, I pulled it out and gave it to him. I suggested that we try to read it together at the same time. He said that he definitely would. Fantastic ehh. 
Elliot 
God sure worked that one out hey. I think it was good that the girlfriend was there and got to be involved in the conversation; she needs saving too. I started reading Mere Christianity.  I feel very excited that God has dropped this book in his lap and that he is willing to read it. What I have read of it so far sounds tailor made for your friend. He knows his life is wrong, and he might really be convicted of it when he reads the book. 
Joanna 
I played tennis yesterday with my friend again. He had to run before we got a chance to talk but not before he mentioned that he hadn't read any of Mere Christianity. It would have been a downer, but I thought it was significant that he brought it up without me saying anything. I hope this means that he has enough interest or in some way feels obligated to read it. Of course reading it is not the point, but it's a start isn't it! I've been out of contact with Pete for a couple weeks. He's in the middle of a really tough month of med school, so I don't really expect to hear from him. I sent him a light email a few days ago that I believe he will find very funny. I'm hoping that it will be a little pick-me-up during this tough spot and that it will keep us connected until opportunity for more substantial dialogue.
Elliot 
An amazing thing happened today. I was working this morning with a lady who is 47, covered in tattoos and piercings, is quite overweight and is really quite crass at times but for some reason I have felt quite fond of her (crazy but for Jesus Christ being The Lover). This lady brought in her stereo and some CDs and asked me where I buy my CDs. I told her I listen to Christian CDs. We then got into this long conversation, and she proudly claimed she was an atheist. 
I sensed that despite this we would find things we agreed on and we sure did. We covered so many different things. I gave her my testimony, and she identified with a lot of it.  She then started to confide in me about her life. Her father used to rape her when she was younger. She wanted to know why God let that happen. She remembers thinking about God when it was happening and wondering why He didn't do anything about it. I nearly was in tears on several occasions. Her Dad died of cancer 12 years ago. I told her that she could rest assured that he would answer to God and suffer the consequences of what he did.  I also said I would love for her to know that God is her real Father and that He really loves her and cares for her. 
We talked about having a Spirit change and I used your line about it not being about religion but a relationship. I told her she needed Jesus Christ on the inside. She was so honest and open and talked about feeling uncomfortable and hypocritical when she goes to church for weddings, funerals and Christenings etc, because she knows she doesn't believe. God love her. My heart really goes out to her. By the end of our shift she said she was sorry if she had bored me — can you believe that? I said I was glad we had talked. She even suggested I bring in some of my Christian music next time!  
I know God is working on her and she is in a desperate place right now, which is the best place for her. As with others I FEEL so impatient and like I want these people saved NOW! But I know if God has so worked out these conversations, He has the rest in hand too, and whether I get to see any fruition is not my business — all His divine workings, not mine. This is one more example of always needing to be ready to give a reason for the hope that lies within you!
Joanna
More Articles from The Intercessor, Vol 18 No 4