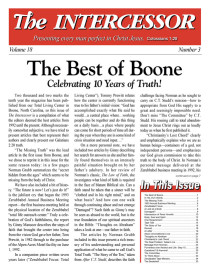 Damaged?

"Bless your heart. You've been so abused, so hurt, so damaged." I've heard this and statements similar to this dozens of times over the past five and a half years. "Why" you might ask. "Who abused and damaged you and how did they do it?"
The people I have heard this from were referring to how the actions of my father and others who were once close to me have affected my life. From a time before I was born, my father has led a lifestyle of deceit, adultery, fornication, covetousness, and hiddeness. And all of this he did while professing to be a born-again Christian. (Not exactly the life of righteousness, honesty, and peace that are supposed to characterize a believer.) Finally, five years ago his lifestyle culminated in a non-biblical divorce followed by a "marriage" to one of the numerous women with whom he had committed adultery. (I put marriage in quotes because in Mark 10:11, Jesus makes it clear that if a man divorces his wife and marries another woman the resulting union is adultery and not a marriage at all.)
I have read that one of the most abusive things a parent can do to a child is to be unfaithful to his/her mother. I wonder what the pros would say about the effects on a child of a parent's unfaithfulness over and over and over again? I don't think they would say it was good for the child! But, the aspect of my father's adultery that may appear to make it even more severe is his choice of partners. Some were nameless faces my family and I would never know. But, some were very close friends of our family. The first was a woman who is seventeen years older than my dad. She also was my mother's very close friend, Bible teacher, and the woman who claims to have led my father to Christ. I have my doubts about whether my father is in fact saved because his "conversion" took place while his illicit relationship with the woman was going on. Then afterward, he remained in the relationship with her and then several others after her. One of those just happened to be another of my mother's close friends and the mother of my childhood best friend. Then several years later, Dad began a sexual relationship with an employee nearly twenty years younger than him. But she was not just his employee. She was someone our family knew on an intimate basis—I worked with her starting at the age of 13, she baby-sat for my brothers and me when Mom and Dad would go out of town, she and her son spent Christmas and Easter with our family, and she was very involved in our small intimate Bible study. It is this woman to whom my dad is now "married."
Needless to say, finding out about and living through the aftermath of my dad's continued infidelity has been extremely painful. And from a human standpoint I guess I could say I have been damaged by my dad and these women. In fact, I have repeated-ly been asked how I have lived and continue to live through all of this— live a life of victory, not of damage or abuse. At this time, I would like to share with you my answer to this very important question. Please know that the answer is the same for me no matter what situation I face.
I must start with the only aspect of the situation over which I have control— my believing about the matter. It is my responsibility and privilege to see these things that have and continue to come my way from God's perspective— see things the way He sees them. So my question to myself must be, "How does God see this? Does He think you are damaged by any of this?" Absolutely Not!! Whatever comes my way, God means me to have it. I must say to those who try to do evil against me exactly what Joseph said to his brothers who sold him into slavery. "You meant this for evil against me, but God meant it for good." (Gen. 50:20). Then in James 1 we are told to:
"Count it all joy when you fall into diverse trials and temptations; knowing this, that the trying of your faith worketh patience. But let patience have her work that you may be whole and complete, lacking nothing" (James1:2-4). So, God sees it as good and commands me to see it as good when "bad" things come my way. Not only am I not destroyed, but I am rendered whole and complete by them!
But how do the hard circumstances in my life make me whole and com-plete? Is it automatic or by chance? No! They push me into a place of faith. I have to rely on God completely and do as He says: Count it all joy! Or I can choose to reject His view and see myself as hurt and damaged. I allow Satan to take me down by believing what he tells me—that I am a mistreated and damaged person. This believing on my part is sin. To avoid going the Satan/sin way, I must practice the obedience of faith. I do this by saying about my circumstances what God says about them—that they are what He means me to get at that moment and He by faith is using them for my good. In Romans 8:28 Paul explains that "all things work together for the good to those who love God and are called according to His purpose." As a born-again Christian with Christ living in me, Satan can no longer hurt me. (Christ defeated Satan on the cross many years ago!) Neither can they that do his deeds—my father, his partners in adultery, etc. "Greater is He that is in me than he that is in the world" (1 John 4:4).
So, what may appear to be the worst thing to ever happen to me really is the best thing to ever happen to me. Because I feel so bad, hurt and damaged, I am constantly pushed by the pain of it all to see God in all my circumstances. Like David, I rejoice knowing that "though I walk through the valley of the shadow of death, I will fear no evil; for you are with me; Your rod and Your staff, they comfort me. you prepare a table before me in the presence of mine enemies; You annoint my head with oil; my cup runs over. Surely goodness and mercy shall follow me all the days of my life; and I will dwell in the house of the Lord forever" (Psalm 23:4-6). Because I am a born-again Christian, Christ lives in me (Gal. 2:20). And as we know, Christ is not hurt or damaged even though He may feel bad. This process is precisely what James promises. It takes faith to believe that Christ is living in me and cannot be hurt or damaged by my father, etc. And this faith renders me complete, needing nothing. I am complete because Jesus Christ is living His life as me and He is complete!
More Articles from The Intercessor, Vol 18 No 3